Do the hustle: Carter's infield single lifts Astros
Springer's baserunning allows Altuve to score game-winning run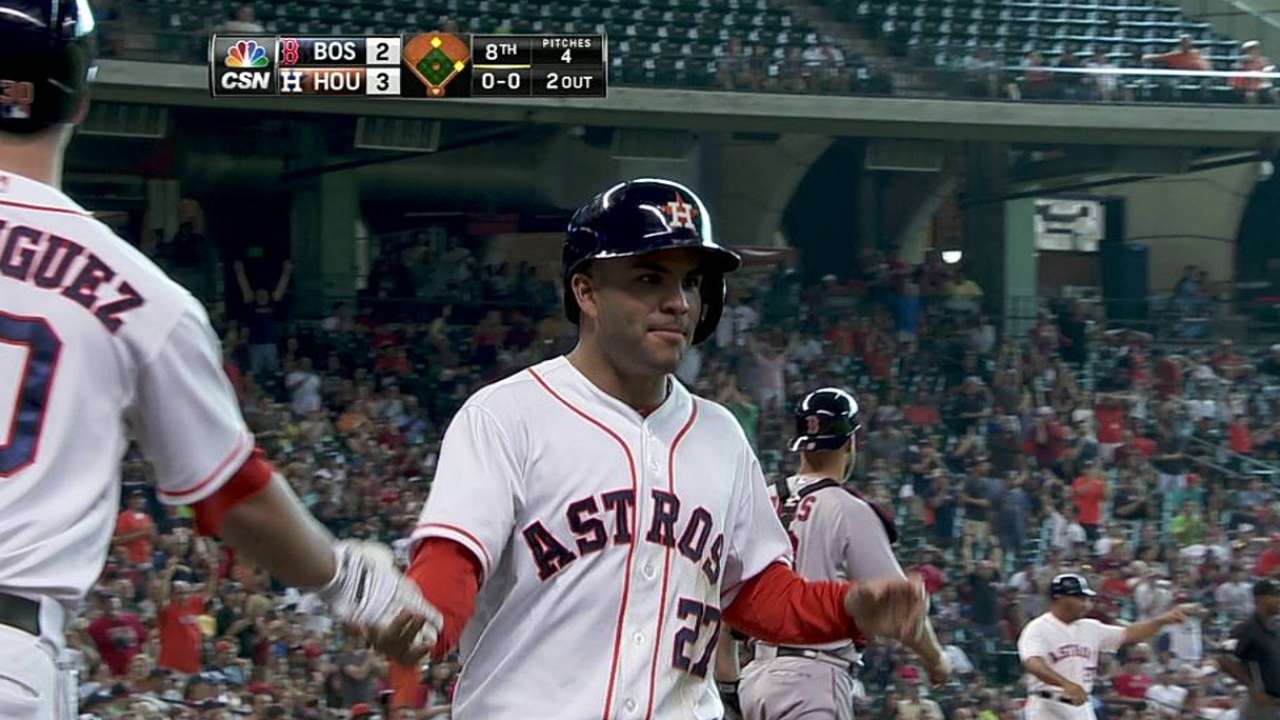 HOUSTON -- Trying to determine the most important play from Saturday's 3-2 win over the Red Sox at Minute Maid Park depends on which member of the Astros you asked.
For starting pitcher Brett Oberholtzer, it was getting David Ortiz to hit into a 4-6-3 double play to end the fifth inning. For closer Chad Qualls, it was coaxing a game-ending double play off the bat of Dustin Pedroia. For outfielder George Springer, it was scampering to second base to avoid a forceout and allowing the go-ahead run to score in the eighth.
And for manager Bo Porter?
"The biggest at-bat of the game was Jason Castro -- left on left against [Andrew] Miller -- in situational hitting and moving a ground ball to second base to move that runner," Porter said.
Even though Castro had hit a two-run homer and tripled in his previous two at-bats, his eighth-inning at-bat in which he grounded out to move Jose Altuve to third and set up Chris Carter to score him with the game-winning infield hit loomed largest.
Altuve doubled to start the eighth inning of a tie game -- his 130th hit of the season -- and Castro grounded out to second to move Altuve to third. The Red Sox walked Springer with one out for Jon Singleton, who struck out for the fourth time.
Carter greeted Boston reliever Junichi Tazawa with a grounder up the middle that was fielded by shortstop Brock Holt. He threw off-balance to Pedroia, who grabbed the ball with his right hand as his foot came off the bag and Springer slid in safely. Altuve scored to make it 3-2.
"There was a bunch of big plays to end the game," Porter said.
Tony Sipp allowed a pair of hits with one out in the ninth, putting the pressure on the Astros. Qualls entered the game and got Pedroia to roll over on a slider down and away. He hit the ball to shortstop Marwin Gonzalez, who started a 6-4-3 double play to end the game -- but only after a replay review confirmed the out call at first.
"I knew those guys could turn it, and fortunately enough we did, and we beat them by a little bit," Qualls said. "The ruling was [confirmed], so it all worked out."
The Astros have won four of their past five games to improve to 29-29 in their last 58 games.
"Once again, we built a great opportunity for ourselves with a couple guys on, and unfortunately as we did in the fifth, in the ninth inning we roll into a double play that keeps us cashing in on any opportunities," Red Sox manager John Farrell said.
The Astros took the lead in the third when Castro socked a two-run homer to right field to score Altuve, who doubled with two outs in the third inning off Jake Peavy (1-8). Ortiz led off the fourth inning with a homer, but it was the Ortiz at-bat in the fifth that impacted the game even more.
Oberholtzer allowed the Red Sox to load the bases with one out on three singles for Ortiz, who hit the first pitch of the at-bat right to Altuve for a 4-6-3 double play. Oberholtzer said pitching coach Brent Strom convinced him to go right at Ortiz.
"I faced him last year and he's known to take a couple of pitches," Oberholtzer said. "The first pitch of his [first] at-bat, he grounded out and swung on a fastball. The next time up, the home run he hit, I was thinking he's going to at least take and I was going to get ahead with the fastball, and it ran right back over the plate.
"His third at-bat, Strommy came out and talked to me and said, 'Throw your changeup and I promise you he'll swing.' Me, Castro and Strommy agreed to do it, and he swung. Hats off to Strommy. We got a double play."
Oberholtzer, called up from Triple-A Oklahoma City to replace the injured Collin McHugh, was pulled with one out in the seventh and runners at first and second base for Josh Fields, who gave up a sacrifice fly to Pedroia that tied the game.
Fields (2-4) worked 1 2/3 scoreless innings against his former organization, striking out three. He has struck out 11 of the last 18 batters he's faced and has a 0.87 ERA with 33 strikeouts in his last 20 2/3 innings.
"I guess if you think about it, it's nice to do well against the team that let you go," Fields said. "Whether I'm pitching against them or whoever, I still want to go out there and do my job. It's another team, and it's a good win for the Astros today."
Brian McTaggart is a reporter for MLB.com and writes an MLBlog, Tag's Lines. Follow @brianmctaggart on Twitter. This story was not subject to the approval of Major League Baseball or its clubs.