Giants unable to support Vogelsong in loss to D-backs
Offense doesn't score with righty in the game for his fourth straight start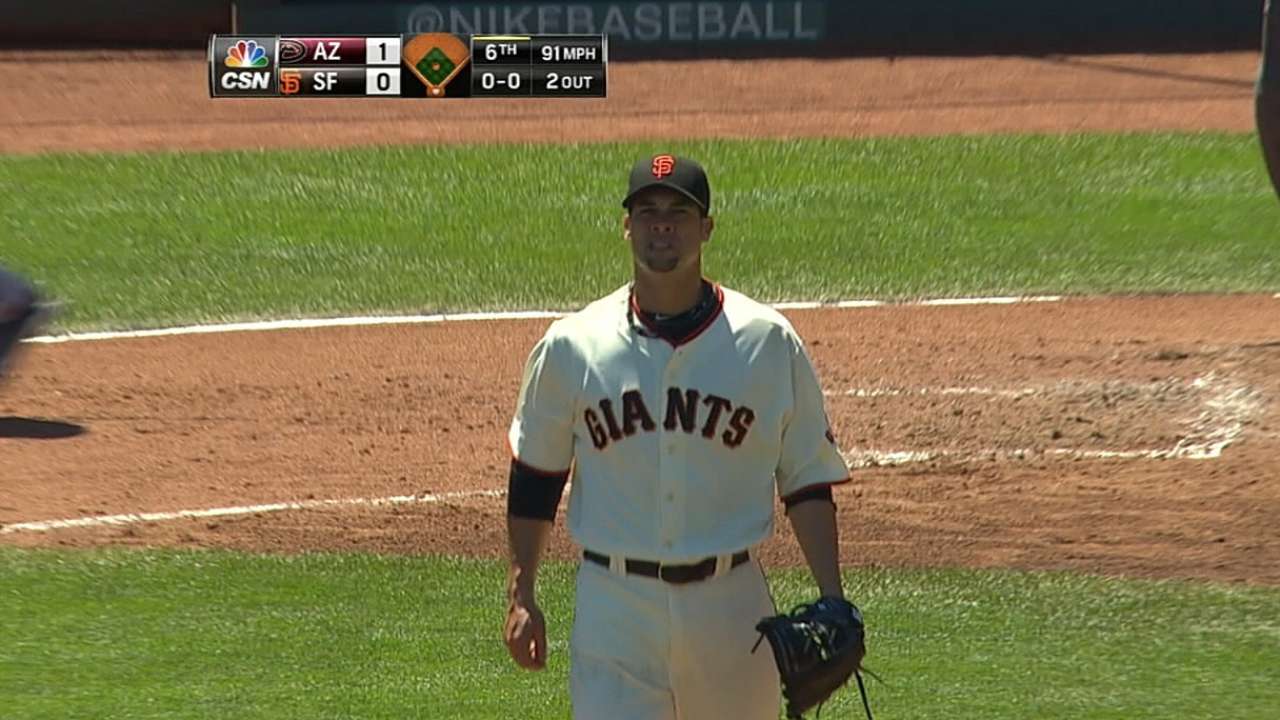 SAN FRANCISCO -- Ryan Vogelsong received a round of applause from the AT&T Park crowd as he exited the mound in the seventh inning, his workday complete. Yet again, that moral support was all he'd get on Saturday afternoon.
The Giants didn't score a run while Vogelsong was in the game for a fourth consecutive outing en route to losing, 2-0, to the D-backs. Vogelsong allowed just two earned runs on six hits in 6 1/3 innings, but as has become the norm for the 36-year-old, good was not good enough. He's given up eight earned runs in 24 2/3 innings (2.92 ERA) in his last four starts, but has been saddled with the loss in each outing.
"It happens, I'll be fine," said Vogelsong, who pitched with what he called "a lot of a cold" on Saturday. "It's kind of crazy that it just keeps happening to me, but it's stuff that you go through during a season that's like anything else, whether it's an injury, or not playing good -- you keep fighting and come out on the other side."
The last Giants pitcher to be provided with absolutely zero room for error for this long of a stretch? Lynn McGlothen (April 16-May 1, 1977). The Giants also didn't score for Jonathan Sanchez in four straight starts, but those were spread across two seasons (Sept. 12, 2007 to April 9, 2008). The Giants' last score with Vogelsong in the game came June 21, and they have just one total run in the last four games in which he started.
"It's got to be a little frustrating. He threw so well today, what a great job he did," manager Bruce Bochy said. "Quality start, good stuff, was hitting his spots well, we just couldn't get him some support there."
Vogelsong has been the main victim of the Giants' recent offensive woes, but he's not the only one -- Saturday marked the fifth time the Giants were shut out in their last 13 games.
Aaron Hill broke a scoreless tie when he drilled a changeup into the left-field bleachers to give the D-backs a 1-0 lead in the fourth. It was the first home run Vogelsong had allowed at AT&T Park this season. Arizona struck again in the seventh after Hill doubled. With one out and the infield in, Gerardo Parra lined a single past Marco Scutaro and into right field to score Hill and extend the lead to 2-0.
That proved to be plenty of support for Arizona starter Wade Miley, who surrendered just four hits in seven shutout innings.
The Giants came closest to the scoreboard in the seventh. Brandon Belt walked and Joaquin Arias singled to put runners on first and second with one out. After he was initially called safe on a bang-bang play at first base, Gregor Blanco was ruled out after replay review showed Miley tagged him before he reached the bag, and pinch-hitter Hector Sanchez lined out to a diving Paul Goldschmidt to end the threat.
Blanco began the fifth with a single, but was picked off at first base. An Arias strikeout ended a two-on, two-out threat for the Giants in the fourth. They finished the game 0-for-3 with runners in scoring position and are now hitting just .131 (8-for-61) in those situations in their last nine games.
The crowd's loudest ovation came in the first inning, when Scutaro stepped into the batter's box for his first at-bat of the season. The second baseman was 0-for-3 with a walk and made an impressive defensive play when he flipped the ball to first from his glove for an out in the second inning. He said his back tightened late in the game, which he expected.
Asked about the team's month-long tumble, Scutaro echoed the sentiment his teammates have expressed. The losses are piling up, but the belief remains that it's nothing more than a turbulent stretch. Time will tell.
"Everybody knows it's almost impossible to play, as a team, the way we're playing for six months. These times are going to come sooner or later; you just have to stay strong and stay together as a team and keep fighting," Scutaro said. "It's not a sprint, it's a marathon. There's still a long way to go."
Ryan Hood is an associate reporter for MLB.com. This story was not subject to the approval of Major League Baseball or its clubs.