D-backs ride Miley's scoreless start to win over Giants
Backed by Hill's home run, red-hot lefty allows four hits in seven frames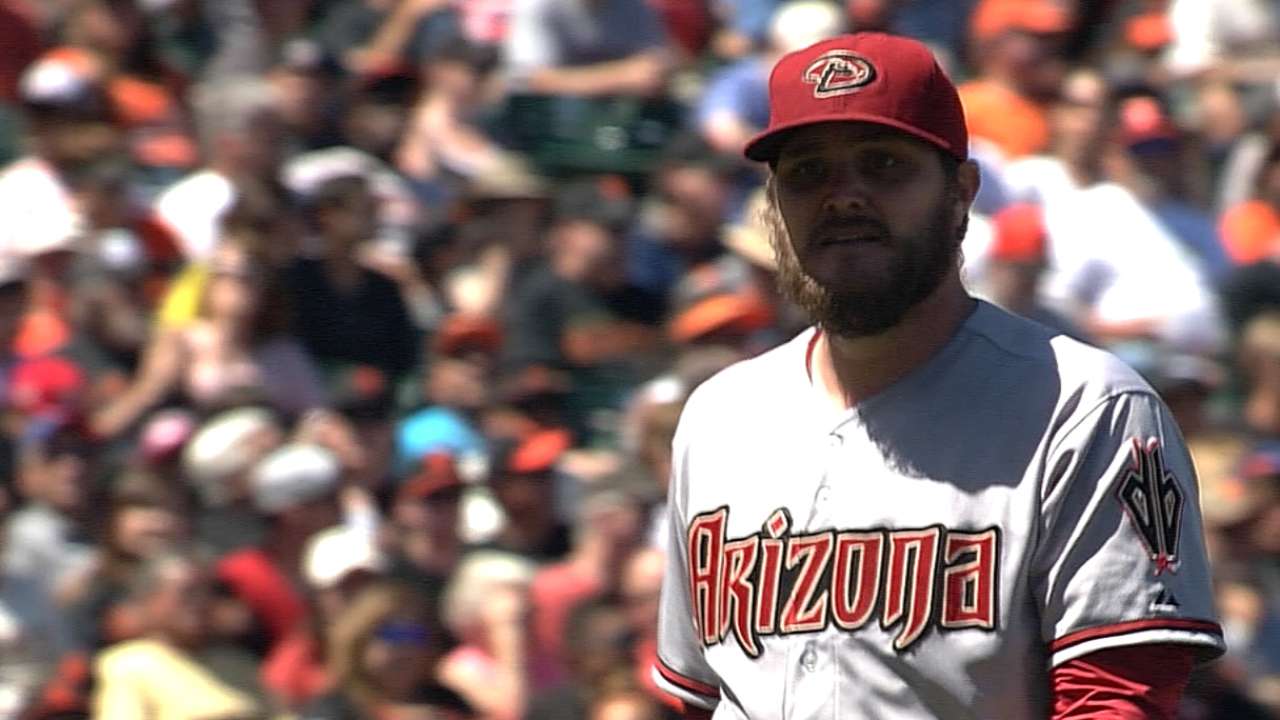 SAN FRANCISCO -- Wade Miley has not felt at his best his last few times out.
The left-hander sure could have fooled anyone who's watched those games, though.
Miley turned in his third impressive start in a row Saturday afternoon as he helped the D-backs beat the Giants, 2-0, in front of a sellout crowd at AT&T Park.
Miley (5-6) tossed seven shutout innings, allowing four hits and three walks while striking out four. Over his last three starts, the left-hander has allowed just three runs in 21 2/3 innings.
"I really didn't feel too great," Miley said. "I give a lot of credit to [catcher Miguel Montero] right there, he stuck with me, we battled. I was able to move the fastball in and out, kind of found it later in the game. They hit some balls hard, but fortunately they hit them at people. I'll take those."
When D-backs ace Patrick Corbin went down with a torn ulnar collateral ligament the day before the team left for Australia, Miley was thrust into the role of Opening Day starter. Trying to do too much and make up for the loss of Corbin might have contributed to Miley's slow start to the year.
"I think everybody put it on their shoulders and said, 'Hey, somebody's got to pick this team up, somebody's got to be the guy,' and I think that's kind of held us back a little bit," Miley said. "We've just got to go out and play. You just have to take natural instincts and play the game and good things are going to happen. I think that's kind of what we're falling into right now -- everybody is kind of just playing."
The D-backs scored the first run of the game in the fourth when Aaron Hill hit a one-out homer to left off Ryan Vogelsong. It was Hill's first home run since June 11.
"There's always going to be times throughout the year where you struggle," Hill said. "But when you can contribute and the guys are doing well and Wade did what he did, especially in a game like this against a team like that, it feels really good."
Hill was in the middle of another Arizona rally in the seventh when he led off with a double down the line in left.
One out later, Gerardo Parra singled to right to score Hill and give the D-backs a 2-0 lead.
That spelled the end of the afternoon for Vogelsong (5-7).
"He was throwing strikes and mixing speeds," Montero said of Vogelsong. "He tried to keep you off-balance. He's a good pitcher. You have to give him credit. He knows how to pitch."
Miley was in control throughout his outing until the Giants threatened in the seventh.
Brandon Belt drew a one-out walk and moved to second on Joaquin Arias' single to left. Gregor Blanco followed with a grounder to first, where Paul Goldschmidt fielded it and threw to Miley, who appeared to hit the bag with his foot just after Blanco.
First-base umpire Gabe Morales ruled Blanco safe, and Miley immediately motioned to manager Kirk Gibson in the dugout to come out and challenge the play.
After a brief review, it was ruled that Miley had in fact tagged Blanco before they both touched the base, so the call was overturned and Blanco was out.
"I just saw he was right there and I knew I could tag him, so I just tagged him," Miley said. "I knew it was going to be close if I just went to the bag and I was pretty sure I got him, and I was kind of shocked when they called him safe."
Pinch-hitter Hector Sanchez then hit a line drive that Goldschmidt made a diving catch on, robbing Sanchez of what could have very easily been a game-tying two-run double down the line.
Steve Gilbert is a reporter for MLB.com. Read his blog, Inside the D-backs, and follow him on Twitter @SteveGilbertMLB. This story was not subject to the approval of Major League Baseball or its clubs.