Correia keeps rolling as Twins offer support in rout
Lineup tallies 12 hits to back righty's six frames of one-run ball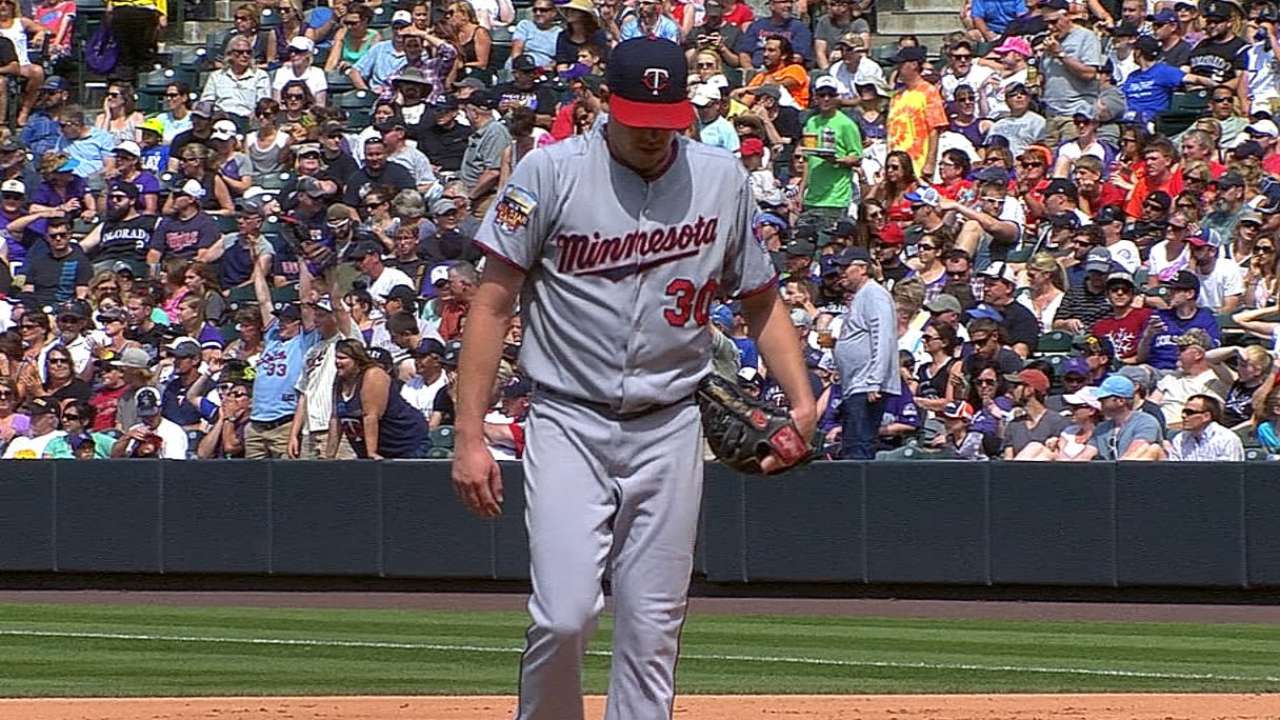 DENVER -- Hard-luck starter Kevin Correia again pitched well Saturday. And this time he came away savoring a victory rather than just the satisfaction of a job well done as the Twins beat the Rockies, 9-3, at Coors Field.
Correia (5-11) had lost his past three starts, and the Twins had been shut out in his two previous games. But Correia pitched at least six innings for the seventh straight start -- he has gone that far in 38 of his 50 starts with the Twins -- and lowered his ERA during his last seven outings to 2.30 (43 innings, 11 earned runs) despite a 3-4 record.
"I've lost a lot of games," Correia said. "I've always said I'm going out there trying to get a win. I'd rather go out there and give up more runs and get a win than go out there and pitch great and get a loss."
Correia helped his cause with a run-scoring double in the fourth that plated the Twins' fourth run. It was the last allowed by Rockies starter Tyler Matzek, who worked six innings.
The Twins scored twice in the first, which could have been an even bigger inning. They had runners on first and second with two outs when shortstop Troy Tulowitzki leaped to catch Sam Fuld's line drive and end Matzek's 30-pitch inning.
Brian Dozier led off with a double, his liner striking Matzek (1-4) on the side of his left leg and going well past the third-base line into foul territory. Matzek then fielded Eduardo Escobar's grounder and with Dozier well off the base, threw low to second, allowing Dozier to move to third. Both runners scored on Kendrys Morales' double.
"It's always nice having a lead," Correia said. "Although 2-0 in the first, you're going out there and it's Colorado and you're not going to go out there and go, 'OK, I'm just going to hold this 2-0 lead the rest of the game.' You know it's going to change a little bit."
It changed in Correia's favor when Escobar led off the third with a home run, his third of the season. Josh Willingham led off the fourth with a double and scored when Correia poked an opposite-field double to short left field with two outs.
That was quite enough for Correia at Coors Field, where he has ample experience. He made his Major League debut there on July 10, 2003, in a relief outing for the San Francisco Giants. The veteran Correia, who turns 34 next month, is 3-3 with a 3.35 ERA (48 1/3 innings, 18 earned runs) in 16 games, six starts at Coors Field.
"I think the way I pitch kind of helps me [at Coors Field]," Correia said. "I don't throw a lot of big breaking balls. ... It kind of plays into the way I throw the ball. I have a lot of experience here, and I think that helps a lot."
Charlie Blackmon, who went 5-for-5, was thrown out at the plate to end the third on a key play. He was on second with a runner on first when Justin Morneau hit a ball that second baseman Dozier backhanded and, much to Twins manager Ron Gardenhire's disbelief, let fly toward the plate.
"When he let it go, I honestly didn't know where he was throwing the ball," Gardenhire said.
Knowing that Morneau, his former teammate, runs well and runs every ball out, Dozier realized he had only one play.
"It took me a bunch of steps to my right, so I knew if I tried to plant and throw to first, I wouldn't have [Morneau]," Dozier said. "I knew Blackmon was pretty much going all the way [from second], because he probably thought it was a single [to the outfield], so I had to throw on the run. It just happened to be a decent throw."
After calling Blackmon out, crew chief and home-plate umpire Angel Hernandez initiated a review to see if catcher Eric Fryer had blocked the plate without possession of the ball in violation of Rule 7.13. The call was confirmed.
Matzek made his seventh career start and threw 93 pitches, including 30 in the first. Rockies manager Walt Weiss said, "I thought after the first inning it was a very solid outing. He gave us six innings. They got two early. He settled in and gave us some length and put us into position, but the game got away from us late."
The Twins broke the game open with three runs in the eighth. Pinch-hitter Chris Parmelee delivered a two-run single against Chad Bettis, who relieved Matzek. Bettis gave up a single and two walks to load the bases for Parmelee, who lined Bettis' first pitch to center. Dozier followed with a sacrifice fly that made it 7-1.
The Twins will end their road trip on Sunday, which will mark their 20th game in 20 days leading up to the All-Star break. Phil Hughes, who is 9-5 with a 3.70 ERA, will take the mound.
"We got to go out and swing the bats and give him a chance to get another win," Gardenhire said. "He's pitched very well for us, and we always feel good when he's on the mound."
Jack Etkin is a contributor to MLB.com. This story was not subject to the approval of Major League Baseball or its clubs.