Rox outhit Twins, but power goes missing in loss
Blackmon's five knocks not enough as lineup tallies 12 singles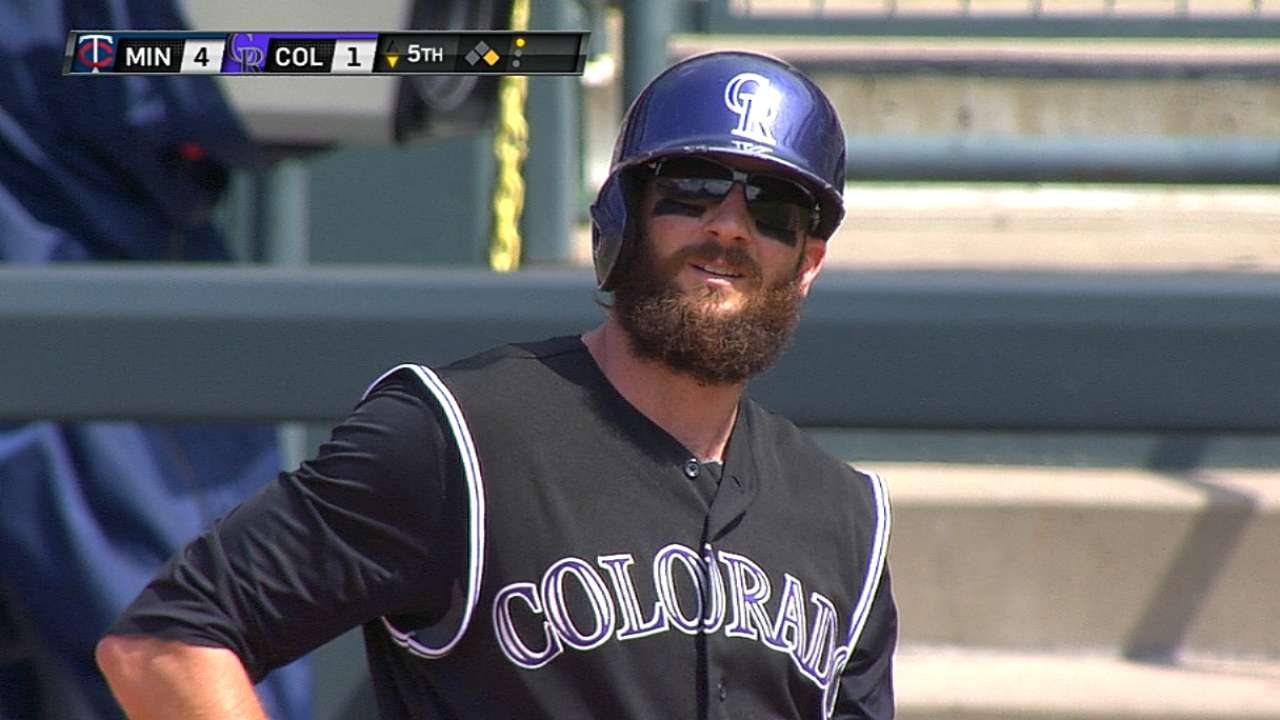 DENVER -- After striking first in each game of their three-game win streak, the Rockies couldn't dig themselves out of an early hole despite outhitting the Twins in Saturday's 9-3 loss at Coors Field.
Charlie Blackmon fulfilled his table-setting role by finishing 5-for-5 with a run, an RBI and a stolen base. But the Rockies stranded 10 runners and didn't record their first extra-base hit until the ninth inning after homering eight times as a team in their last two games.
"It's good to see [Blackmon] doing his thing again," manager Walt Weiss said. "He got five hits today, but it seemed like a lot of our hits were singles that were scattered throughout the game. We had a hard time putting an inning together, getting a big hit or getting a big extra-base hit."
Even with right-hander Kevin Correia recording 10 of his 18 outs through the air, the Rockies managed nothing more than one run and seven singles off him.
"It looked like Correia was just cutting the ball off the barrel," Weiss said. "We hit a lot of balls in the air, but we didn't quite get to them. We didn't square them up."
Twins second baseman Brian Dozier began the game squaring one up, though, ricocheting a double hard off Tyler Matzek's left leg. After a brief check from the training staff, Matzek (1-4) remained in the game -- though his luck wouldn't get much better.
Matzek tried to get Dozier out at second once Eduardo Escobar hit a second straight liner at the pitcher, but he "lolly-popped" an off-target throw, putting runners on the corners. Kendrys Morales then plated two by roping a line-drive double to center off the first pitch he saw.
Matzek said he "wasn't rattled at all" following the comebacker and proved so by limiting the Twins to two runs over the next five frames.
Escobar's solo shot in the third gave the Twins a 3-0 lead, but by the way he sprinted and pulled up at second, it was clear he thought he had earned a ground-rule double before the ball carried over the left-field wall.
"He got it, he hit it well," Matzek said. "I don't know what the dimensions were of the home run or anything like that, but I felt like it was a good pitch, I felt like it was a confident pitch and I probably would have thrown the same pitch again."
Correia's fourth-inning double would score another before Matzek was pulled after surrendering seven hits and four runs over six innings.
The Rockies had a chance to score in the third after Justin Morneau singled off Correia with two on and two outs. Rockies third-base coach Stu Cole gave Blackmon the green light to go home from second, but Dozier made a ranging scoop and a perfect, off-balance throw to get him out by a large margin.
After a crew chief review confirmed that catcher Eric Fryer wasn't illegally blocking the plate, the inning was over and the Rockies' first real rally was stifled.
"I had no idea where [Dozier] was throwing that ball, to tell you the truth," Twins manager Ron Gardenhire said. "When he let it go, I was like, 'Where's he going with it?' It turned out right at home."
Blackmon's third single of the game finally put the Rockies on the board in the fifth, scoring DJ LeMahieu and cutting the Twins' lead to 4-1.
In taking over for Matzek, right-hander Chad Bettis cruised through one inning before surrendering two hits and two walks in the eighth. The second of those singles was from a pinch-hitting Chris Parmelee, plating two just as a downpour began to engulf Coors Field.
Dozier's sacrifice fly then made it a 7-1 game after right-hander Brooks Brown took over. The rain subsided, but the Twins pushed across two more in the ninth after Nolan Arenado failed to make a tough barehanded play on a damp infield.
The Rockies rallied back with two runs in the bottom of the frame before right-hander Anthony Swarzak settled down to close it out.
Cody Ulm is an associate reporter for MLB.com. This story was not subject to the approval of Major League Baseball or its clubs.