Nelson roughed up as Cards tie Brewers in Central
Top prospect allows eight runs (six earned) over 4 2/3 rocky frames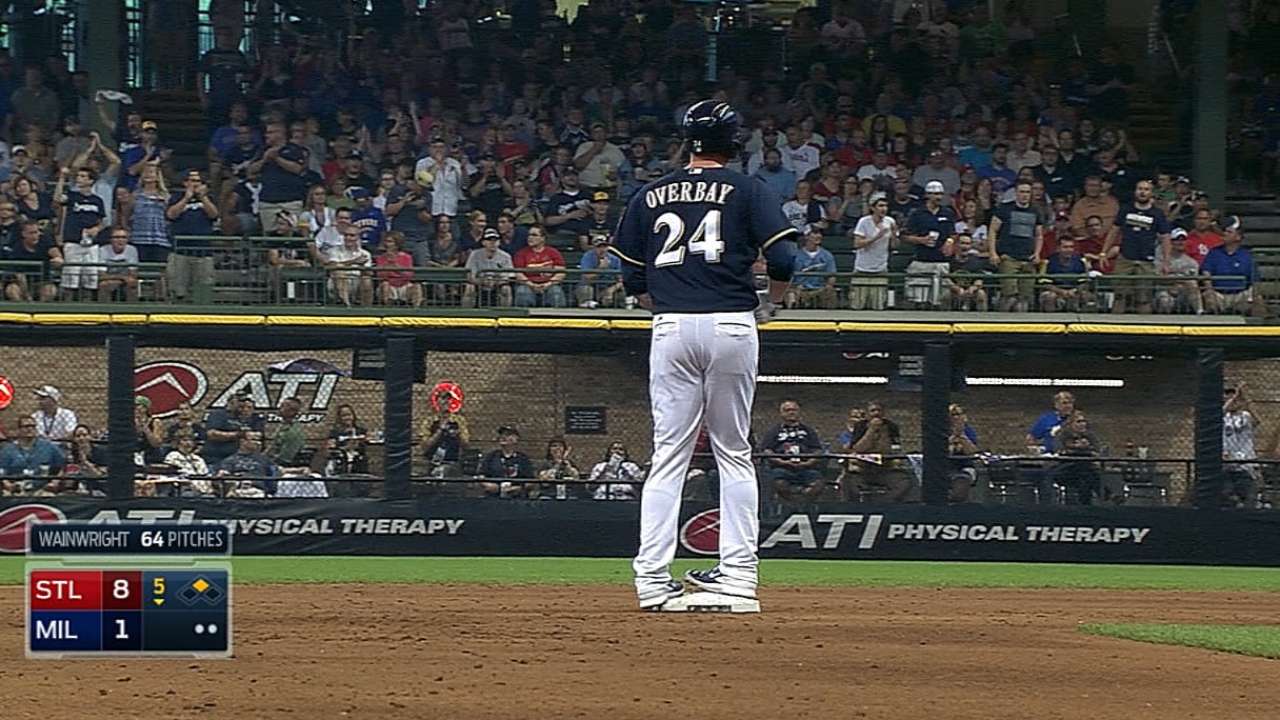 MILWAUKEE -- The Brewers' lead in the NL Central took three months to build up and 12 games to tear down.
Highly touted pitching prospect Jimmy Nelson was roughed up for eight runs in just 4 1/3 innings en route to a 10-2 loss to St. Louis on Saturday as the freefalling Brewers dropped into a first-place tie with the Cardinals.
"We knew they were a good team," Brewers manager Ron Roenicke said. "We knew they were going to be coming. I sure didn't expect us to go into this kind of slide. But it does happen. We've got to regroup and play like we did at the beginning and hopefully take off again."
The Brewers, who had been in sole possession of first place in the NL Central since April 9, have lost seven consecutive games and 11 of their last 12 since June 28 when they were a season-high 19 games above .500.
Now, the winner of Sunday's series finale holds first place at the break.
"I think it's always important to keep perspective," said Brewers outfielder Ryan Braun. "If anybody told us at the beginning of the year that we'd be tied for first place with one game left in the first half, we'd be excited about that. I don't think anybody would have predicted us to be there, to be in this position."
The Brewers were hoping that Nelson, who was 10-2 with a 1.46 ERA and a string of 21 2/3 scoreless innings at Triple-A Nashville, would provide a much-needed lift. But he struggled from the get-go against St. Louis in his first start at Miller Park. He allowed eight runs (six earned) on eight hits with two walks and a hit batter, while striking out five.
"It's very frustrating. That's all on me," Nelson said. "Three things I didn't do: I didn't get ahead of hitters, I fell behind a lot of guys; I didn't execute my pitches, left too many balls up and I know when that happens, no matter what level you're at, you're going to get hit."
It was a stark contrast to his spot start in late May for injured Yovani Gallardo when Nelson pitched 5 2/3 scoreless innings to get his first big league victory in a 7-1 win at Miami.
The recently offensively-challenged Brewers, whose only victory in the skid was a 1-0, two-hit shutout of the Reds by Matt Garza, also were overmatched by Adam Wainwright, who allowed two runs on five hits in seven innings.
"The thing about him is he's got great command with all his pitches," Roenicke said. "And he's got a great feel for the game. He understands when to change speeds, he understands when to go inside, he understands when to throw the ball in the dirt. The combination of the three is why he pitches the way he does."
The Brewers also took the field with heavy hearts following the death Friday of the infant son of shortstop Jean Segura, who was placed on bereavement leave.
"That's definitely tough," said Cardinals second baseman Kolten Wong. "When we heard that, we were kind of stunned by that. It's a sad situation and I think that played a big part also."
Nelson, called up this week to replace Marco Estrada in the rotation, allowed three runs in the first, but was victimized by sloppy defense. Matt Carpenter singled to open and Matt Holiday was hit by a pitch with one out. Carpenter advanced to third on Matt Adams' fly out and scored on Jhonny Peralta's single to center.
Nelson should have gotten out of the inning, but second baseman Scooter Gennett bobbled Oscar Taveras' chopper. Tony Cruz turned the error into 3-0 lead with a two-run single to center.
"First inning, he should have got out of it with one run," Roenicke said. "And I don't know how much it affected him. He didn't seem to be rattled by it. But I think anytime you're down 3-0 and you're facing Wainwright, it's not a good way to start. I don't know if that had anything to do with it, but after that, command was off. He was all over with his fastball. Sliders, he threw some great ones, but again he missed a lot with it."
In the second, a two-out walk to Carpenter cost Nelson when Wong followed with his sixth home run, a two-run shot into the Cardinals' bullpen in right field to make it 5-0. It was Wong's fifth home run since returning from the disabled list last Sunday.
Cruz, starting in place of injured All-Star catcher Yadier Molina, doubled in another run in the third to increase the lead to 6-0.
Nelson left with runners on first and second in the fifth, but reliever Tom Gorzelanny allowed both runs to score.
To go along with poor pitching and little offense, the Brewers completed the formula for defeat when successive fielding errors by shortstop Jeff Bianchi and right fielder Braun led to an unearned run off Estrada that made it 9-1.
Roenicke successfully challenged a play at first base in the fifth inning. First-base umpire Jeff Nelson ruled the runner safe, but the play was overturned on review to end the inning.
Jim Hoehm is a contributor to MLB.com. This story was not subject to the approval of Major League Baseball or its clubs.