Rays take charge with big inning to back Odorizzi
Six-run sixth opens up game; Kiermaier, Joyce combine for six RBIs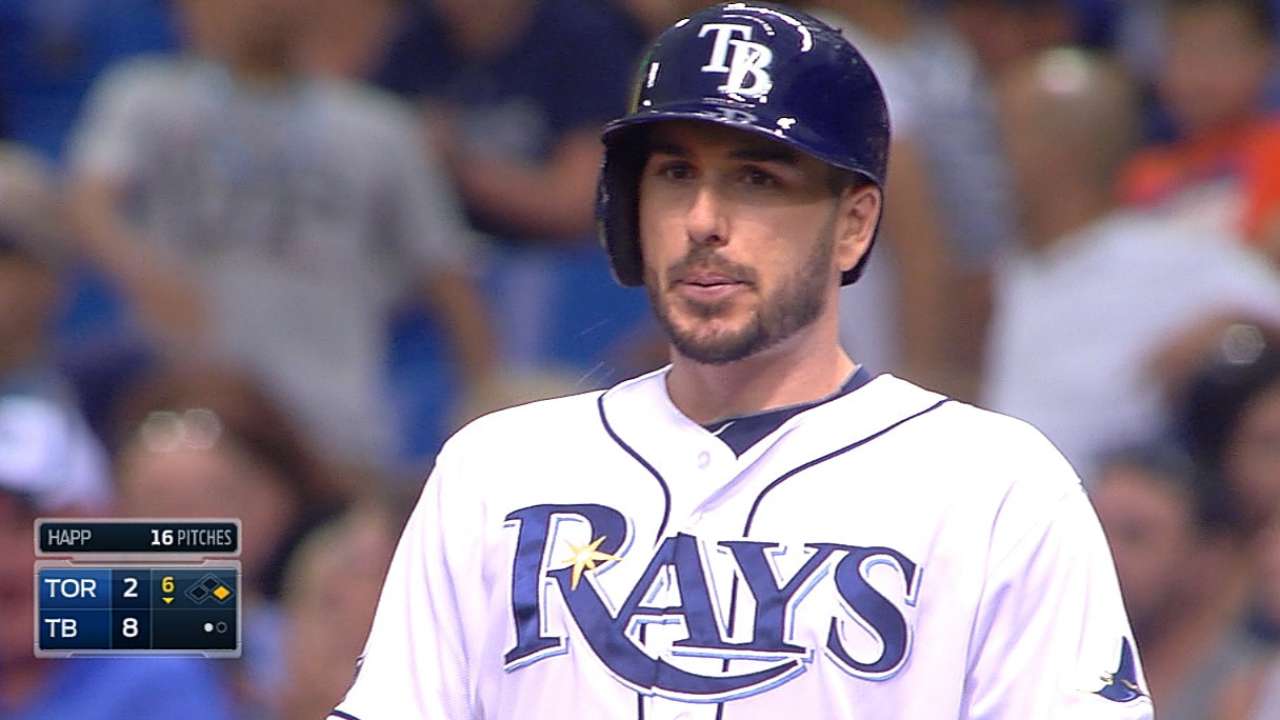 ST. PETERSBURG -- Big innings for the Rays are as rare as rain drops inside Tropicana Field.
No umbrellas were opened Saturday afternoon, even though the Rays scored six runs in the sixth en route to a 10-3 win over the Blue Jays at The Trop.
The Rays have won 10 of their last 14 and are 19-11 since June 11. Prior to June 11, they had lost 14 of 15 games. Sunday will afford the Rays the opportunity to claim their fourth series win in their last five series heading into the All-Star break.
Only one other time this season had the Rays scored as many as six runs in an inning. That happened June 29 in Baltimore, when Tampa Bay crossed home seven times in the sixth inning of a 12-9 win.
Saturday's explosion unfurled slowly at first and gained steam when Rays manager Joe Maddon went against the grain with a decision at a critical juncture of the sixth.
With the score tied at 2, the Rays loaded the bases with no outs against Drew Hutchison, who hails from nearby Lakeland, Fla. The Blue Jays right-hander recovered to strike out Jose Molina for the first out. Sean Rodriguez was set to bat next, bringing to mind the majestic, game-tying three-run homer he hit Friday night.
But Maddon pulled the plug on Rodriguez and sent Cole Figueroa to the plate. He explained that even though Rodriguez has been swinging the bat well, he was not faring well against Hutchison. Meanwhile, left-hander J.A. Happ was warming in the Blue Jays' bullpen.
"Hutchinson has more of a tendency to walk lefties than righties," Maddon said. "Had they gone to the lefty, here comes [Right-handed hitting Logan] Forsythe. I liked it either way."
The Blue Jays opted to pitch to Figueroa, and the little-used infielder came through, drawing a walk on nine pitches to force in the go-ahead run.
"There really wasn't much thinking about [the at-bat]," Figueroa said. "I hadn't seen pitching in a while, so it was one of those things where I just wanted to have a good at-bat, and luckily I was able to foul off some of his tough pitches."
Happ took over for Hutchison to face leadoff hitter Kevin Kiermaier. After falling behind, 0-2, the rookie chopped a two-run single over third baseman Juan Francisco's head.
"It was one thing where I told myself to be aggressive, bases loaded against the lefty," Kiermaier said. "I figured he'd come with the fastball, but he placed them really good. He made two perfect pitches.
"At 0-2, I said, 'I really need to battle here and put the ball in play.' And he threw something that was a little up, and I threw my hands at it. It was, ah, smart hitting by me to find that hole right there. So it was nice to see that one go through and get things going there a little bit."
Ben Zobrist followed with an RBI single before Matt Joyce employed the Kiermaier method by chopping a two-run single over Francisco to give the Rays an 8-2 lead.
"It was a good ballgame until it imploded on us, but that's battle," Blue Jays manager John Gibbons said. "[Hutchison] wasn't as sharp as he normally is, but he kept us right there. He had the walk, they scored the go-ahead run, but he competed."
Jake Odorizzi started for the Rays and produced his seventh quality start of the season, allowing two earned runs and striking out seven in 6 2/3 innings to pick up his fifth win.
"We executed," Odorizzi said. "We made pitches, a lot of weak contact. Some runs happened out of it, but when you get weak contact, there's not that much you can do about it. I'd rather have that than screamers off the wall."
Kiermaier plays with his hair on fire. That style cut both ways in the early going.
In the first inning, he stretched a single into a double, moved to third when Zobrist flied out to center and scored on Joyce's sacrifice fly to give the Rays a 1-0 lead.
That same go-for-broke style worked against the Rays in the second when Colby Rasmus hit a sinking drive to center. Kiermaier charged in and dove to try and make the catch. The ball rolled passed him, allowing Rasmus to reach third with a triple. Francisco's sacrifice fly drove home Rasmus to tie the score at 1.
"I guess you can call it 'hair on fire,' but it's the only way I know how to play, 100 percent all out," Kiermaier said. "I look like an idiot sometimes, but for the most part I try to be under control with everything and know when to push the limit and when not to."
Kiermaier's aggressiveness could be forgiven based on the way the Rays feed off his energy. He finished with three hits and a walk, scoring twice and driving in three to raise his average to .310.
Maddon smiled when asked if he would like more of his players to employ Kiermaier's style of play.
"The whole industry would like to see more players play like Kiermaier plays," Maddon said.
Bill Chastain is a reporter for MLB.com. This story was not subject to the approval of Major League Baseball or its clubs.