After strong start, Hutchison tagged in sixth frame
Young righty strikes out seven, charged with six runs over 5 2/3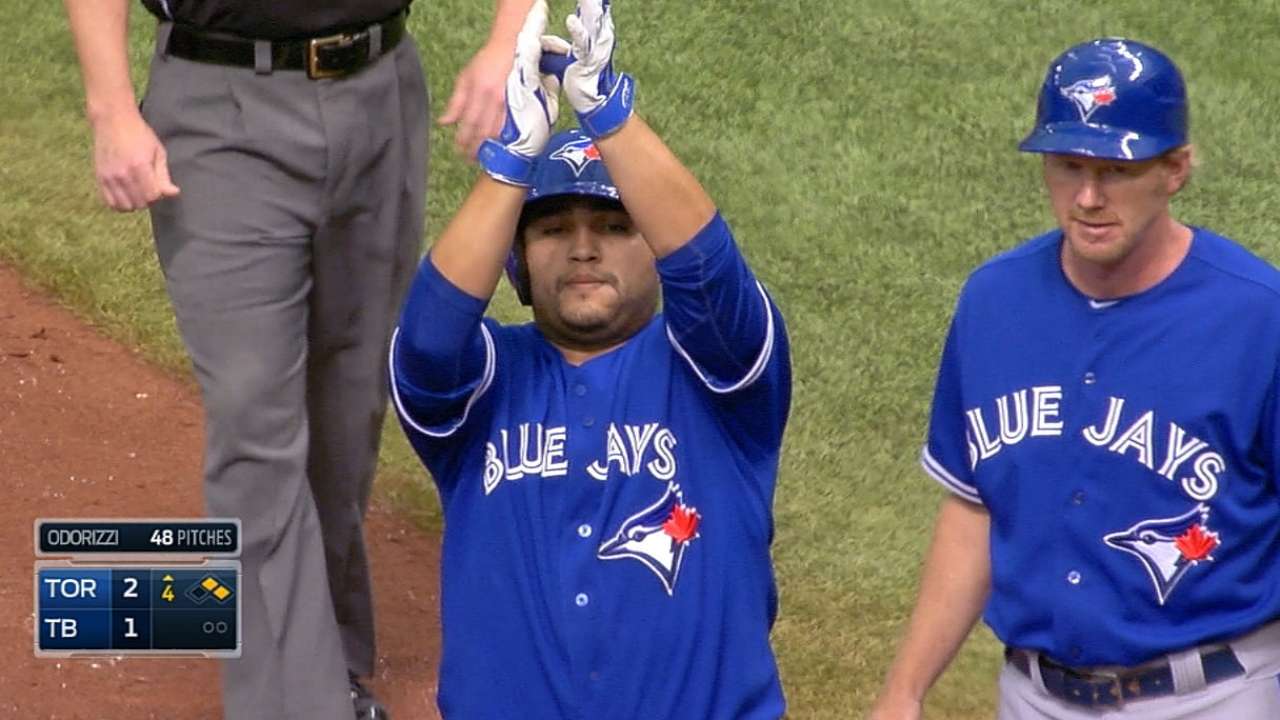 ST. PETERSBURG -- Nine pitches, and the floodgates opened.
All nine were thrown by Blue Jays starter Drew Hutchison to Tampa Bay pinch-hitter Cole Figueroa in one critical at-bat, with the bases loaded in the sixth inning of Toronto's 10-3 loss to the Rays on Saturday at Tropicana Field.
Four of the nine were foul balls, three of those keeping the at-bat alive, and Figueroa earned a free pass to first base and brought James Loney home with the go-ahead run.
They were the last nine pitches Hutchison threw on the afternoon, and just the beginning of the Rays' six-run sixth, which turned a 2-2 game into a rout.
"I was going to give him a chance to ride it out," Blue Jays manager John Gibbons said of Hutchison. "He was ahead of Figueroa there. He had a chance. The walk's what killed him right there.
"It was a good ballgame until it imploded on us."
Hutchison was already laboring when Figueroa stepped in. He had walked two batters in the inning and was sitting at 104 pitches. Nine pitches later, when Hutchison lost Figueroa, the right-hander was out, J.A. Happ was in and the inning was only getting started.
"I faced five guys in that inning, got ahead of them all, walked three and gave up a two-strike hit. That's just not gonna get the job done," Hutchison said. "It's embarrassing, that's about all there is to say about it."
After the Figueroa walk, which left Hutchison yelling at himself on the mound, Gibbons went to Happ out of the bullpen -- Happ was originally scheduled to start Sunday, but was replaced by R.A. Dickey -- and the left-hander gave up three straight hits, turning a 3-2 deficit into an 8-2 hole.
It wasn't all Happ's fault. All three singles -- by Kevin Kiermaier, Ben Zobrist and Matt Joyce -- were ground balls through the left side, and two were choppers that kicked over the head of third baseman Juan Francisco.
"It was one of those things where, our defense, we were playing a certain way, and it just could've been totally different," Happ said. "They found holes."
The Blue Jays could have clinched their first series win at The Trop since 2007 -- they've gone 20 straight series without a win, losing 18 and splitting two. Instead, thanks to what Figueroa started, they'll have to wait for another chance to break the streak in Sunday's series finale.
"I was going up there trying to be aggressive," Figueroa said. "I hadn't seen pitching in a while. I just wanted to have a good at-bat. I was able to foul some of his tough pitches off, and the last one I saw down."
Earlier in Saturday's game -- when it was still, as Gibbons said, a good ballgame -- Toronto and Tampa Bay had gone back and forth, trading runs.
The Blue Jays found themselves trailing, 1-0, early, thanks to Kiermaier's speed. Leading off the home half of the first inning, Kiermaier lined a ball into right-center field and, hustling all the way, turned it into an easy double when right fielder Anthony Gose took a long time getting to the ball. Kiermaier then tagged and went to third on Zobrist's flyout to left-center and scored on Joyce's sacrifice fly.
Toronto got the run back in the second -- also thanks to Kiermaier. The Rays center fielder, charging in and diving for Colby Rasmus' sinking line drive, missed the ball completely and it bounced past him toward the center-field wall. By the time right fielder Zobrist ran the ball down, Rasmus was on third, and he scored on Francisco's sac fly.
The Blue Jays took the lead in the fourth on catcher Dioner Navarro's RBI single to center, but the Rays got the run right back when their catcher, Jose Molina, notched an RBI single to center in the bottom of the inning.
Two innings later, Figueroa came through with his walk.
"The tipping point in that game tonight for me was Figgy's at-bat," Rays manager Joe Maddon said. "To come in under those circumstances, has not been playing a whole lot, and draws the walk. Tremendous at-bat. Didn't flinch. Didn't expand [the strike zone]. Wonderful job."
On the wrong end of that tipping point was Happ, who watched the game slip away from him on slow ground balls and couldn't do a thing about it.
"I've been using the word 'frustrating' a lot, but that's the only way to describe it," Happ said. "I feel like I'm gonna go crazy if I look too deep into it."
He paused.
"I still might go crazy," Happ said.
David Adler is an associate reporter for MLB.com. This story was not subject to the approval of Major League Baseball or its clubs.