Dodgers kept off balance by Padres rookie
Bats struggle against Hahn's curve on rough night for Haren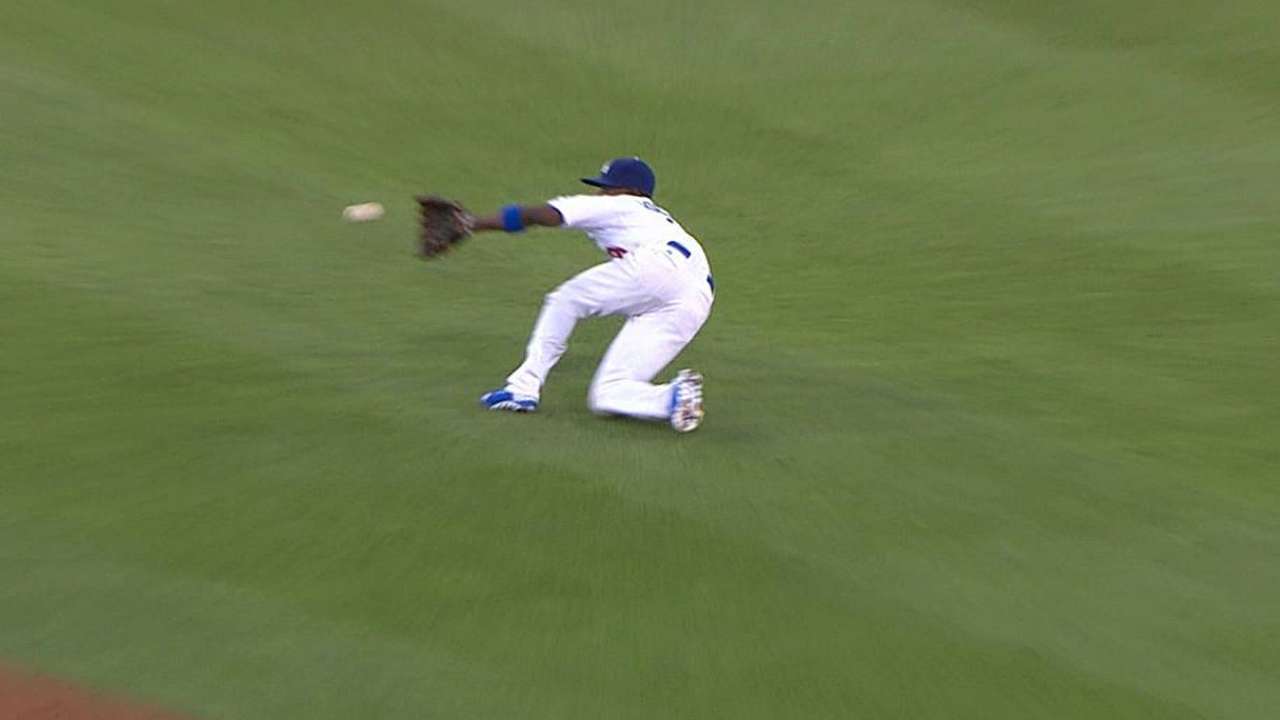 LOS ANGELES -- Matt Kemp took his bat, snapped it over his knee and tossed its shattered remains onto the grass just in front of the home dugout.
It was the fifth inning of Friday's 6-3 loss to the Padres, and Kemp -- then representing the tying run -- had just flailed at a slow-looping 2-2 curveball, stranding two teammates on base and igniting some deep-seated frustration.
It was that kind of night for the Dodgers -- a night where frustration mounted at every turn.
Rookie right-hander Jesse Hahn had the Dodgers fooled at the plate, dropping in hook after hook to stymie the Los Angeles lineup. On the basepaths, Yasiel Puig ran the Dodgers out of a seventh-inning rally, trying to advance from second on a sacrifice fly and instead causing an inning-ending double play. And on the mound, right-hander Dan Haren threw his shortest outing of the season, lasting just four-plus innings while surrendering four runs.
"The results were terrible," said Haren, who fell to 8-6 on the season. "I'm just not getting it done for us right now. I felt fine. But that doesn't mean much. The last few times out I have not been very good."
After allowing eight runs in 5 1/3 innings in Colorado on Saturday, Haren allowed four runs on six hits Friday night.
In the second inning, his splitter was his best friend and worst enemy. He used it to put away Padres second baseman Brooks Conrad for the first out, then buried one in the dirt to strike out Will Venable -- but the ball got away, and Venable reached first. His next splitter -- on a 2-2 count to Alexi Amarista -- was deposited over the right-field fence for a two-run home run.
It was the 17th home run Haren has allowed in his past 12 starts, and it established a lead that the Padres would never relinquish. They chased Haren from the game in the fifth inning after a leadoff single by right fielder Seth Smith and back-to-back doubles by Chase Headley and Carlos Quentin drove in two runs. And they tacked on two more against a shaky Jamey Wright in the sixth with Quentin's two-run single.
"[Haren] still has good stuff," catcher Drew Butera said. "There's no doubt about it. He has a good split, good cutter, still has a good fastball. I think it's just one of those nights where they took advantage of a few mistakes."
Meanwhile -- in just his seventh Major League start -- Hahn held the Dodgers to three hits and one run in six innings, striking out six and walking four. The 24-year-old's lone blemish came in the first inning. With Puig on first base and two outs, he hung a 1-0 slider to Kemp -- who wasn't fooled that time, turning on the ball for an RBI single. From there, the Dodgers' next-best opportunity against Hahn came in the fifth, when Kemp struck out to strand Puig and Adrian Gonzalez on first and second.
"At that point in the game, my curve was the pitch that I was throwing most for strikes," said Hahn, who moved to 5-2 on the season with the win, dropping his ERA to 2.21. "I got behind, but I had enough confidence in it to keep throwing it. It was my out pitch."
Added Butera: "He had that really slow curveball. He had a good running fastball. And guys just weren't picking up that slow curveball."
Though they couldn't figure out Hahn or his curveball, the Dodgers showed signs of offensive life in the seventh inning against right-hander Blaine Boyer.
Puig doubled with one out to drive in a run and advance Dee Gordon to third. Gordon would score on Gonzalez's sacrifice fly, cutting the deficit to 6-3, but Puig was caught trying to advance to third, ending the inning and neutralizing the threat.
It was another costly mistake for Puig, who made a similar mistake during a 7-2-4 triple play against Cleveland.
"Obviously, the play at third, we kind of run ourselves out of the inning with Yas," manager Don Mattingly said. "It's one of those, you just have to learn from. Just talking to him, make sure he understands why it's not the place to go there. Just learn from that, and you got to move forward."
The Dodgers again would attempt to rally in the eighth, as pinch-hitter Andre Ethier walked and Scott Van Slyke singled to lead off the inning. They made it as far as second and third, advancing on a wild pitch by reliever Joaquin Benoit.
But Benoit pitched out of trouble, striking out the next two batters, then getting Carl Crawford to ground into a fielder's choice to end a scoreless inning -- and any hope of a Dodger comeback.
Michael Lananna is an associate reporter for MLB.com. This story was not subject to the approval of Major League Baseball or its clubs.