Hahn relies on curve to carve up Dodgers
Rookie collects fifth win in seventh start; Quentin has three RBIs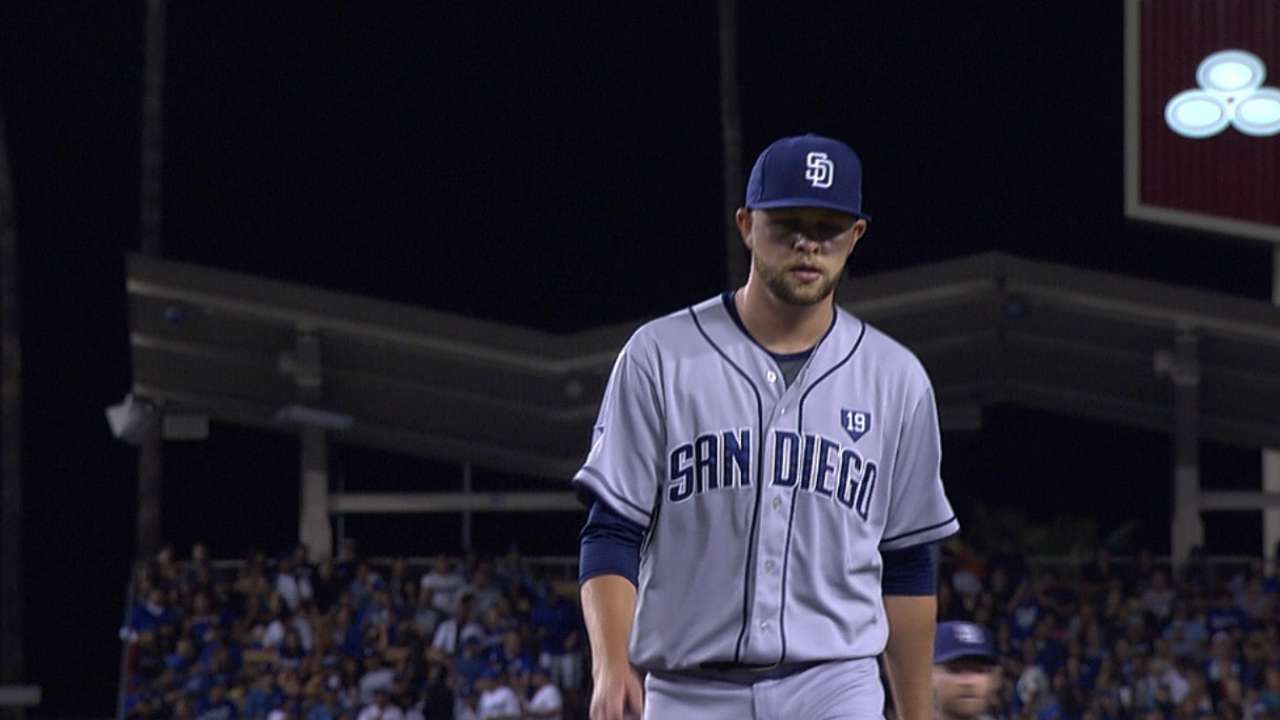 LOS ANGELES -- When Jesse Hahn hops on a flight Monday for his native Connecticut, where he'll spend the All-Star break, he doesn't anticipate spending a single minute on wistful reflection on his first seven starts in the big leagues.
Not that anyone would mind if he did, with the way his early run in the Padres' starting rotation has gone.
Instead, the 24-year-old rookie has other plans for the six-hour flight home.
"I'm going to learn from it and then put it behind me," he said. "Things can change really quickly. I've got to keep moving forward."
Hahn took another big step ahead on Friday night, holding the Dodgerst to one run in six innings as the Padres won, 6-3, before a crowd of 46,073 at Dodger Stadium.
Again using his low-90s fastball and big curveball, Hahn (5-2) pitched his way out of several potentially messy situations, as the Padres (41-52) took the second game of a four-game series from the Dodgers (52-43).
"He had that really slow curveball. He had a good running fastball. And guys just weren't picking up that slow curveball," said Dodgers catcher Drew Butera.
The Padres got three RBIs from Carlos Quentin and a two-run home run by Alexi Amarista, as well as save No. 24 this season for Huston Street, who pitched for the first time since last Saturday when he blew his first save of the year against the Giants.
Quentin used his arm as well for a pivotal outcome, as he threw out Yasiel Puig attempting to tag up from second to third base in the Dodgers' two-run seventh, ending the inning -- and, effectively, killing the Dodgers' rally.
"That was a huge play for us," said Padres manager Bud Black.
But the real story was Hahn, who allowed just three hits with four walks and six strikeouts. He lowered his ERA to 2.21. Throw out his first start against Pittsburgh last month and he's 5-1 with a 1.46 ERA over his last six starts.
"Overall, he's ahead of the game in some areas," Black said.
After getting two quick outs in the fifth inning, Hahn put two runners on and fell behind Matt Kemp, 2-0. In a fastball count, Hahn came in with a curveball and got a swinging strike. He came right back with the same pitch and got the same result.
Hahn then went to the slider, a pitch that ran inside that Kemp managed to foul off. Finally, Hahn went back to -- what else? -- the curveball, to put Kemp away, as the Dodgers slugger proceeded to break the bat over his knee, because that was clearly the problem.
Two innings earlier, Hahn did almost the exact same thing to Scott Van Slyke, though it didn't involve as much drama. Two on, two outs and two nasty curveballs for the inning-ending strikeout.
"At that point in the game, my curve was the pitch that I was throwing most for strikes. I got behind but I had enough confidence in it to keep throwing it. It was my out pitch," Hahn said.
Ensuring Hahn of his fifth victory took some work, as reliever Joaquin Benoit -- pitching for the first time since allowing three runs, including two home runs, Wednesday in Denver -- loaded the bases on two walks and a hit. Benoit got out of the inning with two strikeouts, but needed 30 pitches to do so.
"He knows how to handle those situations. He's going to make sure he throws the right pitch," said San Diego third baseman Chase Headley. "That was a great job getting out of that inning. He has a great understanding of himself as a veteran pitcher."
Corey Brock is a reporter for MLB.com. Keep track of @FollowThePadres on Twitter. This story was not subject to the approval of Major League Baseball or its clubs.