Lincecum shines vs. D-backs, wins fourth straight
Righty hurls seven shutout innings; Sandoval contributes three RBIs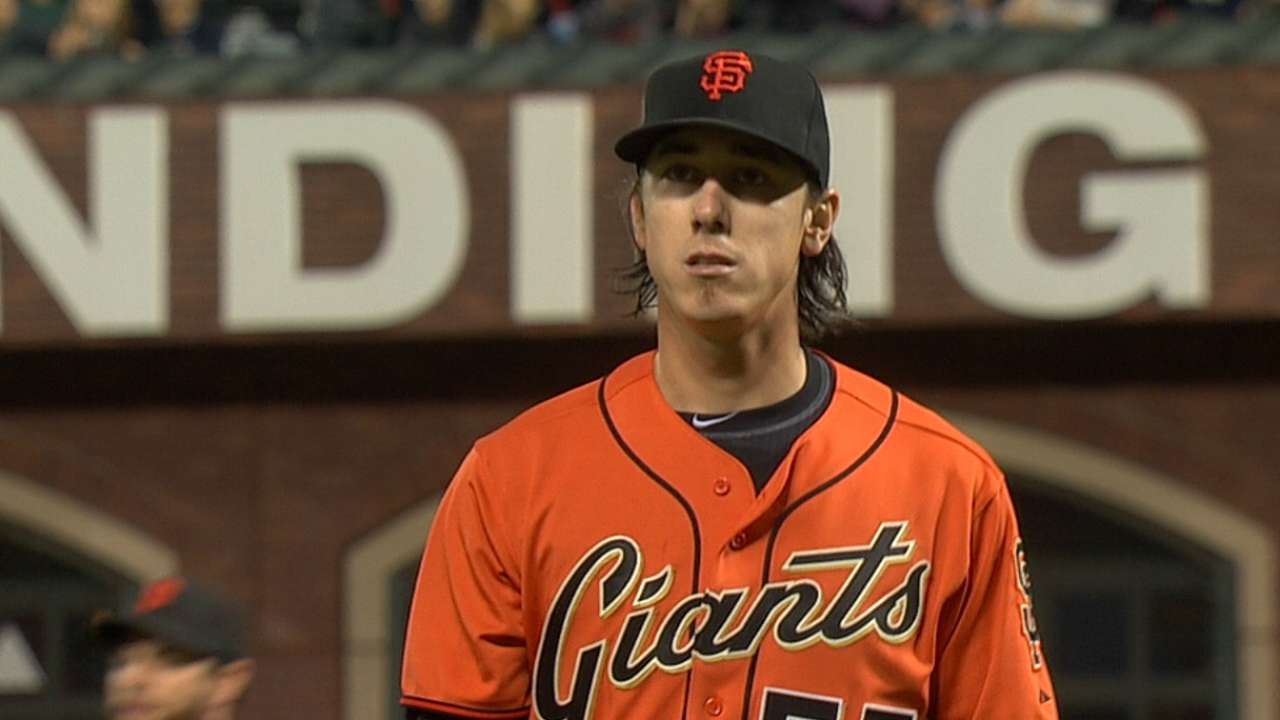 SAN FRANCISCO -- Seconds after Tim Lincecum tumbled to the ground while covering first base to end the fourth inning, the lone bit of uncertainty for the Giants on Friday night subsided, as he popped back to his feet. Totally healthy, he smiled.
Walking back to the dugout, Lincecum and Brandon Belt laughed while watching the replay on the scoreboard. So went Friday night for the Giants: not much concern and plenty of smiles, as they cruised to a 5-0 victory against the D-backs at AT&T Park.
Five runs were plenty of support for Lincecum, who's recently had plenty to smile about (and given his teammates reason to grin, too). He again looked like a pitcher who's completed the transition from power pitcher to finesse pitcher and perfected his altered craft in seven shutout innings en route to his fourth consecutive win.
In his last four starts, he's allowed just one earned run in 30 1/3 innings. He's thrown a career-high 27 consecutive scoreless innings at AT&T Park, which is the Giants' longest stretch since Ryan Jensen also tossed 27 unblemished innings in a row at home in 2002.
Lincecum's double-take-at-the-radar-gun velocity may be gone, but his confidence from his Cy Young seasons of yesteryear has returned, and that's not good news for opposing hitters.
"I'm not afraid to throw any of my pitches in any situation," Lincecum said, "and I feel like that confidence has carried me through these outings."
Added Pablo Sandoval: "I'm having fun watching him, every time out there. He's got his confidence back. I think that's one of the things we were looking for -- when he gets his confidence back, it's tough to beat us."
The D-backs were the last to do so in a Lincecum start, on June 20 in Arizona. Since then, Lincecum has been the brightest of the few bright spots through what's been a turbulent past month for the Giants.
"Timmy's really been a shot in the arm for us," manager Bruce Bochy said. "He's been the stopper here through these tough times. He's gotten us back on track, it seems like, in every start, and it's nice having a guy in the rotation doing that for you."
Having only allowed three hits, Bochy said Lincecum might have started the eighth inning, but a blister had begun to develop on his right middle finger. Bochy said the blister isn't cause for concern, but could've become exactly that had he pitched the eighth. And given the stellar play accompanying his latest tremendous outing, there was no need to press the issue.
Michael Morse impressed with a running catch in shallow left. Joe Panik made a diving stop at second. A flawless throw from Hector Sanchez thwarted Paul Goldschmidt's attempt to steal second base. And the bats did what the bats were supposed to do against a pitcher who entered the night with a 5.13 ERA through nine starts. They didn't waste much time, either.
Belt singled in the first and scored one batter later when Sandoval destroyed a baseball -- which landed atop Levi's Landing in a hurry -- for a two-run home run. Three batters, two runs.
They didn't maintain that torrid pace throughout the night, but the offense produced more than what'd become the norm lately. A Brandon Crawford single to right scored Tyler Colvin in the second, and one batter later, Lincecum and Panik (at third base) successfully executed a safety squeeze to push the lead to 4-0. A Sandoval double to left scored Hunter Pence to extend the lead to 5-0 in the fifth.
Arizona starter Mike Bolsinger was chased from the game after five innings. He allowed five earned runs on eight hits. The win improved the Giants to 37-15 this season when hitting at least one home run.
"It was nice to see, I'm not going to lie," Bochy said of the early runs via the long ball. "To get some early run support, it makes life a lot easier. We had some good at-bats early there; the guys did a nice job tonight."
None nicer than Lincecum, who's appreciative of his current streak after a couple of forgettable seasons.
"I know how hard it is to get to that point," Lincecum said. "You never take it for granted while you're in it; you just try and ride it as long as you can. I'm going to ride this wave as long as it goes."
Ryan Hood is an associate reporter for MLB.com. Follow him on Twitter @ryanhood19. This story was not subject to the approval of Major League Baseball or its clubs.