Abreu helps White Sox muscle past Tribe
Chicago overcomes adversity to even weekend set in Cleveland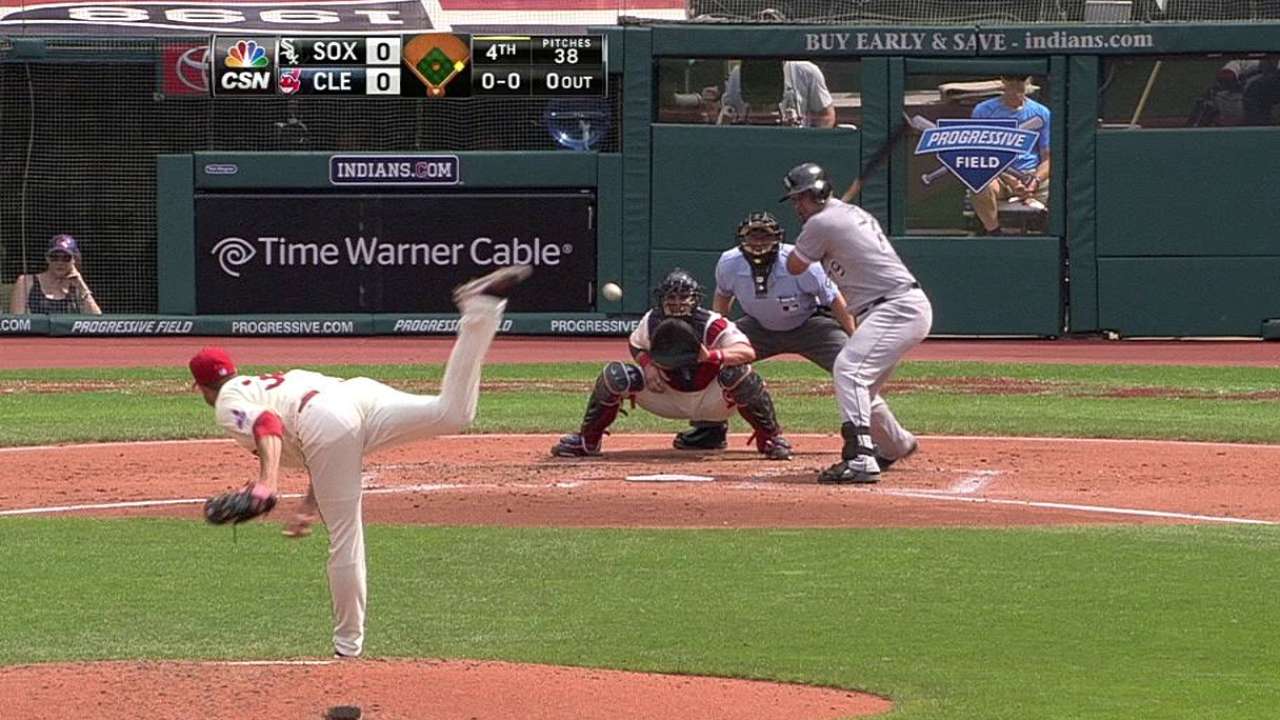 CLEVELAND -- The White Sox lost All-Star shortstop Alexei Ramirez and starting pitcher Scott Carroll to back stiffness during Saturday afternoon's contest against the Indians at Progressive Field.
They had a call in the seventh overturned by a replay challenge that switched a shoestring catch made by left fielder Dayan Viciedo into an eventual run scored by the Indians. But in the bigger and more important picture, they didn't lose the game.
Jose Abreu launched his Major League-leading 29th homer and Carroll's nearly spotless five innings were supported by more than enough from the bullpen in a 6-2 White Sox victory. A three-game losing streak overall and a nine-game losing streak against the American League Central came to an end for the White Sox (45-50), who are six wins ahead of their pace set during a dismal 99-loss '13 campaign.
Carroll (4-5) yielded just two hits over five innings, striking out three and walking one -- meaning he has allowed just three hits over the 11 2/3 scoreless innings he has pitched to complete the first half. Giving the bullpen 12 outs to record had the potential to become a precarious situation. But the relief quartet of Zach Putnam, Javy Guerra, Eric Surkamp and Jake Petricka bent but never broke.
As an example, Surkamp gave up a solo homer to Michael Brantley as the first batter he faced in the eighth to cut the lead to 3-2. He then retired Carlos Santana, Lonnie Chisenhall and Nick Swisher without issue. Guerra forced in a run by walking Jason Kipnis with the bases loaded in the seventh, after entering in relief of Putnam. But he struck out Asdrubal Cabrera to keep the White Sox in front.
"Overall, there are things we could have done better," Guerra said. "I could have gone out there and challenged Kipnis a little bit better. Ball got away from me, but I can't let them beat me in that situation."
Cleveland starting pitcher Zach McAllister (3-5) didn't allow a hit until the fourth inning, although he walked two -- including Alexei Ramirez to lead off the frame. Ramirez was replaced by pinch-runner Moises Sierra after aggravating a pregame back problem on a swing, and Abreu followed on the next pitch with the White Sox first hit -- a line shot into the right-field stands. The 2-0 advantage also represented Abreu hitting in 25 of his last 26 games.
"I am very proud of what I have accomplished this first half," said Abreu through interpreter and White Sox manager of cultural development Lino Diaz, speaking of his .287 average, 29 homers and 73 RBIs. "I have to continue to work and do even more good things [in the days] ahead of the season. So I'm looking forward to the second half."
"He's a really good hitter," said McAllister of Abreu. "You've got to be smart with your pitches and not leave stuff over the middle."
Adam Dunn's single off the right-field wall scored Alejandro De Aza in the sixth, and those three runs were more than enough for Carroll. He could have gone longer if not for his own back issue.
"Guys know I'm a sinkerball pitcher, and I'm going to continue to be aggressive with the sinkerball," said Carroll of his recent excellence after throwing 78 pitches on Saturday. "When I'm able to throw my curveball and split-changeup for strikes, it keeps them off balance. You mix in a cutter, and it definitely gives them something to look at and be ready for."
Putnam was charged with a run in the seventh, yielding a leadoff single to Chisenhall and then Yan Gomes' line drive to Viciedo one out later. Viciedo threw the ball into second, even after the call was made that he made the catch, and Gordon Beckham stepped on second for what would have been a forceout. But the replay became a dead-ball situation, meaning the overturned call put runners on first and second.
A single by David Murphy loaded the bases, before Guerra entered the contest and kept his team in control. The White Sox added three runs in the ninth, including a two-run double by Beckham, giving Petricka a little more room to work with.
Petricka faced four batters in a loss to Boston on Wednesday, and couldn't retire one of them. The talented young hurler had no such problem during a perfect ninth against the Indians (46-47).
"We've played in a lot of close games, and a lot nail-biters, a lot of heart-attack type of games," Beckham said. "It was nice to get a hit to put us in a better position."
Scott Merkin is a reporter for MLB.com. Read his blog, Merk's Works, and follow him on Twitter @scottmerkin. This story was not subject to the approval of Major League Baseball or its clubs.