De La Rosa's sharp effort spurs Rockies in opener
Lefty battles through hamstring cramp, benefits from stellar defense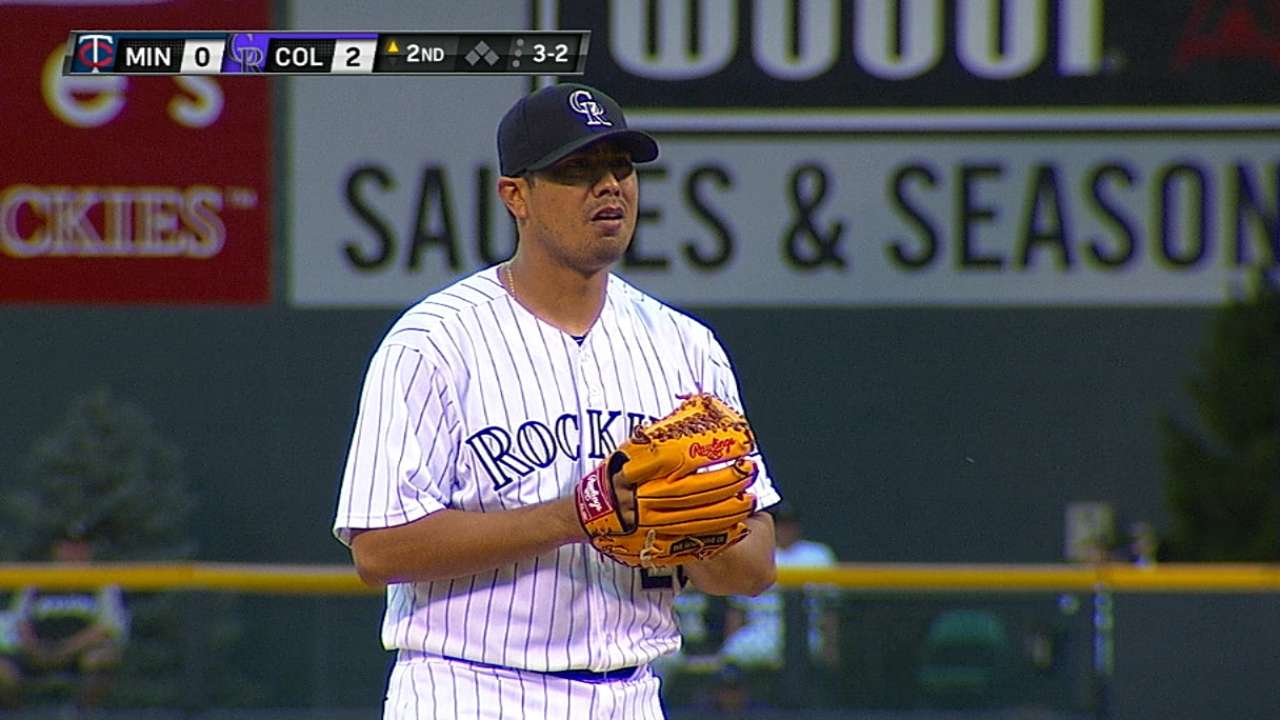 DENVER -- Friday marked Carlos Gonzalez's return and Justin Morneau's first game against the franchise with which he spent 11 years. But it was Jorge De La Rosa's steady presence that stole the show as he toughed out a right hamstring injury and guided the Rockies to a 6-2 victory over the Twins.
"Jorgy did his thing again," said manager Walt Weiss about De La Rosa's fourth consecutive win. "He's winning games for us even during a time where it has been tough to win games."
With a handful of scouts in attendance, including from the Orioles, De La Rosa gave the Rockies his fourth straight outing of at least six innings, limiting the Twins to six hits and a run off an Eduardo Nunez groundout in the second. His only walk was intentional and he struck out three over six innings.
"When your starting pitcher does well, the game tends to fall into place for you, as we saw tonight with Jorgy," Weiss said. "You hand the ball to the bullpen and they've got to put three innings away as opposed to four or five."
Weiss was "surprised" De La Rosa went as deep as he did after feeling a cramp in his right hamstring following a second inning sacrifice bunt. De La Rosa clutched his leg as he gingerly pulled up to first but gave no thought to leaving the game. And with the caliber of defense he was getting behind him, who could blame him?
In his first game since June 4, Gonzalez finished 1-for-4 with a run scored but broke in his new, everyday position of right field by gunning out Brian Dozier in the third inning. Gonzalez coaxed Dozier to take third by letting Kendrys Morales' single come to him before unleashing a bull's-eye to Nolan Arenado for the second out of the frame.
"You always pitch really comfortable with that kind of defense," said De La Rosa of Gonzalez. "Having [another] Gold Glove in there, you pitch more relaxed."
The Rockies received another collective exhale during a bases-loaded jam in the eighth. With two outs, Troy Tulowitzki scooped up Kurt Suzuki's sharp grounder and made a leaping, fade-away throw across the diamond to end the threat.
"Not a lot of shortstops can make that play with the bases loaded," Gonzalez said. "If the guy is safe, it's a different game. Whenever we have those guys out there making the plays that they're supposed to, we're going to be a really good team."
Drew Stubbs put the Rockies on the board in the first inning with a two-run shot to left-center -- his fourth home run in his last six games.
Wilin Rosario made it a 3-1 game with a single, scoring Arenado after he led off the second inning with some aggressive baserunning for his first triple of the season. Arenado also singled in the sixth for his first multi-hit game since returning from a fractured left middle finger last Thursday.
Tulowitzki followed up Gonzalez's first hit in his return from left index finger inflammation by depositing a two-run homer into the right-field bleachers in the third. The home run was Tulowitzki's 21st of the season, tying the National League Home Run Derby captain with Giancarlo Stanton for the NL lead.
"The one [Tulowitzki] hit out, it was supposed to be a sinker," Twins manager Rod Gardenhire said. "The only time it sunk was when it was in the stands."
Twins left-hander Kris Johnson (0-1) made it through another inning before being pulled at 57 pitches in his second start for Minnesota.
The Rockies scored their sixth and final run on Brandon Barnes' second pinch-hit home run of the season in the seventh. The pinch-hit RBI was the Rockies' Major League leading 25th of the season.
Nunez pushed across the Twins only other run on a forceout to Tulowitzki with runners on the corners in the eighth. LaTroy Hawkins came on in the ninth to log his 18th save despite Dozier sending the last out to the warning track.
Playing against the Twins for the first time, Morneau went hitless in his four at-bats. But he's part of a core that makes the Rockies capable of hanging with anybody when completely intact, according to Gonzalez.
"We can be a really good team, there's no doubt about that," Gonzalez said. "In the beginning, we were really good but like every year, it's been difficult for our club whenever injuries hit. Whenever we're out there together, the veterans … we feel confident."
Cody Ulm is an associate reporter for MLB.com. This story was not subject to the approval of Major League Baseball or its clubs.