Johnson, Twins topped by Rockies in series opener
Lefty delivers rocky four-inning outing to end Minnesota's win streak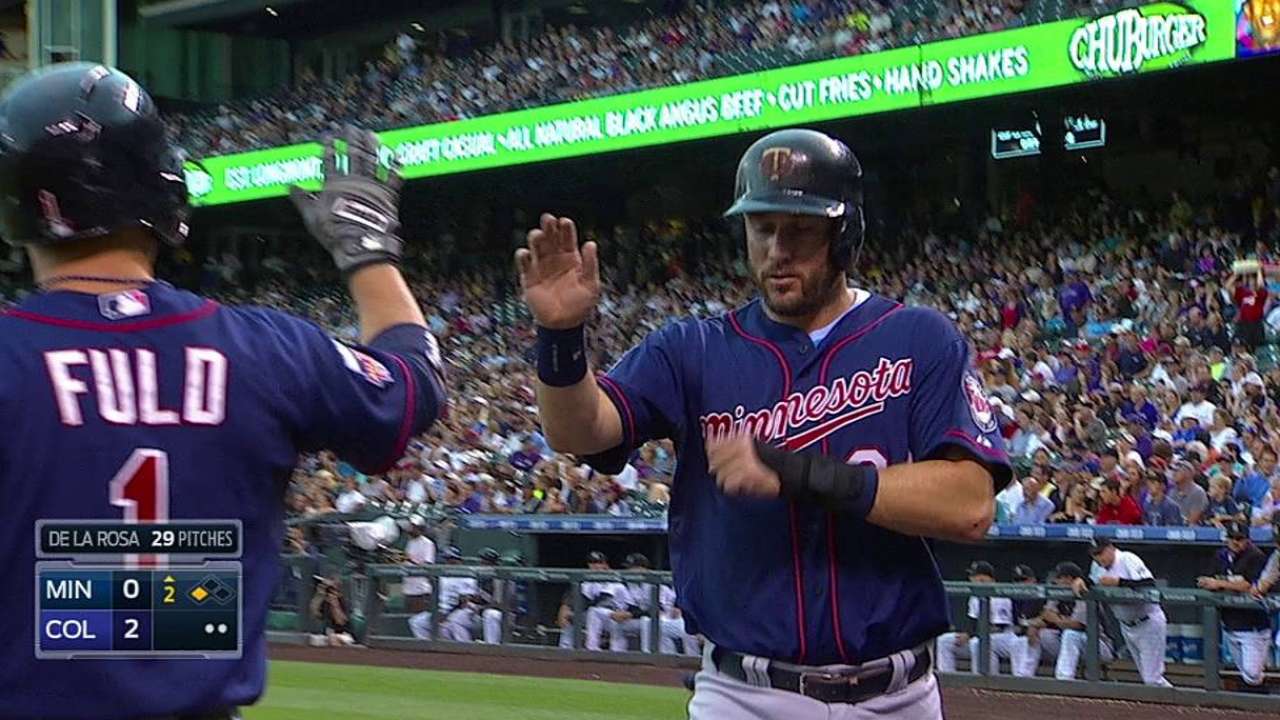 DENVER -- Before Kris Johnson made his Coors Field debut Friday night, manager Ron Gardenhire gave an optimistic forecast about the Twins' starter, albeit one tinged with a note of caution that came to pass.
Johnson, who was taking the turn of the injured Ricky Nolasco, had started one other game for the Twins on May 1.
"This ballpark should bode well for him," Gardenhire said. "He throws the ball down in the zone. The last time he was up here, everything was knee-high. You've got to do that here. You elevate the baseball here and it does fly. He's got a good mix. He's got all the pitches."
Johnson (0-1) was hit hard in three innings and gone after the fourth as the Rockies beat the Twins, 6-2, ending Minnesota's three-game winning streak, its longest since it won a season-high four straight June 19-22.
Johnson gave up two runs on his first six pitches and two homers in the first three innings as the Rockies pounced on him in each frame. It was the second time the Twins brought him up for a spot start this season. He threw 106 pitches in 4 1/3 innings on May 1 against the Dodgers .
Asked if he was hopeful of making another start for the Twins, Johnson said, "I'm very hopeful. I want to get out here again and just show what I can do and go long in the game and give this team a chance to get a win. It's kind of disappointing when you come out for two starts and they need you and you can't make five innings."
Johnson only threw 57 pitches, but after yielding eight hits and four runs in four innings, he was lifted for a pinch-hitter in the fifth with the Rockies leading 5-1.
"They got him early and put some points up real quick," manager Ron Gardenhire said. "He hung in there, but ultimately you got to get him out of there and try to start making some moves and and try to get back in the game."
Charlie Blackmon led off the first with a single, and Drew Stubbs followed with his 10th homer and fourth in six games on a 1-1 four-seam fastball that Johnson said he didn't get far enough inside. Nolan Arenado opened the second with a triple, and Wilin Rosario followed with a run-scoring single.
Carlos Gonzalez, who was activated from the disabled list before the game and played for the first time since June 3 after having a benign tumor removed from his left index finger, led off the third with a single. Troy Tulowitzki followed with his 21st home run and his third in two games, an opposite-field shot to right on a 2-0 sinker that Johnson said flattened out when he got underneath the ball.
Tulowitzki also made a crucial defensive play that ended the seventh with the bases loaded.
Gonzalez who played left field before his hand injury, has shifted to right field because his arm is stronger than that of Corey Dickerson, who was the primary left fielder in Gonzalez's absence. It didn't take long for Gonzalez to display his arm as he cut down Brian Dozier as he tried to go from first to third on Kendrys Morales' single in the third with the Rockies leading 3-1.
"I was trying to make the guy run," Gonzalez said. "I didn't charge the ball quick enough just to give him an opportunity to change his mentality. When the ball is hit hard, guys from first base are just going to slow down and stay on second base. But whenever they see somebody letting the ball get to him, they're going to try to take advantage. It was a close play but I was able to make an accurate throw."
Rockies starter Jorge De La Rosa (10-6) gave up a run in the second on a leadoff double by Trevor Plouffe and another with two outs by Eduardo Escobar. After Escobar's double, the Twins did not get another runner to second base against De La Rosa, who had to deal with a right hamstring cramp he got while running out a sacrifice in the second but worked six ininngs and left after throwing 102 pitches.
Rex Brothers retired the first batter he faced in the seventh before allowing singles to Escobar and Sam Fuld. When Josh Willingham, a right-handed hitter, came up to pinch-hit for Samuel Deduno, Rockies manager Walt Weiss countered with right-hander Adam Ottavino.
He struck out Willingham but walked Dozier on eight pitches to load the bases after getting ahead of him 0-2. Kurt Suzuki hit a grounder that shortstop Tulowitzki, who led fan voting for the National League All-Star team, snared in the hole, and his long jump throw was in time to get Suzuki.
"He made that play look way too easy," Gardenhire said. "It wasn't that easy."
Jack Etkin is a contributor to MLB.com. This story was not subject to the approval of Major League Baseball or its clubs.