Vazquez announces presence in rout of Astros
Young catcher tallies three hits, three RBIs in second big league game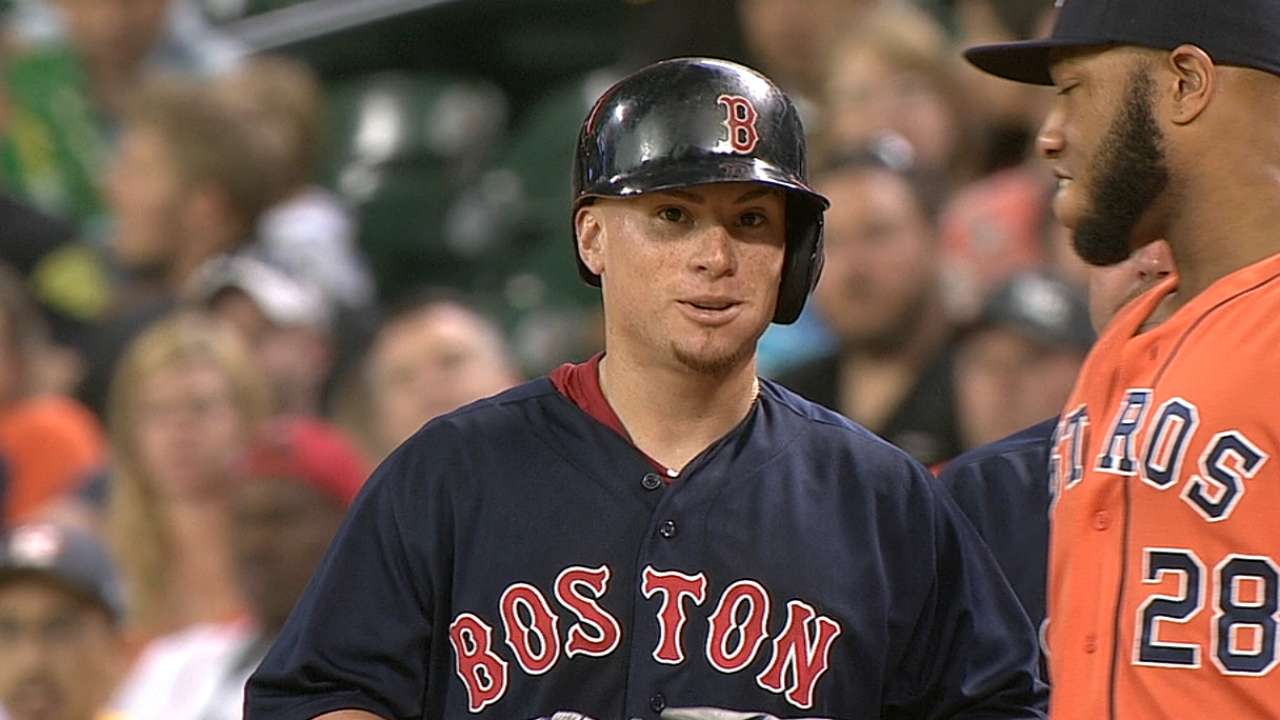 HOUSTON -- All Christian Vazquez needed was one.
The pressure of waiting on that first Major League hit puts a heavy burden on any Major League rookie. Not to mention coming up to play for a struggling Red Sox team by way of the designation of A.J. Pierzynski. Sure, Vazquez has been waiting for this one.
Luckily, Vazquez didn't have to wait long, notching his first big league hit with a single to left-center field in the third inning on Friday. And then he followed it with No. 2. And then came No. 3, as the young catcher went from hitless to hitting machine in the Red Sox's third straight win, an 8-3 victory over the Astros at Minute Maid Park.
It was after that first hit, though, that Vazquez's mind traveled back home to Puerto Rico.
What else would a 23-year-old rookie think of after such a big moment? He knew his family was watching, and sure, he thought of the whole bunch, too. But really, he thought about his mom, and he'll soon be sending that ball back her way. Little did he know it would be the first of three knocks in just his second big league game.
"They were coming like bananas," Vazquez said of the flurry.
For a Red Sox team that's uncharacteristically last in the American League in runs scored, that's not a bad problem to have. For Vazquez it's special, as he went 0-for-3 in his Major League debut on Wednesday, and waited one day and three innings to get his next chance, which he quickly capitalized on. His next came one inning later on the heels of a Stephen Drew triple. Vazquez sent the ball to deep right field for an RBI ground-rule double that gave John Lackey a 3-0 lead to work with.
In the sixth, the Astros intentionally walked Drew, who was hitting .136 at the time, to load the bases with one out and get to Vazquez. He wasted little time making Houston pay, launching a two-run double to right field for a 5-1 Red Sox lead.
And to think, Vazquez is in the Major Leagues because of his elite defensive skills. Yet Friday was the first time Vazquez has caught Lackey since Spring Training, and the result was a season-high five walks in the two-run, six-inning outing for Lackey.
"There's more on my shoulders as far as calling the game and that sort of thing," Lackey said of pitching to Vazquez. "I'm going to have to do some of that on my own, but as far as just catching the ball -- and we all know the way he can throw the ball -- he's a weapon back there, for sure."
Really, it was a day for all of the Boston rookies, not just Vazquez. There was Brock Holt smacking a double and a triple. And there was Jackie Bradley Jr. hitting two singles and scoring a run. The four Red Sox rookies who started combined for seven hits, five runs and four RBIs.
The Red Sox made it a rough night for Astros pitcher Scott Feldman, who gave up seven runs on 11 hits in 5 1/3 innings.
"I think I actually made some good pitches," Feldman said. "Just one of those nights where a lot of stuff fell in and you have to give them credit; they're a good-hitting team. I really did feel good, so it's kind of confusing why the results were so bad."
It was a matter of those young Boston hitters doing what the Astros have done to a number of teams this season: surprising opposing pitchers with their young-but-talented lineup.
The hits finally came for the Red Sox and, for at least one night, it was by way of the youth movement.
"We've gotten some timely hitting," manager John Farrell said. "Our pitching has been solid in the [last] three games, and we're playing with a lot of energy. Guys that have come up recently have injected some of that into us, but more than anything we're getting the timely hit."
Mike Vernon is an associate reporter for MLB.com. This story was not subject to the approval of Major League Baseball or its clubs.