Feldman knocked around as Astros fall to Red Sox
Righty stung by big sixth; Carter's two HRs account for bulk of offense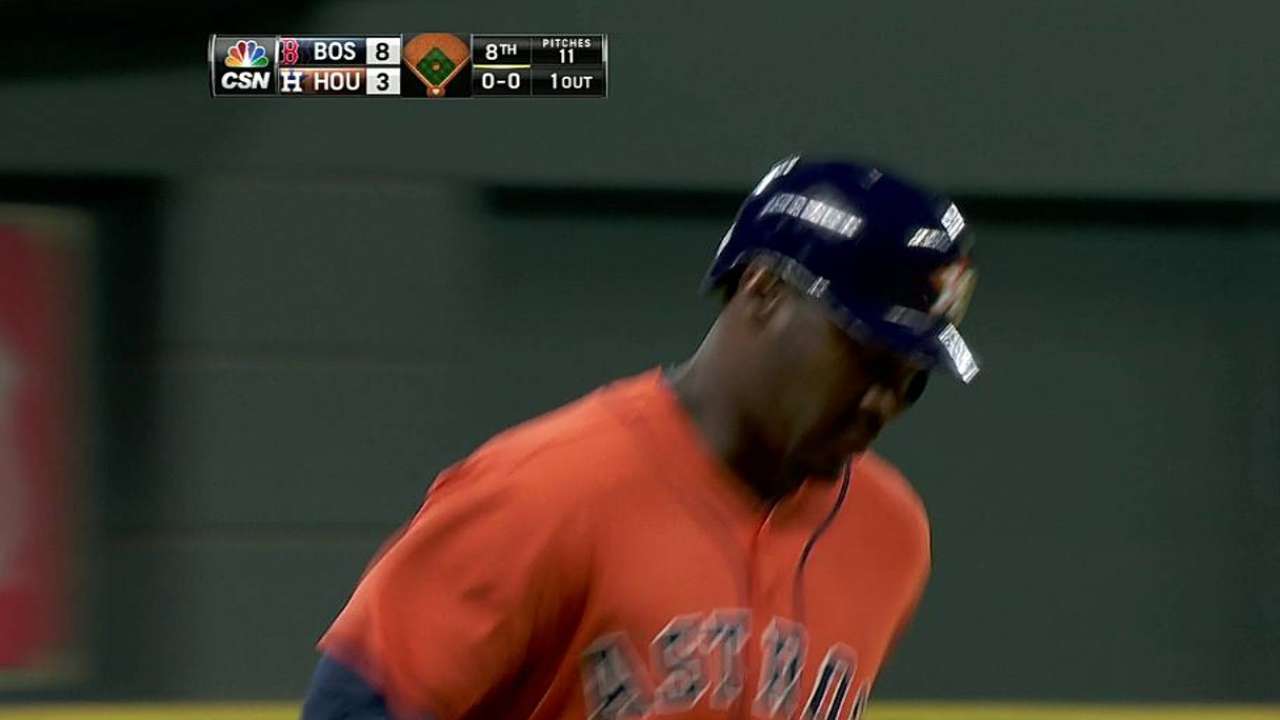 HOUSTON -- The Astros may have returned to Houston almost like conquering heroes after a long-awaited emergence from the American League West cellar following a sweep of the Rangers. They even had a boisterous crowd to match on Friday, though the visiting defending champs certainly had a lot to do with that.
But the Astros forgot to bring one thing home vs. the Red Sox.
The hot offense that carried Houston in Arlington evaporated inside Minute Maid Park at the hands of John Lackey, whose six innings of four-hit ball along with a five-run Boston sixth lifted the Red Sox over the Astros, 8-3, in the teams' first meeting this season.
Chris Carter showed up with a pair of solo shots in the late innings, but the rest of the offense was lacking against Lackey, who outdueled his counterpart, Scott Feldman.
"Just hard playing from behind like that, and we were battling at the plate all night," Carter said. "I just got a few [pitches] I liked. Things were tough."
Feldman's slump-busting string of starts was finally broken up by a clicking Boston lineup, which tagged him for seven runs and 11 hits in 5 1/3 innings. But the righty held the fort for a while, allowing three runs through the first five frames despite some shaky defense behind him.
"Just a rough game all around," Feldman said. "I was throwing a lot of pitches. Really, in that sixth inning, things just snowballed and I couldn't get the out I needed."
It was the Astros' offense that held them down, though, in stark contrast to the lineup's exploits against Texas earlier this week. In three games against the Rangers -- including one against ace Yu Darvish -- Houston hit .362 with seven home runs and 10 more extra-base hits en route to a sweep.
Despite getting catcher Jason Castro back in exchange for George Springer's late scratch (right knee discomfort), the offense ground to a halt with just two hits in the first five innings.
Rookie Enrique Hernandez notched the first one with a fourth-inning RBI single that cut the Boston lead to 3-1 with two runners on and two out. Lackey quickly shut down the threat by inducing a lazy groundout.
Hernandez has now reached base safely in 10 straight games to begin his Astros career, trailing only Jimmy Wynn's mark of 12 in 1963 in franchise history.
Feldman gutted his way through five tough frames, but the dam finally broke in the sixth. Daniel Nava opened the inning with a bloop single. Jackie Bradley Jr. followed with a single of his own and advanced to second on an L.J. Hoes fielding error. After a popout, the Astros decided to walk Stephen Drew, who was hitting just .136, and load the bases for rookie Christian Vazquez.
"You play for a double play there -- no outs, you go after them," manager Bo Porter said. "Once you get the first guy out, you feel like you have a ground-ball pitcher on the mound with a good opportunity to get out of it."
Vazquez, who collected his first Major League hit in the third, made that decision immediately regrettable, cranking a two-run double to make it 5-1. David Ortiz delivered his own monster hit moments later, clearing the bases with a three-run double to blow the game open.
Porter said Feldman's woes stemmed from a lack of late activity on his pitches. That could be explained by his still-improving stamina after a lengthy stint on the disabled list -- or even simple fatigue nearing the All-Star break.
"It looks like there's not a lot of finish," Porter explained. "When he was really good early in the year, there was late life on the fastball, sharpness on the breaking ball. That would get him those ground balls, those easy outs."
Feldman did not agree with his manager, though. The righty felt his stuff wasn't lacking, just the results.
"I think I actually made some good pitches," Feldman said. "Just one of those nights where a lot of stuff fell in and you have to give them credit; they're a good-hitting team. I really did feel good, so it's kind of confusing why the results were so bad."
Carter's solo shots in the sixth and eighth innings marked his fourth multihomer game of the season and the seventh of his career. He's the first Astro with at least 18 first-half homers in back-to-back years since Lance Berkman did it in 2008-09.
"He's really getting extension," Porter said. "Both of his home runs were to the pull field. That's something he's worked on extremely hard with John Mallee, the hitting coach. When you have the type of power he possesses, you make sure you get out in front on the ball."
Springer's late absence certainly didn't help Houston's chances of success against a laboring but effective Lackey.
"He was pitching to a tight zone and he made a number of quality pitches," said Red Sox manager John Farrell. "The number of walks, we didn't get many calls, but still nonetheless he didn't break. He did bend a little bit, but he didn't break. High number of pitches but something of a blue-collar night for him."
Still, Springer's void may have been felt more in the field than at the dish. The rookie has been filling in for Dexter Fowler -- who is still on the disabled list -- in center field, but Hoes was playing at Springer's right-field spot due to the late scratch.
In addition to the error, Hoes just missed on two other plays during the early innings that may have cost Houston a few runs and unnecessarily stretched Feldman's pitch count. He did redeem himself a bit by laying out for a diving catch in the ninth.
The error was Hoes' first in right field this year after committing four at the position last season.
For one night at least, the Astros' hitting troubles and a poor start didn't result in them dropping in the standings. Houston remained in fourth place in the division despite the loss, as Texas fell to the Angels.
Chris Abshire is a contributor to MLB.com. This story was not subject to the approval of Major League Baseball or its clubs.