Missed tag leads to Tribe rally in White Sox loss
Inning-ending out overturned by replay, and lead then slips away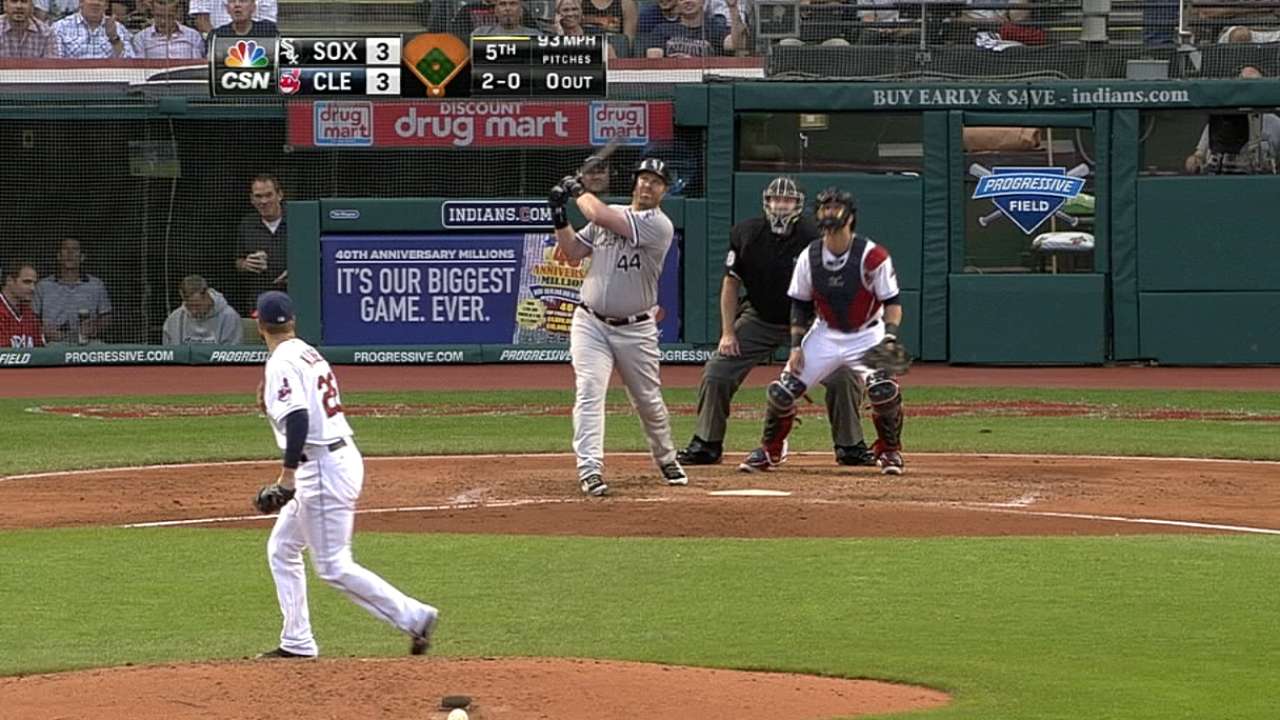 CLEVELAND -- Cleveland's 7-4 victory over the White Sox in the series opener on Friday night at Progressive Field was a game of momentum, of which the visitors had relatively none.
"We put some runs up there and they would get it right back," said frustrated White Sox manager Robin Ventura following his team's third straight loss. "You put yourself in situations, falling behind, walking guys and you get them in hitter's counts and put it in the middle and you're going to get hurt."
The White Sox (44-50) grabbed leads of 2-0, 3-2 and 4-3 during the fifth game of this seven-game road trip to close out the first half and gave away all three.
Adrian Nieto's run-scoring double and Leury Garcia's RBI groundout against Corey Kluber (9-6) gave the White Sox a 2-0 advantage in the second. David Murphy tied the game in the bottom of the frame with his sixth homer.
Adam Eaton's run-scoring double gave the White Sox a 3-2 lead in the fourth, only to have White Sox starter Hector Noesi (3-7) walk No. 9 hitter Chris Dickerson with the bases loaded to force home a two-out run in the bottom of the fourth.
Adam Dunn claimed that lead back with a leadoff homer in the fifth, giving him 14 for the year, 454 for his career and 100 with the White Sox. But on one overturned call in the bottom of the fifth, the complexion of the game changed entirely.
With two outs and Asdrubal Cabrera on first, Nieto made a perfect throw to shortstop Alexei Ramirez covering second to nail Cabrera with a caught stealing to end the frame. At least, that's the way second-base umpire Dan Iassogna called it when Ramirez appeared to swipe tag Cabrera before he got to second.
Cabrera knew differently, immediately pushing for a replay. That replay showed Cabrera was right as the throw beat him but Ramirez missed.
"It was safe," Noesi said. "Yeah, I asked [Ramirez] and he said, 'I don't touch him.'"
"He shuffled, shuffled and then he went. He slid and he just had a good slide, and I missed him, I guess," said Ramirez through White Sox interpreter and manager of cultural development Lino Diaz. "It was a quick play. I didn't get a chance to think about how I was going to tag him or anything. I just went at it and tried to tag him."
Lonnie Chisenhall lined a game-tying single to center on the next pitch. Two pitches later, on an 0-1 count, Nick Swisher crushed a go-ahead homer to center.
"In that situation right there, huge knock by [Chisenhall] to be able to tie the game up and just kind of continue to keep that inning going," Swisher said. "And then to be able to come up and hit that two-run home run to put us up [was great]. Obviously, any time we have a chance to strike or to, what we call, gas pedal a little bit, we want to do that."
"Every inning you get a little momentum going and they jump back on the board and give it right back to them," Ventura said. "They kept scoring and we didn't."
Ventura pulled Noesi after Swisher's blast, with the right-hander allowing six runs on seven hits in 4 2/3 innings. He walked four and fanned four. A problem with his fastball release point, which Noesi had fixed earlier in the season, contributed to the most runs allowed by a White Sox starter since July 1 against the Angels.
"Tonight, I just tried to do too much and I left my fastball up and they hit the homer," Noesi said. "And then I tried today a new grip with the slider and I left that slider to Swisher up, too."
Kluber, who was defeated this week by the White Sox Chris Sale in the AL Final Vote, exited after six innings and 106 pitches, yielding four runs on eight hits while fanning five and walking two. He received relief help from John Axford, Bryan Shaw and Cody Allen (11th save), not to mention the support he got from Indians' offense.
One other notable moment came in the seventh when Ventura pulled reliever Andre Rienzo on a 1-0 count to Chisenhall for left-hander Eric Surkamp after Rienzo had allowed two hits and an insurance run. Apparently if the players weren't going to do something to build momentum, then Ventura was taking it upon himself to change the feel.
"Yeah, he was falling behind," said Ventura of Rienzo, who worked 1 1/3 innings in place of Noesi. "You have Chisenhall up there and Kamper wasn't quite ready right then. Just take him out."
Scott Merkin is a reporter for MLB.com. Read his blog, Merk's Works, and follow him on Twitter @scottmerkin. This story was not subject to the approval of Major League Baseball or its clubs.