Burnett goes 7 2/3 in Phils' fifth straight victory
Early offense, two home runs by Rollins propel surging Philadelphia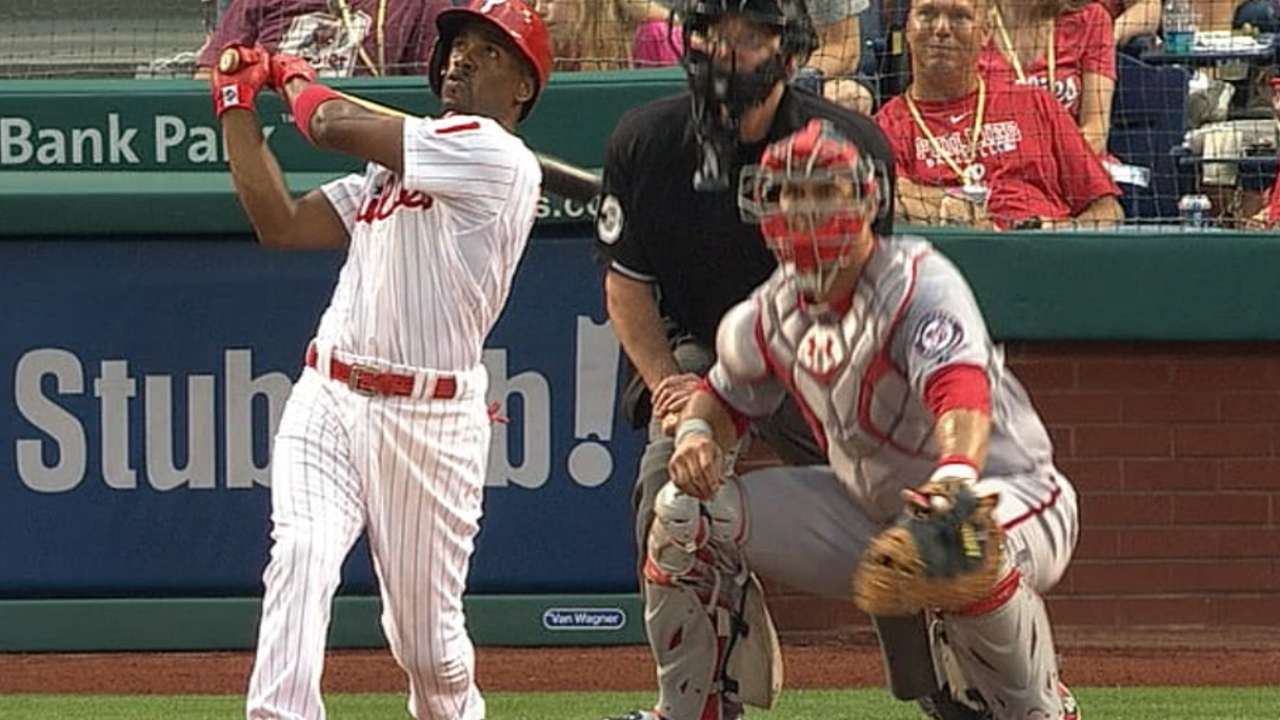 PHILADELPHIA -- The Phillies have been here before.
In pouncing on the Nats early in their 6-2 win at Citizens Bank Park on Friday night, the Phillies secured their fifth consecutive victory. Less than a month ago, they were in a similar position.
From June 16-20, Philadelphia knocked off Atlanta in a three-game sweep before taking the next two against St. Louis. But the Phillies could not do anything with the wind at their back. Over their next 12 games, they endured a grueling 2-10 stretch that left them in last place in the division.
Even after their most recent five-game whirlwind, the Phillies still reside in the cellar of the NL East at eight games out of first. But after a hitter's meeting in Milwaukee, the offense is revved up. The bullpen is getting it done. Cliff Lee is on the cusp of returning. As Friday winner A.J. Burnett put it, the team is "clicking on all cylinders."
"Hitters are feeding off each other. Starters are feeding off each other. Bullpen's been feeding off each other. It feels good," Burnett said.
They may be eight games out, but the Phillies have the wind at their back once again. And with five cracks at the top two teams in the division over the next five games, the clubhouse is full of believers.
"Playing this way we can," Jimmy Rollins said of this group's chance of winning the division.
Five games will not change a season's worth of indicators that the Phillies will be sellers at the July 31 non-waiver Trade Deadline, but, at the very least, those on the diamond are making it difficult for those upstairs.
"I think the decisions have already been made, things that they want to do," Rollins said. "And regardless of how we play, they're still going to make their decisions for the future of the team. Not just for now. So we got out there, we play ball, we win, good things happen, and if that makes things difficult, then it does."
Rollins was front and center in making things difficult for general manger Ruben Amaro Jr. and company on Friday night. The shortstop belted his 10th and 11th home runs of the season for his ninth career multihomer game and first since Aug. 1, 2012, at Washington.
After hitting just six home runs last year, Rollins said the only difference in 2014 had been finding his stroke.
"That simple," Rollins said. "Not any stronger. Just being able to get to that stroke. Being able to catch the ball in the right spot and get some good flight on it. Picking pitches. Getting situations where they're giving me the pitch and capitalizing."
Domonic Brown helped to build Philadelphia's lead in the third when he laced a two-run double off All-Star Jordan Zimmermann. Brown is still batting just .225, but his .338 average with runners in scoring position has translated into 46 RBIs, good for second among all NL outfielders.
Burnett, meanwhile, gave a vintage performance. He put a single runner on base in each of the first six innings, but the Nationals were not able to inflict any damage against the 37-year-old righty until Bryce Harper's seventh-inning home run.
"Really didn't have any stress innings," Phillies manager Ryne Sandberg said. "Mixed his pitches real well. Hit his spots."
Burnett went 7 2/3 innings, allowing five hits, four walks and two runs while striking out six and lowering his ERA to 3.83. He has seven straight quality starts.
For how well Burnett has pitched recently, all he may be doing is upping his value as a trade chip. But the Phillies have dealt plenty with rumors and losing players at the Deadline in seasons past. They have been here before.
"I remember back, I think it may have been '05, '06, we started making trades, and next thing you know we started winning," Rollins said. "It was like, you take this guy out, and you say we're not going to compete this year, but we have the last say in that."
For now, Burnett is a Phillie. He is dialed in, and all the talk and speculation about who is going where and who is staying falls short of what is happening on the field.
"I think it's more important for us to come out and win baseball games," Burnett said. "See how many we can win in a row. See if we make a wrinkle, you know. Why not?
"This is the reason I came here. For this kind of baseball."
Erik Bacharach is an associate reporter for MLB.com. This story was not subject to the approval of Major League Baseball or its clubs.