Felix allows two runs early, then fans nine in eight
Ace reaches 11 wins before the break for the first time in his career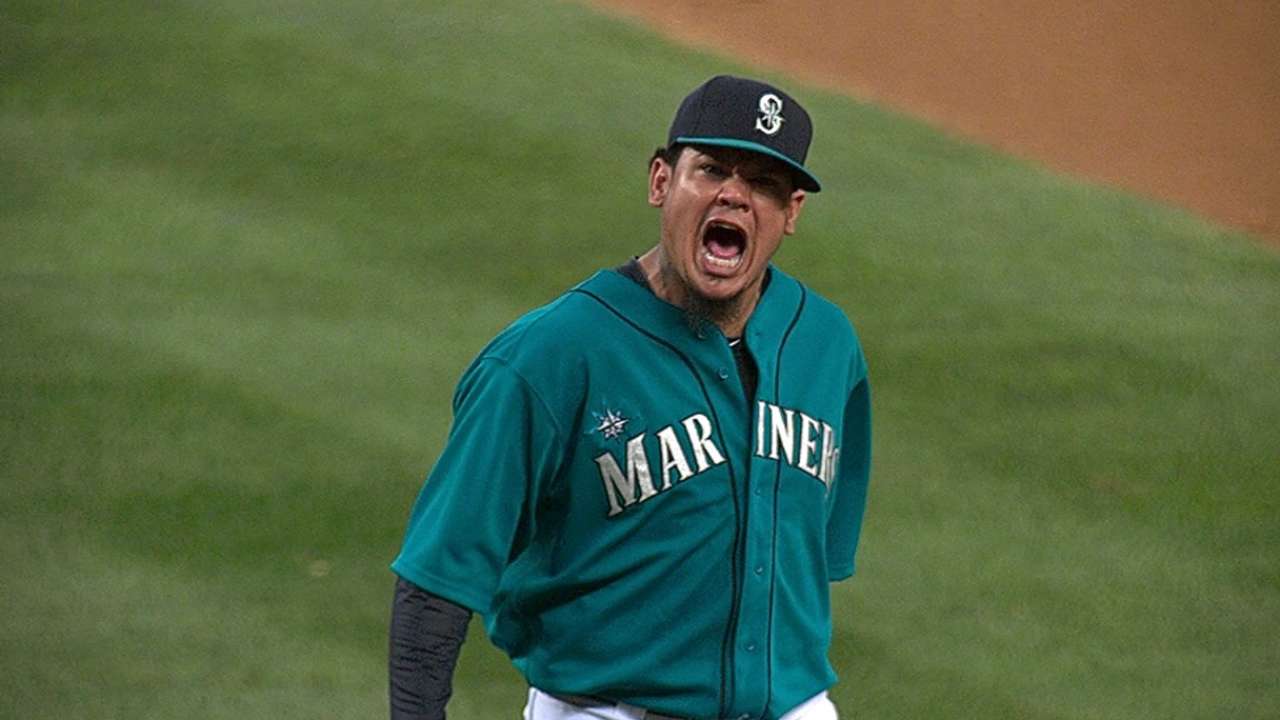 SEATTLE -- After the A's proved Felix Hernandez was human in the first inning Friday night, the Mariners ace went about proving he's also one of the best pitchers on the planet these days as Seattle topped Oakland, 3-2, at Safeco Field.
Hernandez reached 11 wins before the All-Star break for the first time in his 10-year career and seems a strong bet to be named the American League starter in Tuesday's Midsummer Classic after finishing up his first half with an 11-2 record and 2.12 ERA.
"That would be an honor," acknowledged the five-time All-Star. "I would love to do it. We'll see."
After giving up a pair of runs in the first, Hernandez slammed the door on the division-rival A's as the Mariners snapped a three-game losing streak while handing Oakland starter Jeff Samardzija his first loss with his new club.
"Felix did a great job of limiting the damage that first inning and keeping it that way throughout the whole game," said catcher Mike Zunino. "It just shows what type of pitcher he is. He hits a little bump in the road and just turns it up another gear."
Robinson Cano drove in the go-ahead run in the sixth with an RBI double after Seattle slowly crawled back from its early deficit.
"This is one of those games, especially with that kind of crowd tonight, you want to come through in that situation," Cano said. "You want to be able to show the fans you're here ready to play and you want to win."
Hernandez wound up with just the two runs on six hits over eight innings, with two walks and nine strikeouts. He has now pitched 11 straight games of seven-plus innings with two or fewer runs, the longest such streak by an American League pitcher since Gaylord Perry did the same in 1974.
The Mariners improved to 50-43, eight games back of Oakland in the American League West, but a game and a half ahead of Toronto in positioning for the final Wild Card spot. It's the fifth time in franchise history the Mariners have reached 50 wins by the All-Star break and first since 2003.
On a night the usual King's Court in left field was expanded to include a "High Court" with a large section of upper-deck fans joining in Hernandez's yellow-clad cheering section, Hernandez gave up a first-inning home run to Stephen Vogt and an RBI single to Jed Lowrie.
"After that, I was locked in," Hernandez said. "I threw a lot of strikes and my fastball was pretty good. The crowd was unbelievable, so that was exciting. It was awesome. I loved it. It should be like that every day."
The home run was just the second long ball the Mariners ace has surrendered in his last 15 starts and just the sixth (out of 150 home runs) in his career on an 0-2 count. But after giving up two more singles and a run that inning, Hernandez buckled down against the team with the best record in the Majors at 58-35.
"I think what Felix did today spoke to how he's been able to pitch and adjust all year," Zunino said after the A's came out aggressive early. "We obviously knew we'd have to throw the offspeed and changeup a little more, just to have them take a pitch. He was able to do that and work ahead. He was able to throw those pitches for strikes and I think that was the key. And he was able to keep the fastball down and get some quick outs."
Logan Morrison got a run back for Seattle with a leadoff home run in the second, Endy Chavez tied the game with a sacrifice fly in the third and the Mariners took the lead at 3-2 on back-to-back doubles by James Jones and Cano in the sixth.
Cano's double just inside the left-field line was just Seattle's third hit with a runner in scoring position in its last 36 at-bats, dating back to July 5.
"We've hit a lot of balls hard that didn't find holes," said manager Lloyd McClendon. "It nice to see one of those fall in. We're certainly due for a few of those."
Hernandez's 2.12 ERA breaks Randy Johnson's club record of 2.20, set in 1997, for the lowest mark by a starter at the All-Star break. Over his last 11 starts, Hernandez has gone 7-1 with a 1.48 ERA.
Closer Fernando Rodney came on for the ninth and picked up his league-leading 27th save, though he had to strand Derek Norris at third base for the final out on a high, called third strike to Nick Punto.
Punto slammed down his helmet and was ejected, as was A's manager Bob Melvin as the crowd of 32,971 celebrated.
Rodney had no doubt that he'd nailed Punto with his full-count, 96 mph fastball.
"All my pitches are strikes," said Rodney.
Greg Johns is a reporter for MLB.com. Follow him on Twitter @GregJohnsMLB as well as his Mariners Musings blog. This story was not subject to the approval of Major League Baseball or its clubs.