Samardzija solid through eight frames, but gets edged
Starter gives up just three runs, strikes out five and walks none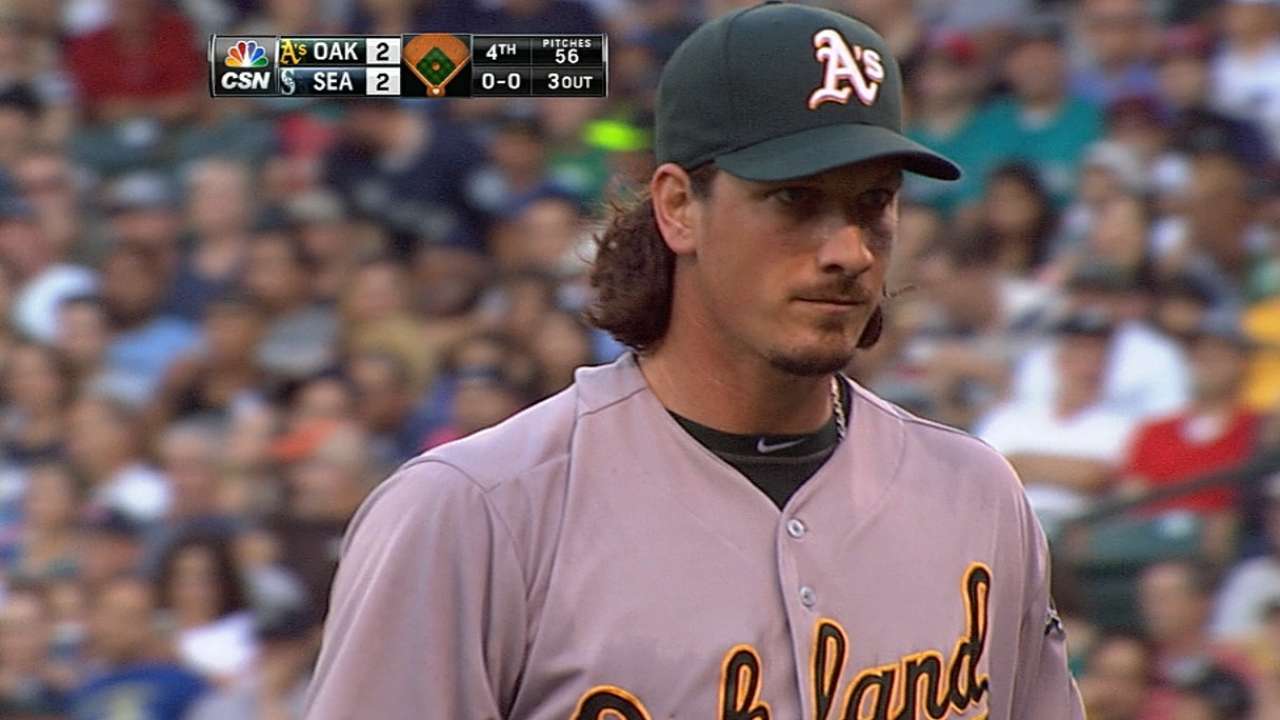 SEATTLE -- Athletics manager Bob Melvin wasn't surprised when he learned the Mariners pushed ace right-hander Felix Hernandez back a day in the rotation so he could open Friday's series against Oakland.
Given the 2010 American League Cy Young winner's history against the A's, it likely wasn't a surprise either when Hernandez outdueled right-hander Jeff Samardzija, as Oakland fell, 3-2, on Friday night at Safeco Field.
Hernandez entered 2-0 with a 2.49 ERA in three starts against the Athletics this season and 17-7 with a 2.64 ERA against Oakland in 32 career starts. With a jumbo-sized "King's Court" section waving yellow "K" cards, he proceeded to hold Oakland to two runs over eight innings while striking out nine -- all while upstaging Samardzija's eight-inning complete game.
The A's rallied in the ninth inning against Seattle closer Fernando Rodney. Catcher Derek Norris worked a one-out walk, advanced to second on a wild pitch, then to third on a Yoenis Cespedes flyout to right field. But Rodney struck out second baseman Nick Punto on a borderline 3-2 pitch to end the game.
Punto immediately slammed his helmet to the ground, and was subsequently ejected by home plate umpire James Hoye. Melvin came out of the dugout to argue and was ejected, too.
"Just look at it," Melvin said of the final strike. "Tough way to end the game."
"I thought it was a little up, a little in," Punto added. "It's just one of those where the heat of the moment gets to you a little bit. It was a big at-bat and a very tough at-bat. …I felt like I put myself in a pretty good position to extend that inning and it just didn't work out."
What did Rodney think of the pitch?
"All of my pitches are strikes," he said.
The A's were in position to steal a win late only because they got to Hernandez early, taking a 1-0 lead in the first inning when utility man Stephen Vogt launched an 0-2 pitch into the right field seats for his fourth home run of the year. The solo blast also extended Vogt's hitting streak to a career-high 11 games. Later in the inning, shortstop Jed Lowrie tacked on a run with an RBI single back up the middle to make it 2-0.
So far, so good.
But the Mariners got one back when designated hitter Logan Morrison led off the second inning with a solo home run to right-center field and added another in the third when right fielder Endy Chavez hit a sacrifice fly, which tied the game.
When center fielder James Jones lined a two-out double in the sixth inning, then second baseman Robinson Cano followed with another, it gave Seattle a 3-2 lead. Cano's double came on a fastball on the inner half of the plate. He somehow used an inside-out swing to fight it off and it landed just fair down the left-field line.
"He made a really good pitch right there," Melvin said of Samardzija.
"He wasn't getting anything good, I'll tell you that much," Samardzija said. "We were just looking to mix some pitches that looked like strikes. …he was aggressive early and put the bat on the ball. You tip your hat to a guy like that and remember that next time."
The result gave Seattle the go-ahead run, and it held up, as the A's fell to 58-35 on a warm night where Samardzija nearly matched Hernandez pitch-for-pitch.
Oakland acquired the right-hander and starting pitcher Jason Hammel in a July 5 trade that sent prospect Addison Russell, outfielder Billy McKinney, right-handed pitcher Dan Straily and a player to be announced or cash to the Cubs.
Samardzija won his Oakland debut Sunday, allowing one run over seven innings as the A's beat the Blue Jays. Facing Hernandez on Friday, the imposing 29-year-old, the former star wide receiver at Notre Dame, was dominant and efficient, scattering five hits and allowing just three runs.
"You can't give up those runs -- especially when your team gives you a 2-0 lead right off the bat," he said. "You got to do what you can to protect that lead and not give Felix the chance to get back in that game."
Samardzija struck out five and walked none.
"The only bad pitch he made was probably the one Morrison hits the home run on," Melvin said.
Oakland squandered another chance to give him run support in the fifth when John Jaso hit a two-out double, then Vogt, who finished 2-for-3 to lift his average to .376, followed with a walk, but All-Star third baseman Josh Donaldson flew out to right field to end the inning.
"Typically, with good pitchers you get them before they get in a rhythm, as was the case," Melvin said. "But we couldn't do anything after."
Adam Lewis is an associate reporter for MLB.com. This story was not subject to the approval of Major League Baseball or its clubs.