Cards overcome six-run deficit to top Brewers
Holliday launches ninth-inning HR to gain game on division leaders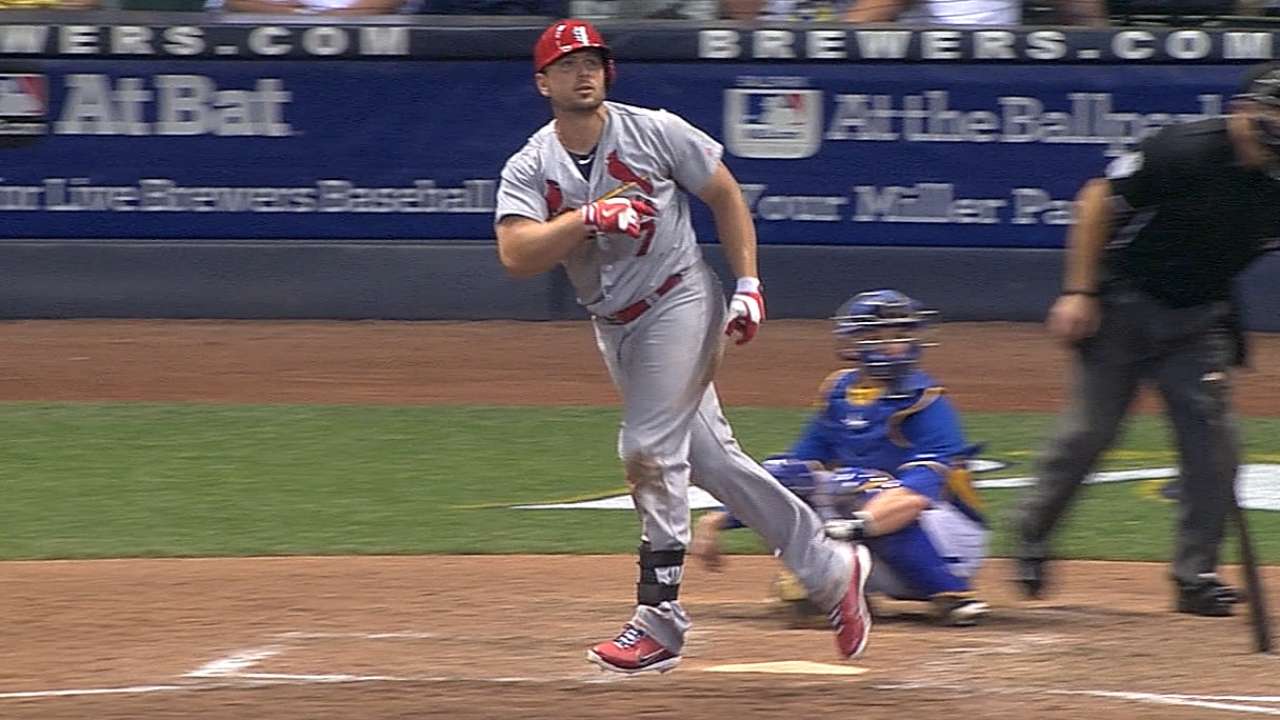 MILWAUKEE -- The Cardinals' comeback victory against the division-leading Brewers was huge, but the manner in which it was achieved might have been even more important.
Matt Holliday lined a two-out solo homer in the ninth inning as St. Louis overcame an early six-run deficit and a rough start by Joe Kelly to rally for a 7-6 victory over the slumping Brewers on Friday night in the opener of a three-game series.
"Nothing even comes close to this," said Cardinals manager Mike Matheny. "Just the heart the guys showed. Just to be able to keep coming and coming, the intensity and the grit and the fight, that to me is something you don't have every once in a while. You have it or you don't. Just really impressed, couldn't be any more proud."
The victory pulled the Cardinals within one game of the Central-leading Brewers, who have lost six in a row and 10 of their last 11.
The Cardinals trailed, 6-0, after two innings, but came back behind three home runs off Brewers starter Yovani Gallardo, who was 1-11 with a 6.34 ERA in 18 previous starts against St. Louis. Matt Adams pulled the Cardinals within 6-2 with a two-run homer, his eleventh, in the fourth inning. Kolten Wong led off a four-run sixth with his fifth homer and Jhonny Peralta added a two-run shot, his 14th, to chase Gallardo.
The onslaught continued against the Brewers' bullpen. The Cardinals loaded the bases on singles by Allen Craig and John Jay and a walk to Tony Cruz, all off Rob Wooten, who failed to record an out.
Zach Duke relieved and pinch-hitter Oscar Taveras reached on a fielders choice, with Craig scoring to tie it at 6.
While the Cardinals were coming back against Gallardo, relievers Nick Greenwood, Seth Maness, Pat Neshek and Trevor Rosenthal kept the Brewers off the scoreboard the rest of the way.
"I think when you score two and make it 6-2, Greenie did a good job of holding them and don't let them add on," said Holliday. "You put the four spot up and you're back to a tie game. 6-2 you're still in the game, it's still early. We still had a chance."
Francisco Rodriguez came on to start the ninth and got two quick outs before Holliday jumped on the first pitch for his sixth home run and first since June 15.
"It was a first-pitch changeup," Holliday said. "It kind of came back towards me. I'm sure he would have liked it down and away. It kind of came in towards me and got the barrel on it and good carry to it."
Kelly, who has been out since injuring a hamstring while trying to beat out a bunt on April 16 against the Brewers, allowed six runs on seven hits in three innings.
"Not exactly sure what that was," Matheny said. "Arm felt great and sometimes it can feel too good. The ball was jumping and running and taking off on him. He couldn't find that rhythm. The last inning, maybe a little bit more so. He's going to be fine. That's what I told him. Can't wait to see him back out there. "
Kelly, activated earlier in the day off the 60-day disabled list following three rehab appearances, struggled early, allowing three runs in a 34-pitch first inning that included hitting leadoff batter Carlos Gomez.
Scooter Gennett followed with a single and the Brewers immediately took advantage of the absence of injured catcher Yadier Molina, with both runners advancing on a double steal.
Jonathan Lucroy walked to load the bases and Aramis Ramirez followed with a sacrifice fly to make it 1-0.
Gennett and Lucroy moved up on Ryan Braun's groundout to first and both came home on Khris Davis' double to the base of the wall in left-center.
The Brewers added three runs in the second to extend the lead to 6-0. Gallardo and Gomez opened with consecutive singles up the middle and Gennett followed with a triple into the right-field corner. Braun's two-out triple to right-center scored Gennett.
After allowing a one-out double to Jean Segura in the third, Kelly prevented further damage by striking out Gallardo and Gomez to end the inning.
"When we had a shutdown there in the third, I could feel an edge with our guys, even though we're down six," Matheny said. "We had a lot of game left and I felt that we could make something happen and they did."
Jim Hoehm is a contributor to MLB.com. This story was not subject to the approval of Major League Baseball or its clubs.