Braves rally back in ninth, but Cubs walk off
Bethancourt ties game with two-out single, but Chicago gets to Walden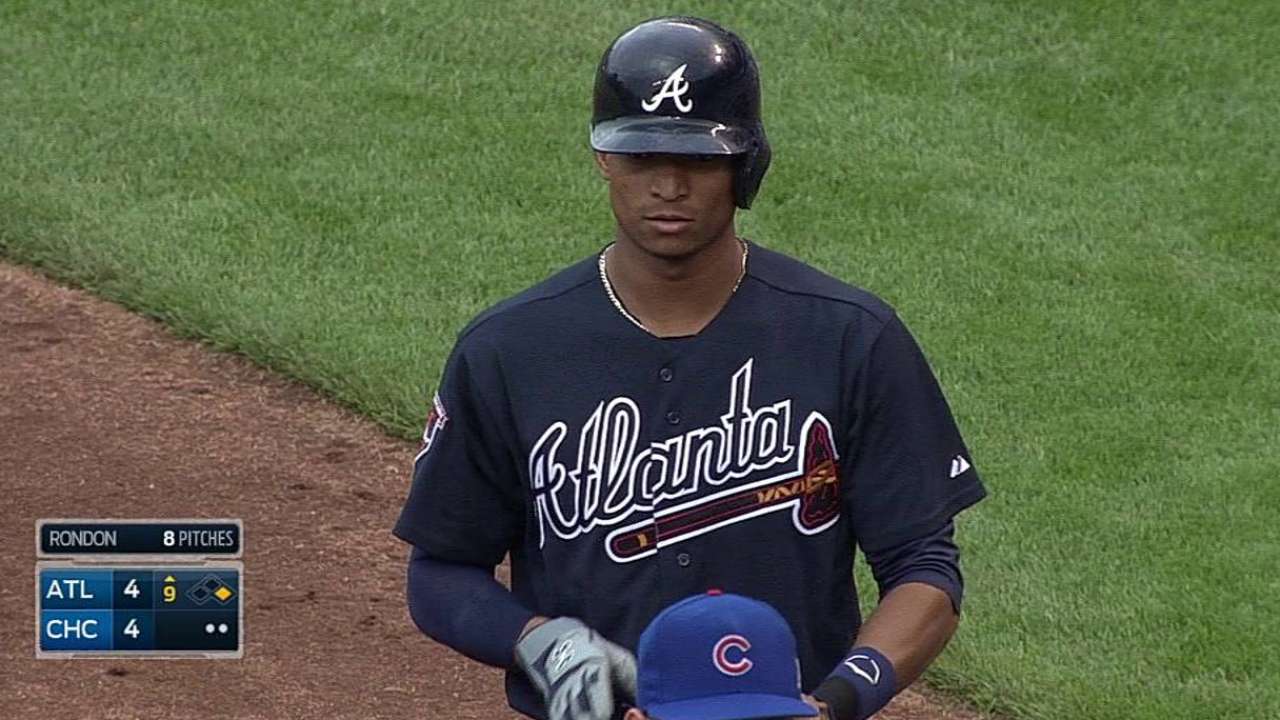 CHICAGO -- As the saying goes, baseball is a game of inches. Nobody believes that more than Alex Wood.
With an inch here and an inch there on Friday, the young left-hander believes he could have won his seventh game and the Braves could have avoided a 5-4 loss to the Cubs at Wrigley Field.
"Sometimes they go our way, sometimes they don't," Wood said. Wood received a no-decision in a wild finish that featured two dramatic two-out rallies in the ninth inning.
After the Braves tied the score at 4 on a single by Christian Bethancourt to plate Jason Heyward in the top of the inning, Justin Ruggiano answered with a single in the bottom half to score Arismendy Alcantara with the winning run.
Hector Rondon (2-3) got the win after blowing the save, while Jordan Walden (0-1) took the loss.
"I could do without the pounding part, but to hit a walk-off is always nice," Ruggiano said. "The aftermath can be a little extreme sometimes, but it's fun, it's worth it."
However, the walk-off hit is not one of the plays that will haunt Wood, who allowed four runs on five hits in 5 1/3 innings. He'll think back to a couple of plays in the bottom of the sixth that helped knock him out of the game.
The Braves took a 3-2 lead in the top of the sixth as Wood led off with a bunt single for his first Major League hit. He was sacrificed to second and scored on a two-out double by Freddie Freeman (1-for-3 with two RBIs).
Then, in the bottom half of the sixth, the first two batters, Anthony Rizzo and Starlin Castro, reached base. Wood hit the next batter, Welington Castillo, after getting ahead, 0-2, to load the bases.
"You got a guy on the ropes and you try to go in late in the count," Wood said. "He was on the dish pretty good, I think. But you can't hit that guy when you have a guy on the ropes."
Wood then struck out Junior Lake for the first out and thought he might have induced an inning-ending double play, but Chris Coghlan's grounder up the middle sneaked through for a run-scoring single to tie the game at 3.
"That ground-ball single by Coghlan, it's one of those things where most days that doesn't get through," Wood said. "You throw a first-pitch breaking ball and then you go a sinker in on his hands, a broken bat, and it ends up a ground ball through.
"It's one of those things. That was the biggest thing right there, and it changed the game. You hope for a double play and it ends up squeaking through."
That was also the end of Wood's day. Right-hander Shae Simmons, who's given up just two earned runs this season, came on to try and limit the damage with righty Mike Olt due up. The Cubs sent up a pinch-hitter in lefty Luis Valbuena, but Braves manager Fredi Gonzalez was still confident in the matchup.
"When they took Olt out for the left-hander, I felt pretty good," Gonzalez said. "That's right up [Simmons'] alley, facing left-handed hitters. I wouldn't expect a walk. He's been so dominant and so good. It's just one of those things."
Simmons issued the walk on four straight pitches to push across what was then the go-ahead run. That's the way things have gone for the Braves of late, as they have lost five of their last six games.
There were also a few things that went right for the Braves, especially becoming the first team in seven starts to score more than two runs off of Cubs starter Jake Arrieta, who allowed three runs on four hits in 7 2/3 innings -- but it wasn't enough. Despite the success offensively, the Braves were impressed with Arrieta.
"He's real good," third baseman Chris Johnson said. "He throws a lot of strikes and he keeps you guessing. There were a couple of at-bats where I didn't get the same pitch twice.
"We kind of took advantage of the opportunities he gave us."
There just weren't enough opportunities in this one.
John Jackson is a contributor to MLB.com. This story was not subject to the approval of Major League Baseball or its clubs.