Ruggiano the walk-off hero after see-saw affair
Right-fielder singles with two outs to plate Alcantara in ninth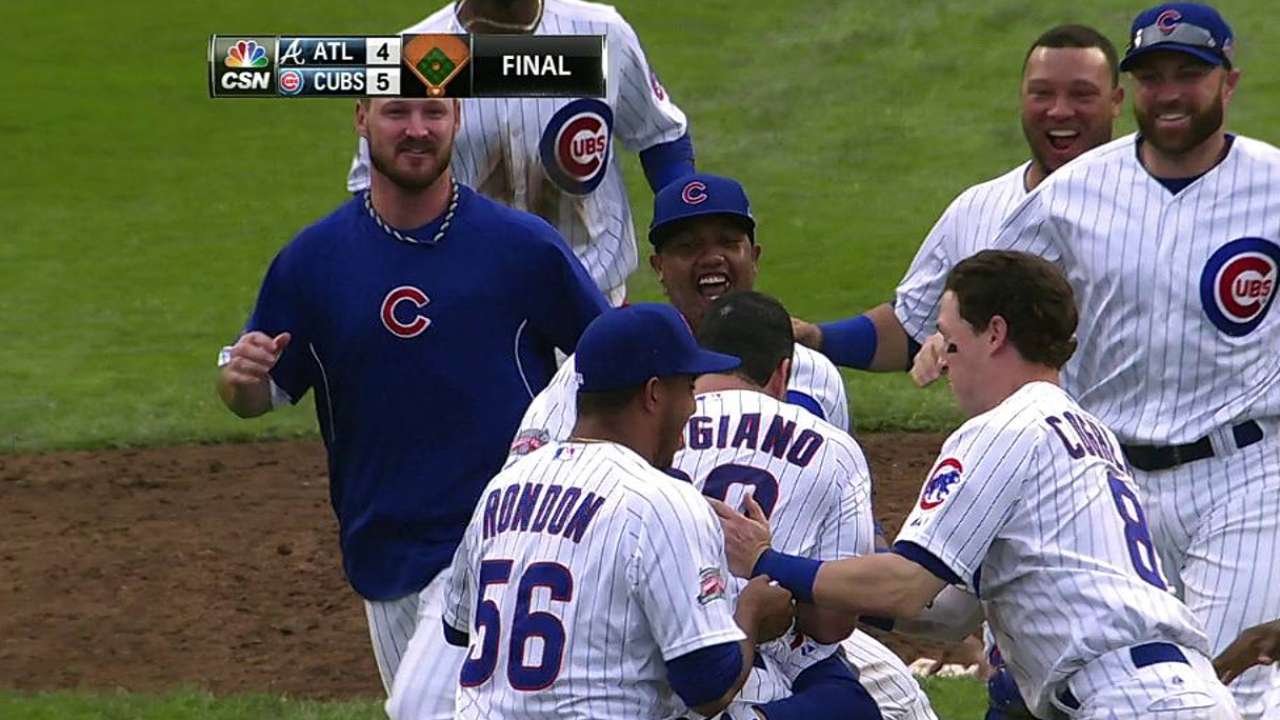 CHICAGO -- The Cubs have a decision to make soon regarding the big league status of Arismendy Alcantara, the rookie who helped Chicago to a 5-4 win by scoring the walk-off run in front of a season-high 39,544 at Wrigley Field on Friday.
Alcantara, who hit leadoff following a four-hit outing on Thursday, scored on Justin Ruggiano's base hit down the left-field line after blooping a two-out single to right then swiping second. Ruggiano's walk-off single -- the Cubs' first walk off since June 6 -- came on a 2-1 slider that inched past leaping Braves shortstop Andrelton Simmons, and it followed a narrow foul down the left-field line on the prior pitch.
"That's stuff you used to do playing wiffle ball in the backyard," Ruggiano said. "You make believe the situation. Now it's coming true. You live for those kind of things."
Regarding Alcantara, manager Rick Renteria wouldn't elaborate on the rookie's big league status past this weekend's series. After the All-Star break, the Cubs will have to make some roster moves to fill out their starting rotation.
"Any player, when they impact you and show you what they have, I think the easiest thing to do is for people to start to speculate if he will stick around," Renteria said, while noting Alcantara will likely play center field on Saturday.
"We'll have to make that decision as an organization when we come to it. It would be premature and irresponsible for me to say something like that, but he does impact the way you view him, for sure."
Alcantara has hit 5-for-13 in his first three Major League games with three RBIs, three runs scored, two extra-base hits and four strikeouts.
Ruggiano's heroics bailed out closer Hector Rondon, who blew his third save of the season, but got the win. Jason Heyward led off the ninth with a double and scored the tying run three batters later on Christian Bethancourt's two-out single.
Atlanta's late rally spoiled a strong effort from Jake Arrieta and an earlier go-ahead rally sparked by the Cubs' All-Star tandem of Anthony Rizzo and Starlin Castro, who both scored in the sixth to take a 4-3 lead.
Rizzo led off with a sharp double down the right-field line, and Castro reached on a single after consecutive bobbles by third baseman Chris Johnson and Simmons. Then Welington Castillo was hit by a pitch to load the bases with no outs. Chris Coghlan, who is hitting .410 (16-for-39) this month, brought home the tying run with a liner into right, then Luis Valbuena -- pinch-hitting for Mike Olt -- drew a bases-loaded walk to take the lead.
Arrieta took the mound Friday as one of the baseball's hottest pitchers. Heading into Friday's game, he led the majors with a 1.78 ERA since May. Arrieta gave up four hits, three earned runs, three walks and fanned six over 7 2/3 innings.
"It was nice to have myself in a situation being able to pitch in the eighth, kind of getting extended there a little bit, and give our team some innings," Arrieta said. "[Atlanta has] an extremely balanced lineup from top to bottom, first-place ballclub, kind of everything I expected to see from those guys, we got it. ... They really grinded it out, and I had to do the same thing."
In 35 1/3 innings over his last five starts, Arrieta has a 1.78 ERA with 41 strikeouts, 17 hits, seven earned runs and eight walks. The Cubs won four of those five games, including Friday. Though he was pitching very well before the Cubs traded top starters Jeff Samardzija and Jason Hammel, Arrieta is stepping into the role of ace.
"I kind of slowly put myself in that [leadership] role even when those two guys were here," Arrieta said. "It's kind of a role I've been in before, and I'm pretty comfortable with the responsibilities that come along with a role like that. It's something I embrace."
Daniel Kramer is a contributor to MLB.com. This story was not subject to the approval of Major League Baseball or its clubs.