Royals slip farther back in Central after loss to Tigers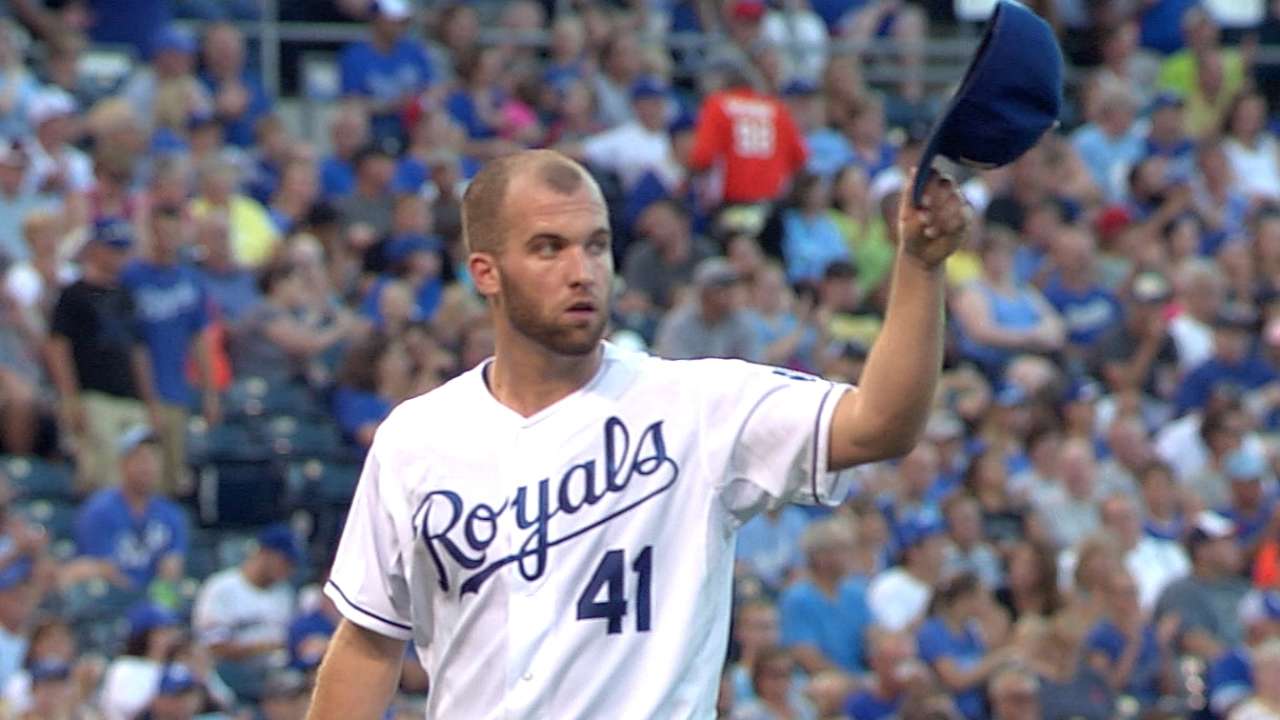 KANSAS CITY -- Down two with two to go.
That was the Royals' fate after a 2-1 loss to the Tigers as 31,581 fans turned out for the battle of the American League Central contenders on Friday night at Kauffman Stadium.
The first-place Tigers increased their lead over the Royals to 6 1/2 games. The Royals would have to win the last two games of the series just to get back where they were when it began, 4 1/2 out.
"We had, like, five plays that could have gone either way -- if we could have got just a little break," said manager Ned Yost.
But no breaks were forthcoming, especially not from Tigers right-hander Anibal Sanchez.
Sanchez, as is his custom, held the Royals to one run in seven innings. This was the seventh time he's faced them and he's given them one run (or none) each time. His ERA against Kansas City is now 1.07.
"I think we got 11 hits and we were 1-for-11 with runners in scoring position, but again, that's a little deceiving, because we did hit some balls on the nose that they made great plays on," Yost said.
What turned out to be the winning run against left-hander Danny Duffy came about as a result of his own errant pickoff throw to second base in the third inning. There were two on and one out when Duffy's throw struck Rajai Davis and allowed the runners to reach third and second.
"I thought they were going to double-steal. I really didn't want to go for the out, but I was a little over-aggressive," Duffy said. "I threw the ball right into Rajai, and it's a hard throw to handle for anyone. and Omar [Infante] is the best of them. So I just need to focus on the hitter and try to get a ground-ball double play in that situation."
Miguel Cabrera lofted a sacrifice fly to right field, with Davis scoring after the catch.
"It's just a bonehead decision to try to throw behind the guy right there," Duffy lamented.
Yost, however, had no quarrel with Duffy's attempt.
"Rajai Davis has got 23 stolen bases," Yost said. "If [Duffy] picks him off, everybody says what a great play it is. That's the gamble you take. Unfortunately, it was the deciding run."
The Tigers struck quickly in the first inning. Austin Jackson opened the game with a double to deep left center and scored on Ian Kinsler's single up the middle.
The Royals came back almost as fast against Sanchez. With two outs in the first inning, Eric Hosmer doubled to right field and scored on Salvador Perez's looping single into center field.
The hit gave Hosmer an 11-game hitting streak, matching his career best. He also had two singles and is 19-for-43 during the streak.
Nori Aoki, back from the disabled list, had two hits, and so did Perez and Infante. But although the hits were flying, runs were scarce.
Jarrod Dyson was robbed twice with runners in scoring position. In the second inning, third baseman Nick Castellanos picked off Dyson's liner and caught Infante off second base for a double play. In the seventh, Mike Moustakas was at third when Dyson's bullet was snagged by pulled-in shortstop Eugenio Suarez for an out.
"Amazing, amazing. I think that's the play [of] the game," Sanchez said of Suarez's play. "He doesn't stop that ball, the game is probably tied, or I don't know [what would] happen after that."
The Royals didn't catch any breaks on controversial plays either. Sanchez's pickoff of Perez in the fourth inning was challenged, but verified by instant replay. And Lorenzo Cain was called out for batter's interference in the eighth, stifling a scoring chance.
Even so, Duffy sounded an optimistic note for the Royals afterward
"I can't wait to watch [James] Shields tomorrow and Bruce [Chen] on Sunday, and we'll go right back at them and try to even this thing up before the All-Star break," Duffy said.
Dick Kaegel is a reporter for MLB.com. This story was not subject to the approval of Major League Baseball or its clubs.