When it comes to taming Royals, Sanchez supreme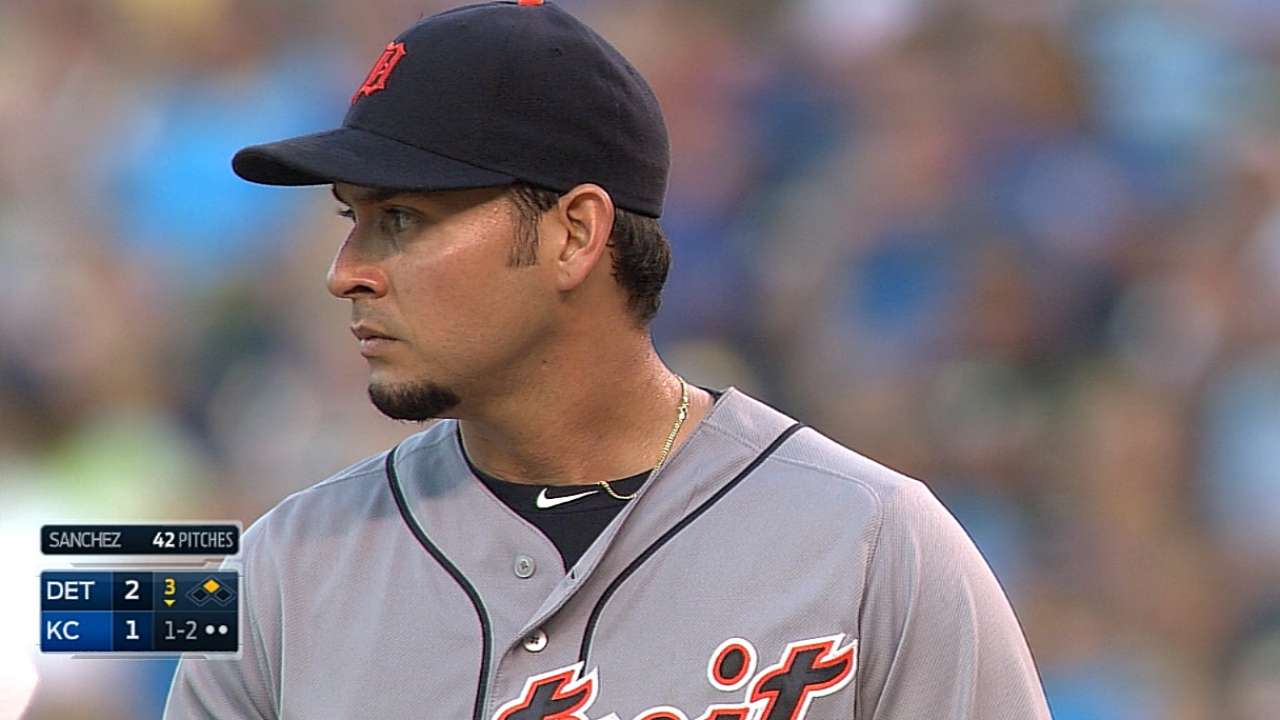 KANSAS CITY -- Perhaps one day Anibal Sanchez will sit back and shudder at the memory of the way he treated the Royals in his career.
Sanchez engineered another dismantling of Kansas City in Detroit's 2-1 win at Kauffman Stadium on Friday.
"He was good tonight," said bench coach Gene Lamont, who filled in for an ill Brad Ausmus as manager in the second inning, adding, "When he takes us seven innings against these guys, that's real good."
Sanchez surrendered one run in seven innings of sublime work, somehow upping his ERA (previously 1.04) to a slightly less minuscule 1.07 in his seven career starts against the Royals.
He has allowed exactly one run in six of his seven outings against Kansas City, with the premier outing a 10-strikeout shutout in 2012.
"He's dominant against a lot of teams, I think," Lamont said. "He was the [American] League-leading ERA guy last year, so he's pretty much tough on everybody."
Sanchez exited with a one-run lead after the seventh having allowed eight hits, zero walks and three strikeouts. The bullpen secured his sixth win of the season, albeit in sketchy fashion.
Joba Chamberlain worked an eighth inning rife with controversy after a leadoff single by Nori Aoki.
With Lorenzo Cain at the dish and Kansas City trailing, 2-1, Aoki attempted to steal second. Tigers catcher Bryan Holaday received Chamberlain's offering and threw past second baseman Ian Kinsler and into center field. Aoki scampered to third easily.
But the crowd's enthusiasm soon turned to anger as home-plate umpire Chad Fairchild ordered Aoki back to first and called Cain out for interfering with Holaday's throw.
"That was a big play. I think if he hadn't done it, [Holaday] might have thrown him out, but he did get in his way. [Aoki] surely wouldn't have been on third base," Lamont said. "Royals fans don't think so, but he did make the right call."
"I had to shorten up my stride, and even [then] my throwing hand hit him on the shoulder when I came through," Holaday said.
Eric Hosmer singled in the next at-bat, but Chamberlain escaped a two-on, one out jam and bridged the gap to closer Joe Nathan.
Nathan also allowed two Royals to reach with one out, but he struck out Alcides Escobar, then Aoki grounded out to end the game.
The Tigers supported Sanchez with runs in the first and third innings.
Kinsler, the second batter of the game, leaked a single into center, scoring Austin Jackson, who had scorched a leadoff double.
The winning run came on a sacrifice fly from Miguel Cabrera that scored Rajai Davis and put Detroit up, 2-1, in the third.
The Royals' only run came in the first inning, on a bloop single by Salvador Perez that scored Hosmer, who had doubled. It was the sixth run Sanchez allowed to Kansas City in his 50 1/3 innings against the team.
"He's good. He's a good pitcher, he changes speeds, he keeps the ball down, has a good changeup, good slider, commands the baseball," Royals manager Ned Yost said.
Though Sanchez scattered eight hits, his streak of allowing one run or fewer in seven straight matchups with the Royals came under threat only a few times.
Kansas City had a runner on second with one out in the second and third innings, but Sanchez easily pitched his way out of both jams.
His final predicament, in the seventh inning, was slightly more difficult to escape.
Mike Moustakas led off the inning with a double into the left-center gap but was stranded at third after the Royals bounced out to shortstop Eugenio Suarez three straight times.
Suarez's second 6-3 putout was special.
With the infield in, one out and Moustakas at third, Jarrod Dyson slapped a hard grounder to short. Suarez froze, swept his glove across the grass on his backhand side, nabbed the hot shot, then easily threw out Dyson while Moustakas remained at third.
"Amazing, amazing. I think that's the play [of] the game. If he doesn't stop that ball, the game is probably tied, or I don't know [what would] happen after that, but for me that's the play of the game," Sanchez said.
Suarez retired Escobar on a slow roller for the third out.
The Tigers won despite just five hits and a 0-for-19 showing from hitters three through eight. They also increased their lead over the Royals in the AL Central to 6 1/2 games.
Jackson Alexander is an associate reporter for MLB.com. This story was not subject to the approval of Major League Baseball or its clubs.