Rangers can't break through against Richards, Angels
Texas loses for 20th time in 23 games despite solid start by Tepesch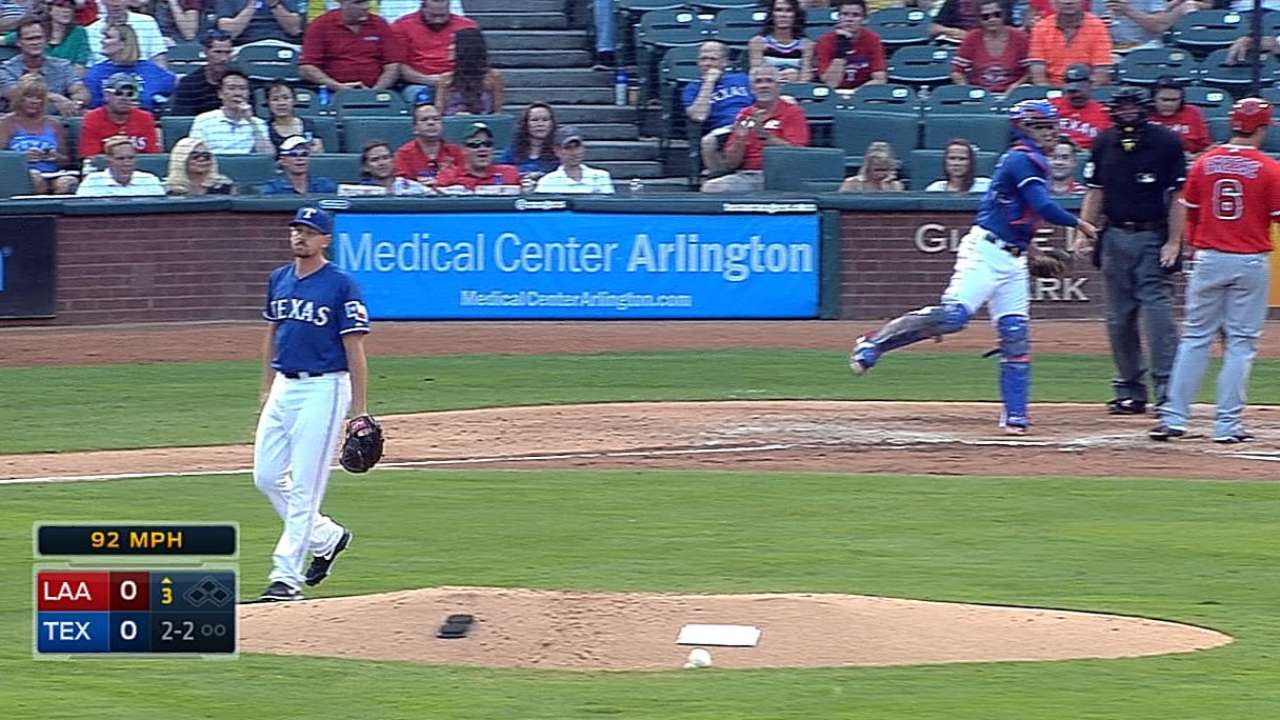 ARLINGTON -- The Rangers were 0-for-6 with runners in scoring position on Friday night, all coming with two outs. They managed just six singles and no extra base hits. Their struggling leadoff hitter was 0-for-4 with three strikeouts.
Rangers manager Ron Washington had an overriding reason for it all and that was Angels starter Garrett Richards.
"Tonight was Richards more than anything else," Washington said after the Rangers went down for the sixth consecutive game with a 3-0 loss to the Angels on Friday night.
Richards kept the Rangers from taking advantage of a strong start from Nick Tepesch, who allowed three runs in six-plus innings. It was only the Rangers' sixth quality start in the last 23 games and they are now 3-20 in that stretch.
"We were just one hit away from getting back in the game," shortstop Elvis Andrus said. "It was a lot better tonight. Nick did a great job keeping us in the game. We created a lot of opportunities, unfortunately we didn't get the base hit that could relax the team."
Richards, who wasn't particularly thrilled to be left off the American League All-Star team, allowed just five hits and two walks while striking out eight. Shin-Soo Choo struck out three of those times but nobody else was having much luck either against a pitcher who is now 11-2 with a 2.55 ERA on the season.
"He throws everything out of the same tunnel which is good for him and not so good for hitters," first baseman Carlos Pena said. "Those pitches are pitches that aren't recognizable. They don't give you a hint. They don't have a hump. All that you're relying on is spin. The fastball spin is pretty tight. We still went at it and battled but we couldn't get anything together which doesn't sit well with me."
The Rangers are now hitting .205 with runners in scoring position in their last 23 games. This marked the fifth time they have been shut out this season.
"We had more energy tonight and had a well-pitched game," Washington said. "We just couldn't support what was going on with the pitching. But I was pleased with the way they played tonight."
The Rangers hottest hitter of late has been Jake Smolinski, who had eight hits in his first four games since being recalled from the Minors. But he was hit by a pitch in the elbow in the second inning and had to leave the game. X-rays were negative.
"That was a two-seamer to Smolinski that got away from Garrett," Washington said.
Tepesch was close to matching Richards, retiring the first 10 hitters he faced. Then he left a 1-0 fastball over the plate to Mike Trout with one out in the fourth. Trout hit it into the visitor's bullpen in left-center for a home run that put the Angels in front. Trout's home run was the only extra base hit for either team.
The score remained 1-0 into the seventh inning before the Angels struck for two more runs. Albert Pujols led off with a line-drive single that zipped under the glove of Andrus at shortstop. Josh Hamilton followed with a line drive off second baseman Rougned Odor's glove as he tried to make a leaping catch and double Pujols off first.
Instead the ball ended up in right field for a single. Pujols went to third on the play and scored on a single by Erick Aybar. After Neftali Feliz replaced Tepesch, David Freese delivered a one-out single to score Hamilton.
"I felt overall I did a pretty good job," Tepesch said. "I made one mistake, just one pitch I would like to have back. That last inning they put some pretty good swings on some pretty good pitches."
Kevin Jepsen took over for Richards in the eighth and gave up a one-out single to Alex Rios. Adrian Beltre, who has a 15-game hitting streak going, followed with a drive to deep center field. Trout caught it against the wall and the Rangers came up short again.
T.R. Sullivan is a reporter for MLB.com Read his blog, Postcards from Elysian Fields and follow him on Twitter @Sullivan_Ranger. This story was not subject to the approval of Major League Baseball or its clubs.