MLB.com Columnist
Lyle Spencer
Richards dominates, Trout homers as Angels roll on
Righty tosses seven shutout innings; All-Star CF belts 22nd long ball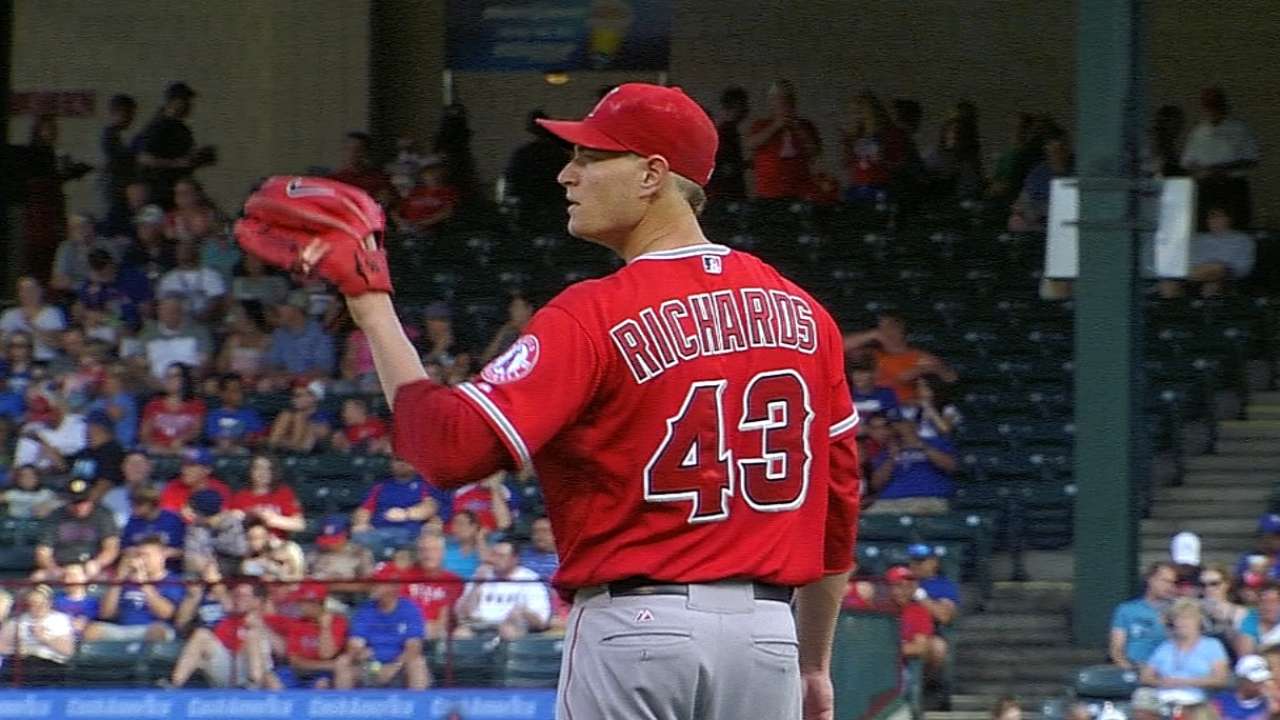 ARLINGTON -- Garrett Richards has been more dominant and precise, but the results Friday night once again had All-Star written all over them.
A day after learning he'd narrowly missed making the American League All-Star team in a Final Vote won by White Sox southpaw Chris Sale, Richards shut down the Rangers for seven innings in the Angels' 3-0 victory at Globe Life Park.
"I wanted him to go [to Minnesota for the All-Star Game]," said All-Star center fielder Mike Trout, who homered in support of his Southern California roommate. "The numbers show he deserved it. I'm disappointed. He should be there. He's going to pitch in the second half with a chip on his shoulder. He's nasty enough as it is."
Moving to 11-2 with a 2.55 ERA, Richards used his head as well as his strong right arm in furthering the frustrations of the struggling Rangers, losers of 20 of their past 23 games. Five times they left runners in scoring position against the 26-year-old Oklahoman.
"I'll probably end up carrying that with me the rest of the year," Richards said in reference to his snub in the All-Star selection process. "It might be some motivation for the whole year."
After Trout homered against losing pitcher Nick Tepesch in the fourth for the first Angels hit, All-Star shortstop Erick Aybar and David Freese delivered RBI singles for seventh-inning insurance. The Angels have won eight of the past nine and 17 of 21.
Only in his final inning did Richards manage to put away the Rangers in order. He allowed five hits and finished with eight strikeouts. Rangers leadoff man Shin-Soo Choo went down on strikes three times.
"That guy is really tough to see," Rangers shortstop Elvis Andrus said. "The year he is having is for a reason. You can't recognize what's coming. He really threw pretty well."
Richards' maturity is most evident in game-changing situations.
"Any time you have runners on base, you have to make adjustments," he said. "It's part of pitching. My biggest improvement from years' past is I don't panic when guys get on base."
Richards gives staff leader Jered Weaver credit for helping guide him through mental elements of the game. Richards will join Weaver (2011), Frank Tanana (1977), Nolan Ryan (1979) and Chuck Finley (1990) as the only pitchers in franchise history with at least 11 wins and an ERA of 2.55 or lower at the All-Star break.
"Having Weav on the team the last few years, he's shown me different things and mindsets that have really helped me," Richards said. "He's an asset on the team -- a veteran, somebody I can lean on sometimes."
On the heels of a season-high 15 runs and 17 hits in the series opener, the Angels were quiet in the early going against Tepesch. The 6-foot-4 right-hander retired the first 10 hitters he faced before leaving a 1-0 pitch in a location Trout liked. The All-Star center fielder lifted it over the wall in left center for his 22nd homer of the season.
"Sinker down, middle in," Angels manager Mike Scioscia said when asked if the pitch was in an area favored by Trout. "Mike likes it in a lot of places."
Trout's nine homers in Texas are the most he's hit in an opposing stadium. The ball carries to the middle of the field, where most of his bombs land. This one traveled an estimated 418 feet.
"Yeah, this is a fun place to play," Trout said, grinning. "We didn't have a hit, so I was just trying to put a good swing on it and get on. I wasn't trying to do too much with it."
His roomie back home in SoCal, meanwhile, kept cleaning up messes with his 97 mph heater and darting breaking pitches that found good locations in pressure situations.
"The biggest thing for Garrett is commanding his two-seamer," catcher Hank Conger said. "His slider is one of the best in the league. It really looked like any other start, honestly. He's always wanted to start, and everyone knew that. He goes out every time thinking this is an important start. I'm really happy for him."
The Angels gave Richards some breathing room in the seventh and ended the night for Tepesch on consecutive singles by Pujols, Josh Hamilton and Aybar. An All-Star for the first time, Aybar produced his 49th RBI of the season, cashing in Pujols.
Neftali Feliz, the Rangers' former closer, replaced Tepesch and yielded an RBI single to Freese.
Richards left two runners stranded in each of the first two innings, walking one hitter and forcing hot-hitting Jake Smolinski to depart with a left elbow contusion after hitting him with a pitch.
"That was a two-seamer to Smolinski that got away from Garrett," Conger said.
Richards left Adrian Beltre in scoring position after a single extended his hitting streak to 15 games in the third. Carlos Pena and Leonys Martin stole bases and advanced to third on Conger throwing errors, but Richards clamped down each time.
Kevin Jepsen worked a scoreless eighth and turned it over to Joe Smith, who notched his 13th save. It was the first Angels shutout of the Rangers in Texas since 2009.
Lyle Spencer is a reporter for MLB.com. This story was not subject to the approval of Major League Baseball or its clubs.