O's open series vs. Yanks with walk-off win in 10
Hundley's RBI single plates winning run; Gonzalez strong over eight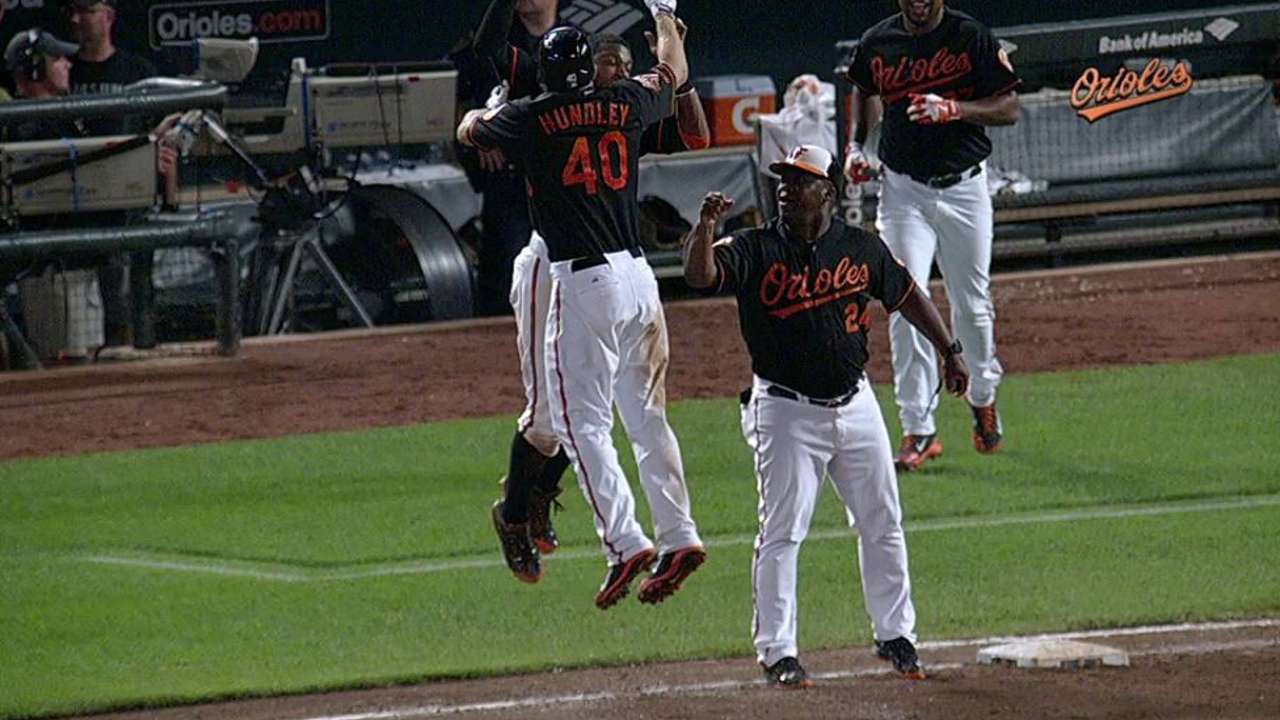 BALTIMORE -- Perhaps it is meant to be this way. The Orioles have become masters at extra innings as of late, picking up their fourth consecutive bonus-baseball win Friday night as they continue to pad their cushion in the American League East.
And they're perhaps evoking feelings similar to 2012 in the process. The team that gave the city its first taste of postseason baseball since 1997 thrived on the pressure of late-night -- and sometimes early-morning -- wins in just about every conceivable way in extra innings. The 2014 squad, 10 games over .500 for the first time this season, is looking more and more comfortable in that role.
On Friday, No. 9 batter Nick Hundley drove a ball into left-center field off Yankees reliever Adam Warren to score Manny Machado and give the O's a 3-2, walk-off win in 10 innings in front of the sixth sellout crowd this season. The series-opening victor improves the Orioles to 9-3 in in extra innings.
"If we were that good, we'd do it before extra innings," manager Buck Showalter said of of his club's success past the ninth. "But sometimes the other team is good, too. [Hiroki] Kuroda was really good and, of course, [Dellin] Betances is having one of the best years of any reliever in baseball. So you've got to match that type of pitching in order to have a chance, and we've been able to do that in extra-inning games."
The Orioles, who are 5-2 against their divisional rivals in New York this season, have outscored opponents 45-26 from the ninth inning on. Their 10th-inning magic got started with Machado's double into the right-field corner and, after Ryan Flaherty struck out, Hundley dug in.
"I want to be in the box in those situations," said Hundley, who has an eight-game hitting streak and has batted .375 over that stretch after a slow start with Baltimore. "I feel like I thrive in those situations. I welcome them. And fortunately, I was able to get the job done tonight."
And reward the faith of Showalter, who opted to not use a pinch-hitter with one out and the winning run on second.
"I think everybody feels really good for Nick, because he's a consummate team [player]," Showalter said. "I think he feels real good about being here, and fortunate to be in a race to be competitive. He's a pretty sincere guy. He's a football coach's son, and he approaches it that way."
Hundley, who gave the Orioles their first hit off Kuroda in the third inning, worked well with starter Miguel Gonzalez, who turned in a fantastic eight-inning effort for the second consecutive outing.
Gonzalez allowed a pair of early solo homers -- including one from longtime Baltimore infielder Brian Roberts -- but settled down after that. He retired 10 consecutive batters after Ichiro Suzuki's one-out double in the fourth inning before hitting Kelly Johnson in the back. Gonzalez got Brett Gardner to pop up in foul territory on his 101st pitch of the night, in the seventh, and had a 1-2-3, five-pitch eighth inning to end his night.
"Early on, it didn't look like it was going to be an eight-inning outing," Showalter said of Gonzalez. "He got ambushed a couple times with some first-pitch fastballs, but he was really good after that. He got stronger as the game went on. He was trying to pull a [Chris] Tillman hide from me [in the dugout] after the eighth inning, but I was able to get him.
"He was good. His split is a pitch that's been there for him when he's been effective, and tonight was a good example. When they've got that many left-handed hitters in the lineup, you have to have something like that to get them off you a little bit."
Gonzalez, who again tied a career high in innings, struck out five and didn't issue a walk, with closer Zach Britton working around a leadoff ninth-inning single after that.
"He was throwing his fastball in and out, he was getting ahead of guys, using his split," Yankees captain Derek Jeter said of Gonzalez. "He kept us off-balance, pretty much all night."
Down two runs, the Orioles used a pair of wild pitches from Kuroda to help tie it up in the bottom of the fourth inning. After Steve Pearce was hit by a pitch to lead off the inning, Adam Jones hit a potential double-play ball to Jeter scored as a single. Pearce came around to score on a wild pitch, with Jones advancing to third as Kuroda threw another pitch sailing wide of catcher Brian McCann. Chris Davis hit a deep sacrifice fly to score Jones.
Jones had two of the team's three hits off Kuroda, who exited the no-decision after seven innings. Despite two hit batsmen and three wild pitches, Kuroda did not issue a walk and held Baltimore to two runs for the third consecutive time, with Betances blanking them over the next two frames before the O's won out.
"I think it really speaks to the depth of our bullpen, the quality of our bullpen," Hundley said of the Orioles' extra-innings play this season. "T.J. McFarland comes in, does a great job going through the beginning of their order, a tough part, 1-2-3. And then with the offense that we have and the staunch bullpen, it kind of lends itself to be successful, either late in the game or extra innings. That combination."
Brittany Ghiroli is a reporter for MLB.com. Read her blog, Britt's Bird Watch, and follow her on Facebook and Twitter @britt_ghiroli. This story was not subject to the approval of Major League Baseball or its clubs.