Kuroda hangs tough, but Yanks fall to O's in 10
Righty allows two runs over seven; Roberts homers in Baltimore return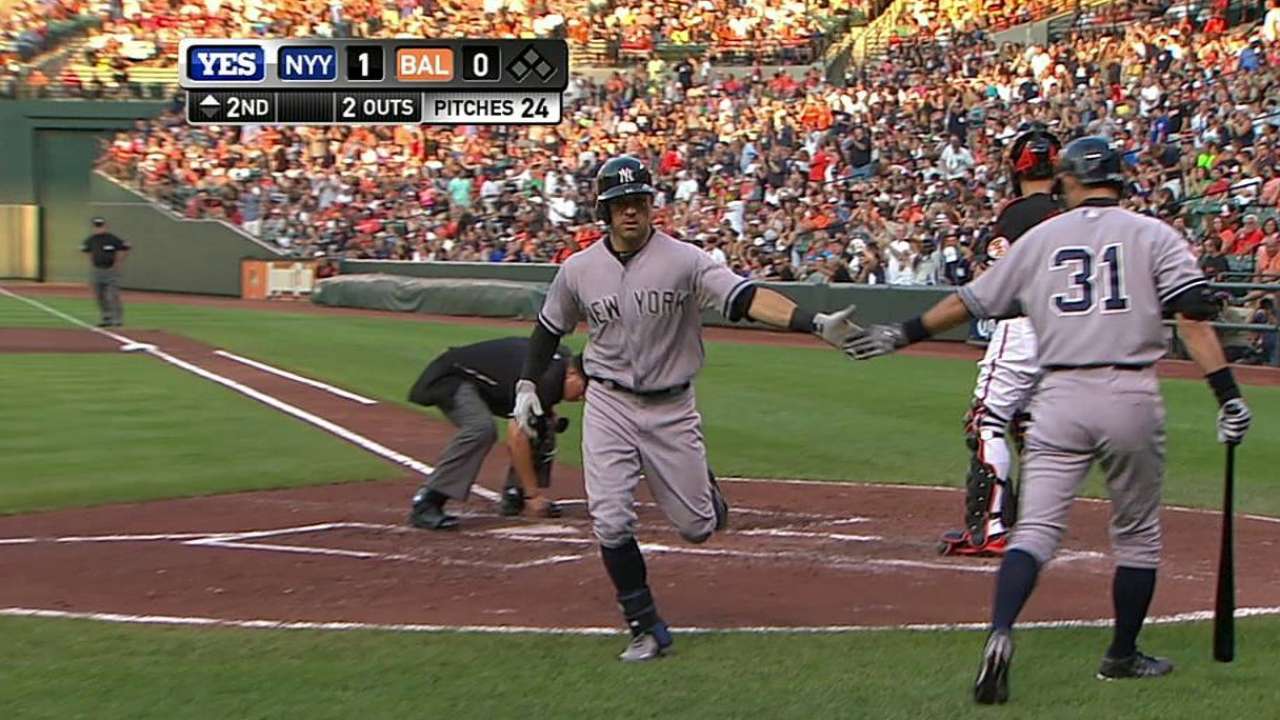 BALTIMORE -- The last pitch of the night was a slider that hung in the strike zone, and as it whizzed over Adam Warren's head to land safely in center field, the Yankees once again sputtered back to the break-even mark with a .500 record.
Kicking off a weekend series between division rivals, Nick Hundley delivered the decisive hit off Warren in the 10th inning, a solid single that chased home Manny Machado with the winning run as the Orioles defeated the Yankees, 3-2, on Friday night at Camden Yards.
"We want to gain some games on these guys, and it didn't go our way tonight," Warren said. "We're just trying to get the first game of the series and trying to take momentum, and it just didn't happen for us."
The Yankees lost for the third time in four games, falling to 46-46 despite an effective seven-inning performance from Hiroki Kuroda, who locked into an entertaining duel with Baltimore counterpart Miguel Gonzalez.
Kuroda, the last man standing in a Yankees rotation decimated by injuries, fought wildness as Baltimore scored a pair of runs in the fourth inning. He hit two batters and uncorked two wild pitches in that frame, but still pitched well enough to win.
"Both guys were great," said the Yankees' Brian Roberts, who homered in his return to Baltimore. "Miguel was great, too, and it kind of came down to a battle of the bullpens the last few innings. They got the big hit and we didn't."
T.J. MacFarland, who entered for the 10th inning and retired the Yankees in order, earned the victory as the New York suffered its first extra-inning loss of the season, falling five games behind division-leading Baltimore in the American League East.
"It's big. We've got to win series," Hundley said. "We know that they are a very talented team with good arms, a very solid veteran lineup, so we are going to have to play well to beat them. Fortunately, we did tonight."
Yankees manager Joe Girardi said that the game turned for him in the fourth inning, when New York had runners at second and third following Ichiro Suzuki's one-out double. Gonzalez rebounded, retiring Yangervis Solarte and Kelly Johnson to escape.
Baltimore scored its two runs off Kuroda in the home half. Kuroda hit Steve Pearce with a pitch, and Adam Jones singled off Derek Jeter's glove. A wild pitch allowed Pearce to score, moving Jones to third, and Chris Davis lifted a one-out sacrifice fly.
"I didn't help him out," Jeter said. "It bounced a little higher than I thought, plus I took a peek at the runner, so that's a bad combination. Especially when you're playing a team like Baltimore, you can't give them extra outs."
Making his final start before the All-Star break, Kuroda tossed a season-high 103 pitches, limiting the Orioles to just three hits, with no walks and three strikeouts.
The Yankees have lost 80 percent of their Opening Day starting rotation, with CC Sabathia, Ivan Nova, Michael Pineda and now Masahiro Tanaka all on the disabled list. Kuroda said that the losses of those teammates do not place additional pressure on his shoulders.
"I don't know about pressure, but I want to make sure that I stay healthy and stay in the rotation the rest of the year," he said through an interpreter.
Roberts, a two-time AL All-Star and a fan favorite over his 13 seasons with the Orioles, celebrated his return with a second-inning home run on the first pitch he saw.
"It was just fun to be back here," Roberts said. "I love this place, it was a great atmosphere, and I certainly wish we would've gotten a win, more than anything."
Johnson also cracked a third-inning solo home run off Gonzalez, who clamped the damage there and completed eight innings. The Yankees did not produce a hit after the fourth against Gonzalez, who scattered six hits while walking none and striking out five.
"He does what he always does. He uses his split really effectively," Girardi said. "He uses his offspeed, he expands with his fastball. That's what he's done, and he did a pretty good job."
The Yanks threatened in the ninth as Brian McCann greeted Zach Britton with a single. Roberts then bunted down the first-base line, but Davis short-circuited the rally with a beautiful whirling play to nail pinch-runner Francisco Cervelli at second base.
"It's a tremendous play," Girardi said. "There aren't many first basemen that are going to make that play."
After kicking off their 11-game road trip by taking three of four from the Twins in Minneapolis, the Yankees split a four-game series with the Indians, losing their last two contests in crushing fashion.
"We needed to play well these last two games," Jeter said. "We were playing well, and sometimes teams are going to beat you. But when you're playing a good team like this, you have to play your best. Hopefully we can play better the next two days and take it into the All-Star break."
Bryan Hoch is a reporter for MLB.com. Follow him on Twitter @bryanhoch and read his MLBlog, Bombers Beat. This story was not subject to the approval of Major League Baseball or its clubs.