Blindsided by late siege, Pirates fall to Reds
All-Star Watson surrenders five-hit, three-run rally with two outs in 8th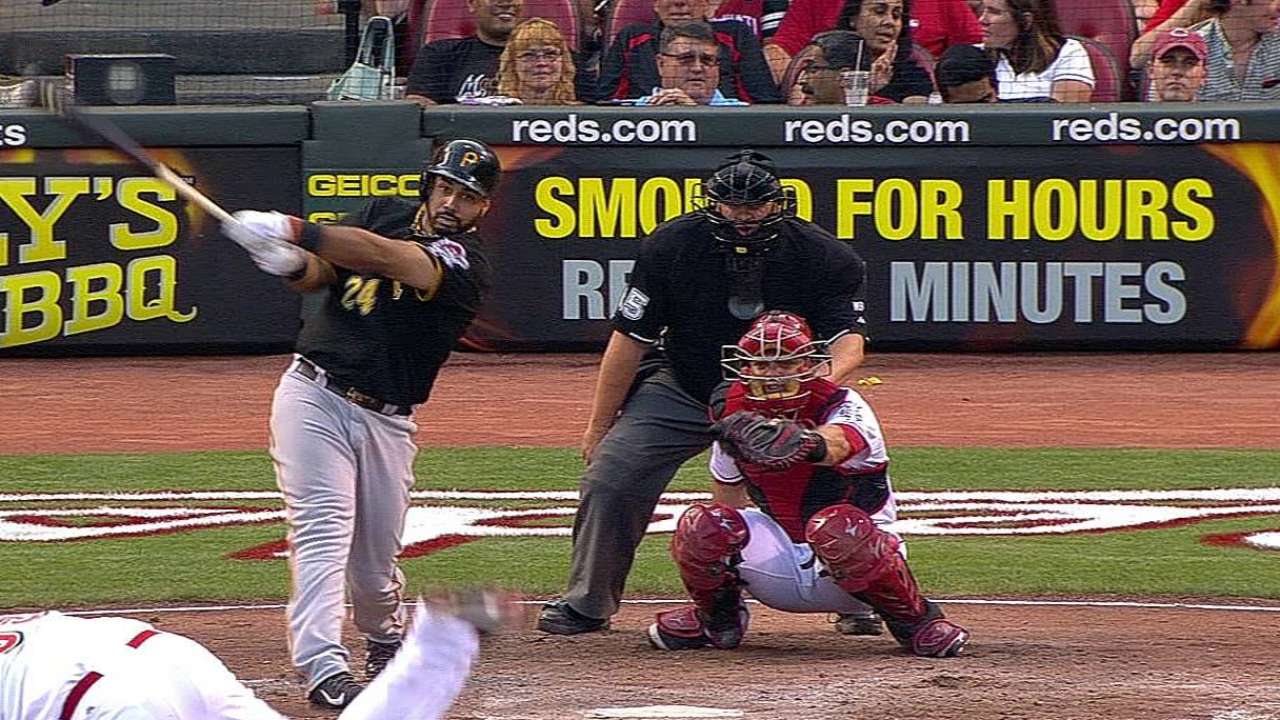 CINCINNATI -- At some point between Devin Mesoraco's home run to signal the rise and Brayan Pena's single to end it, Tony Watson had to be thinking he was just having a bad dream.
"I'll open my eyes, and I'll be laying in bed, none the worse," Watson must've told himself.
But no such reprieve. The Reds' five-hit, three-run rally in the eighth -- all of it with two outs -- was all too real, as was the Pirates' 6-5 defeat resulting from it.
The defeat dropped the Bucs' record on this ultimate pre-All-Star break trip to 1-4 -- three of the defeats coming in the home team's final at-bat.
"I just couldn't put anybody away when I needed to," Watson said. "I put it on myself. Two outs, two strikes repeatedly -- I've got to put those guys away and get us back in the dugout."
If you were a holdout from the belief that anything can happen in this wacky National League Central, you finally had to give in after viewing this spectacle.
That, pretty much, was Cincinnati manager Bryan Price's take on the events.
"I'll tell you, two outs, nobody on against Watson, who's throwing absolute missiles, and Devin hits a homer and [Ryan Ludwick] gets a base hit, and next thing you know, it's five consecutive [hits] off a kid that's really good," Price said. "I don't want to say it came out of nowhere, but it showed a ton of character on behalf of our club."
Watson became an All-Star reliever by not allowing any hits in 24 of his first 42 appearances. He had not allowed more than three hits in any of his games this season. In a career that spanned 220 appearances, the most he had allowed was four, and he did that once, three years ago as a rookie.
Then this: He took over one reliever removed from Jeff Locke's sharp 6 1/3-inning start to protect a 5-3 lead and got two quick outs.
Mesoraco's homer pared the Bucs' lead to a run, then three consecutive singles by Ludwick, Chris Heisey and Ramon Santiago tied it at 5. It didn't end there, as Pena, pinch-hitting, ripped a liner to right-center to bring home Heisey and bring down the house, with 36,613 rocking Great American Ball Park.
Price had a reason to turn to Aroldis Chapman. It was a bad mismatch: Jordy Mercer, Michael Martinez and Matt Hague all fanned, as the Cuban lefty set a Major League relief record by registering a strikeout for his 40th straight appearance.
"He's been lights-out for us all year. Didn't happen tonight," manager Clint Hurdle said of Watson. "They kept battling after he got ahead of them. Couldn't put them away -- and that's been one of his best attributes. All two-strike hits ..."
Actually, only Mesoraco's and Santiago's came on two-strike counts. It only felt like Watson spent the entire inning on the edge of escape -- not, as he'd hoped, on the edge of his bed.
"One of those nights. Have to put it away and get out there tomorrow," Watson said.
In the fourth, Andrew McCutchen's solo homer and a three-run blow by Pedro Alvarez brought the Pirates back from a 1-0 deficit.
Alvarez's plus-minus rating, however, barely stayed in the positive. His throwing error into the stands in the seventh led to two unearned runs and to Locke's exit.
The truth is, Locke, and the Pirates, were sailing until Alvarez's 18th throwing error awoke the Reds -- not to mention the fans sitting behind Cincinnati's first-base dugout. Santiago's double brought in one run and a one-out grounder by Billy Hamilton brought in another and cut the Bucs' lead to 5-3.
Locke allowed one earned run. He doled out nine hits, but relied on his defense and his own moxie to minimize their toll. Most impressively, the 2013 NL walks leader did not walk a man, something he now has done only a total of six times in eight starts.
The injury bug took another bite out of a Pittsburgh opponent. Cincinnati starter Mat Latos was the latest to unwittingly and unfortunately give the Bucs a break as lower-back spasms affected him long before he relinquished the mound.
Latos visibly first felt the spasm on the pitch he got the second out on in the third inning. He made it safely through that inning and began the fourth with a strikeout of Josh Harrison, then his gutsy effort quickly backfired: McCutchen's homer tied it at 1, then first baseman Jay Bruce's error on Neil Walker's grounder and Russell Martin's walk set up Alvarez's blow.
Latos squirmed his way through a scoreless fifth, then left for a pinch-hitter, his five innings having yielded four runs (three earned) on three hits and two walks, and admiration for the big blond's competitiveness.
Hamilton had bunted Locke's first pitch for a single, acrobatically eluding Gaby Sanchez's tag at first base, and raced home as Zack Cozart lined pitch No. 2 into the left-field corner for a double.
Tom Singer is a reporter for MLB.com and writes an MLBlog Change for a Nickel. He can also be found on Twitter @Tom_Singer. This story was not subject to the approval of Major League Baseball or its clubs.