Banged-up Reds band together for late rally, win
Pena's RBI caps comeback after Latos' injury; Aroldis sets K mark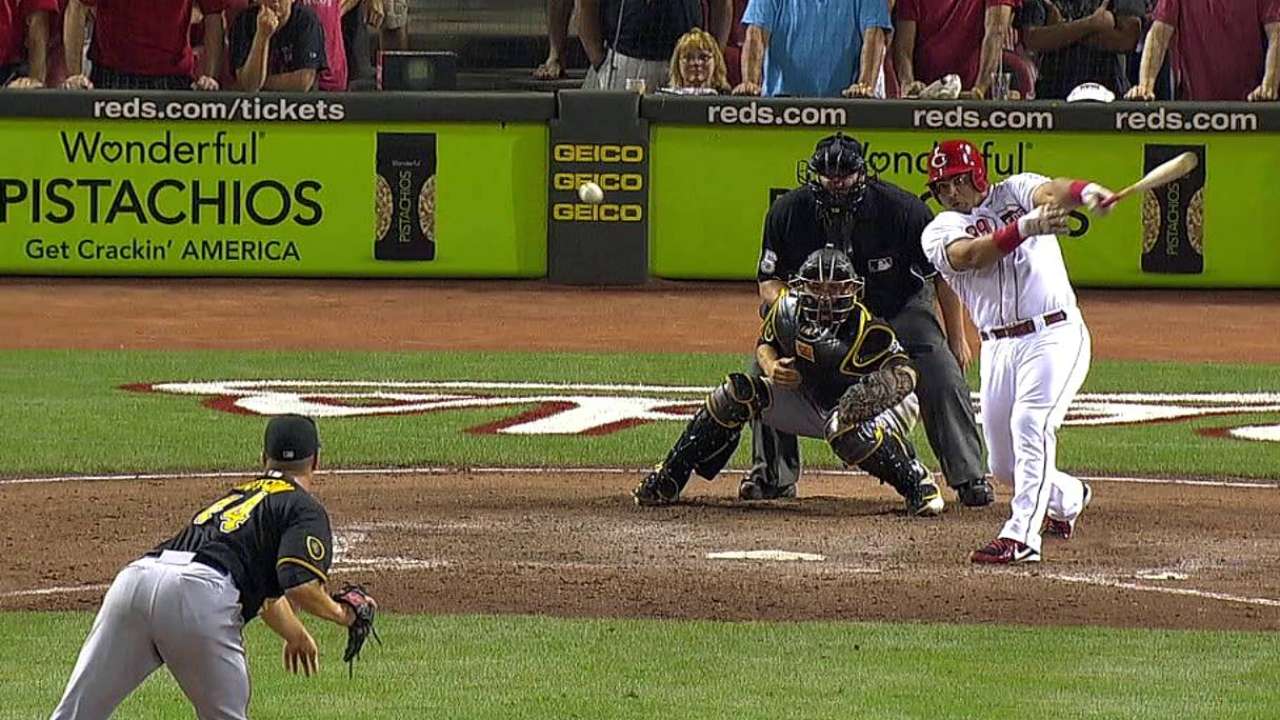 CINCINNATI -- Call them the Comeback Kids. Even if so many of them are injured.
For the second time in the span of four days, the injury-ravaged Reds erased a deficit of four or more runs as they came all the way back to beat the Pirates, 6-5, after trailing 5-1 as late as the seventh inning in their series opener at Great American Ball Park on Friday night. With the Brewers' loss to the Cardinals, Cincinnati is now 1 1/2 games behind first-place Milwaukee in the National League Central.
With the Reds down, 5-3, in the eighth with two outs and nobody on, Devin Mesoraco crushed a 419-foot homer into the second deck in left field off All-Star reliever Tony Watson to bring Cincinnati within a run. The next two batters, Ryan Ludwick and Chris Heisey, hit singles before they each scored on two more consecutive singles by Ramon Santiago and pinch-hitter Brayan Pena to make it 6-5.
"That's why the Reds got me, and it's one of those things that I really feel like every time that I've got the opportunity to do something to help my team win, I'm prepared mentally and physically for it," Pena said. "And tonight, it was a very exciting 'W' for us, because it was totally a team effort."
"I just couldn't put anybody away when I needed to," Watson said. "Too much of the plate, bad location. I put it on myself. Two out, two strikes -- I have to put those guys away and put us back in the dugout."
The comeback was made complete by a record-breaking performance by Aroldis Chapman.
The flame-throwing closer came on in the ninth and picked up his 20th save. In the process, he broke Bruce Sutter's Major League record of most consecutive relief appearances with a strikeout since 1900, notching his 40th in a row by fanning Jordy Mercer.
"I'm proud and happy that I've got the record," Chapman said through translator Tomas Vera. "[Since Thursday] when I learned that it was a record that I tied, it was on my mind, and now I feel happy that I have it, and I pray that I have the ability to extend the record."
Things looked bleak early on, as Reds starter Mat Latos left the game after five innings due to back spasms, but not before surrendering home runs to Andrew McCutchen and Pedro Alvarez in the fourth. McCutchen hit a solo shot, and after an error by Jay Bruce at first enabled Neil Walker to reach, followed by a Russell Martin walk, Alvarez hit a three-run shot to make it 4-1.
"After I got the first batter of the third inning," Latos said, "I was just standing on the mound and I got in my ready position like I do to receive the sign, and it just felt like as if [Zack] Cozart or Santiago came up behind me and stabbed me in my lower back. It was real tight."
Latos didn't want to come out of the game because the bullpen had been taxed so much earlier in the week with a doubleheader on Tuesday and a 12-inning marathon against the Cubs on Thursday that resulted in Cincinnati using six relief pitchers.
Latos had the team's chiropractor work on his back, which helped him get through five.
The heroes for the Reds in this game were many, but a central theme that emerged with the victory was that bench players continued to come through amid a lengthening list of injuries. Before Latos had to leave the contest early, Skip Schumaker was placed on the seven-day concussion disabled list before the game.
Santiago, who is now the everyday second baseman moving forward, not only tied the game with his single in the eighth, but also knocked in a run in the seventh with a double and was 3-for-4. He has an RBI in each of his last four games and is batting .429 (9-for-21) over his last six games.
"He's always ready, and his time is here to play, and not only is he playing well, but he's stepping up offensively, which is obviously such a big part of what we need right now, especially down at the bottom of the order," Reds manager Bryan Price said.
Martin tacked on another run for Pittsburgh with an RBI single in the sixth against reliever Carlos Contreras.
The Reds scored in the first, when Billy Hamilton pushed a bunt up the first-base line and made an incredibly acrobatic move, lunging away from first baseman Gaby Sanchez to elude his tag and diving into first for a single.
Zack Cozart followed with an RBI double to make it 1-0.
The Reds got two more in the seventh on the Santiago RBI double and, after a single by pinch-hitter Donald Lutz, a groundout by Hamilton to score Santiago and make it 5-3.
Prior to this week, the Reds hadn't overcome a deficit larger than two runs. Now they've overcome double that deficit twice and have won 15 of their last 21 games. For a team that has been snake-bitten by injuries all season, they're still where they hoped they'd be as the All-Star break nears.
"There's just never been a theme of, 'We're not supposed to win,'" Price said. "We hung in there for two months, we've played great baseball for probably 40, 45 straight games, and I just think everybody is completely in. I think they believe a lot in this club, believe in each other, and it's really showing up now, even though we've got a few guys banged up."
Manny Randhawa is an associate reporter for MLB.com. This story was not subject to the approval of Major League Baseball or its clubs.