Tolleson's clutch knock lifts Blue Jays in ninth
Bullpen blows late lead before replacement infielder takes it back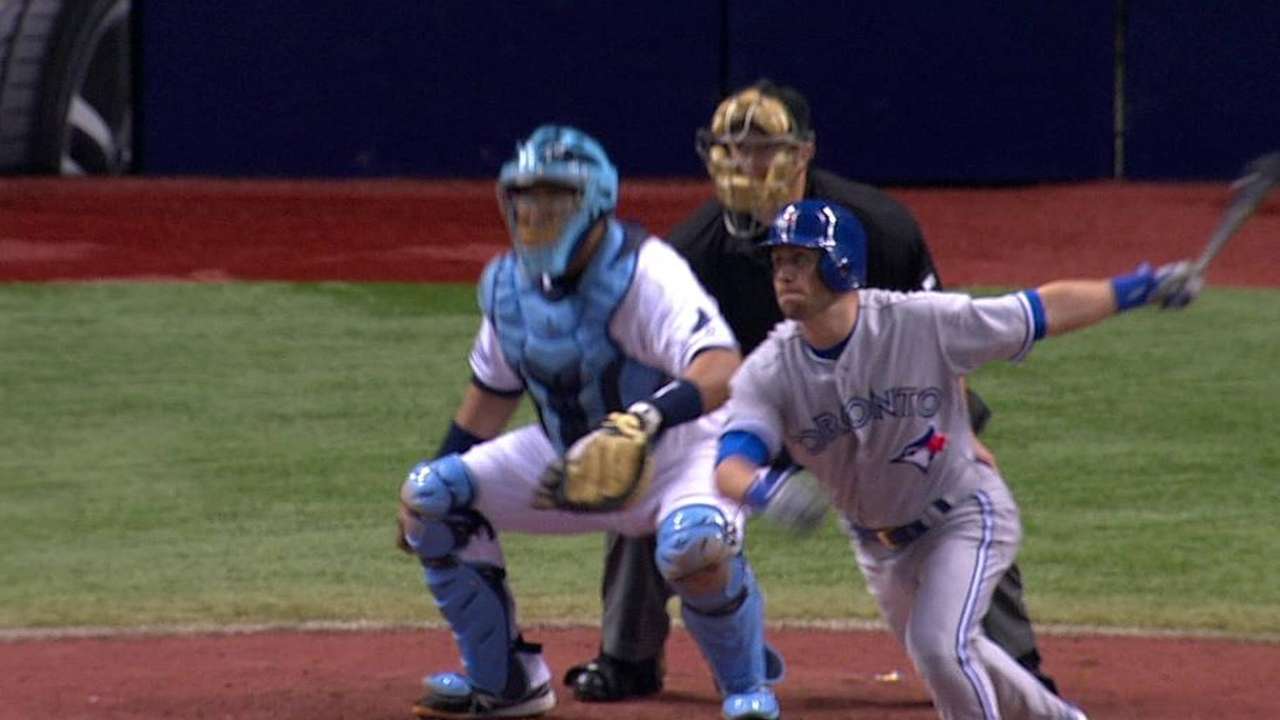 ST. PETERSBURG -- Four batters into the ninth inning, Dan Johnson stood on third base at Tropicana Field and watched his old teammate, Grant Balfour, struggle.
Leading off the ninth in a 5-5 game, Johnson, a former member of the Rays, had walked -- as he did four times in the Blue Jays' 8-5 series-opening win against the Rays Friday night -- on four straight balls from Balfour.
Three batters later, Johnson was on third, Jose Reyes was on second -- and Steve Tolleson was about to drive them both in with a tiebreaking two-run single off Balfour, blooped down the right-field line.
"At the time when I got my walk, I think [Balfour] was still searching to try to find his release point," Johnson said. "I think I just came up at the right time at that point, where he was still kind of searching for it, so I think I lucked out by that. And then obviously we put a couple of good at-bats together, and then Tolly came through with that big hit."
Johnson was making his season debut, having flown into St. Petersburg from Triple-A Buffalo earlier that day, and he set the table for the Blue Jays four times -- the last one the most important. Tolleson wasn't even supposed to be in the game -- he was a seventh-inning replacement for Munenori Kawasaki, who exited with right hamstring tightness.
But it was still Tolleson and Johnson who ended up propelling the Jays to their second win in their last eight games. Toronto has scored 19 runs in its last three games after only scoring six runs in its previous five. The Rays have lost two in a row, and they gave up three runs in the ninth for the second straight night.
"I wasn't attacking guys, wasn't getting ahead," Balfour said. "The first guy, I walked. You don't want to walk the leadoff guy. For me, it was embarrassing."
And costly. By getting to Balfour for three runs -- Jose Bautista added an RBI single two batters after Tolleson -- the Blue Jays bailed out their own bullpen.
In the seventh inning, Dustin McGowan had coughed up a three-run lead in a span of three batters. McGowan entered the game with two outs, nobody on and his team in front, 5-2. But he walked Evan Longoria and James Loney, and Sean Rodriguez crushed a slider deep into the left-field seats to tie the game.
McGowan wasted the effort of quick-working Mark Buehrle, who got the better of methodical Chris Archer over five innings.
The veteran left-hander -- who pitches at the fastest pace in the Major Leagues, compared to Archer, baseball's third-slowest pitcher -- allowed nine hits in five innings, but held the Rays to just two runs. That wasn't much solace to Buehrle, though.
"I'm going five innings. It's not really called for," Buehrle said. "I'm upset. ... You put your bullpen in a tough situation, so I need to go deeper in a game to give us a chance to win."
In the first inning, Buehrle found himself in a bases-loaded, no-out jam after giving up three straight singles to start the game. But he got out of it after only a Longoria sacrifice fly when Loney bounced into an inning-ending double play.
Buehrle gave up the second run in the fourth after three straight two-out hits, the last an RBI single down the left-field line by Ben Zobrist. Five of the Rays' hits against Buehrle came with two outs.
"I'd get two quick outs, it seemed like, a lot," Buehrle said. "And then I got guys on, walked guys. I mean, I'm frustrated with myself.
"I got two quick outs, got ahead in the count, started nitpicking, got deep into counts, seven-pitch at-bats. [I] look up and after four innings, I have 85 pitches. That's not acceptable."
Still, Toronto looked to be in good shape, managing five runs on six hits off of Archer in his five innings. The Blue Jays looked lost against Archer in the first two frames, striking out five times against the young right-hander, but they touched up Archer for three runs in the third and two more in the fourth.
The Blue Jays pounded out four hits in the third, and when they loaded the bases, they got three runs where the Rays had only gotten one -- on singles by Kawasaki and Melky Cabrera and a sac fly by Bautista. In the fourth, they added two more runs on Reyes' two-out, two-run single.
That lead disappeared on Rodriguez's home run, but Toronto got it back for good when Johnson crossed the plate in St. Petersburg for the first time since his game-tying, pinch-hit home run with two outs and two strikes in the bottom of the ninth inning of Game 162 in 2011 -- when the Rays dramatically beat the Yankees in extra innings to make the playoffs on the season's final day.
Actually, since Johnson was 0-for-0 with four walks on Friday, that home run is still his last official at-bat at The Trop. And even though his walk in the ninth wasn't exactly heroics, it set the stage for Tolleson's.
"You need that. That was a big hit for him," Blue Jays manager John Gibbons said of Tolleson's flare. "He struggled against right-handers and hadn't had a chance to face a lot, so that was a huge hit."
David Adler is an associate reporter for MLB.com. This story was not subject to the approval of Major League Baseball or its clubs.