Rough ninth spoils Rays' comeback vs. Blue Jays
Rodriguez launches game-tying three-run shot in seventh inning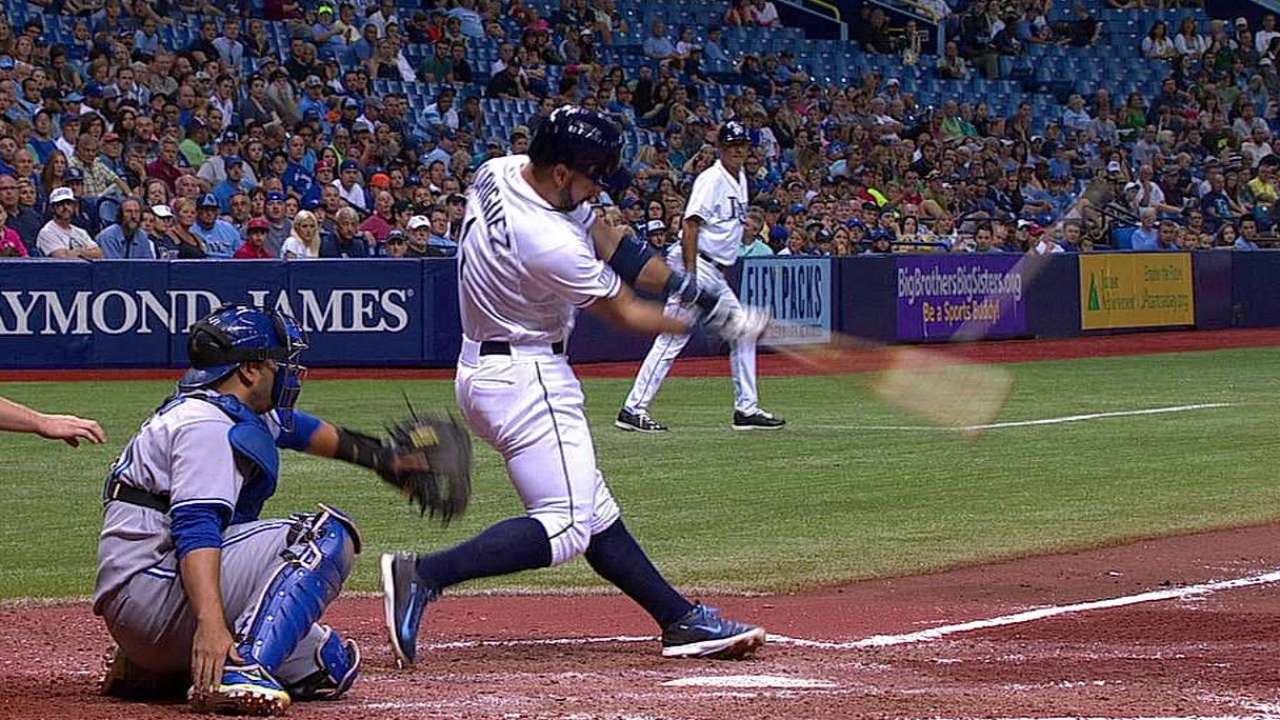 ST. PETERSBURG -- Sean Rodriguez brought to life Friday night's Tropicana Field crowd of 17,533 with a monster game-tying three-run homer in the seventh inning.
At that stage of the game, the Rays appeared on the verge of something special. Unfortunately for Tampa Bay, Rodriguez's blast was long forgotten once the Blue Jays scored three in the ninth to cap an 8-5 win.
The Rays lost for the second consecutive time while moving to 1-3 on the current homestand. Coupled with the Red Sox's win over the Astros, the Rays fell back into the basement of the American League East.
The game stood tied at 5 when Grant Balfour came on to start the ninth for the Rays. Earmarked to be the team's closer this season, Balfour struggled for much of the first half, prompting Rays manager Joe Maddon to change to a closer-by-committee situation for finishing out games. But recently, Balfour had been doing better.
Heading into Friday night's appearance, Balfour had a 1.59 ERA in his previous 12 appearances, including Wednesday night's success when he took over for Alex Cobb with two on and two outs and did not allow a run.
Former Tampa Bay icon Dan Johnson drew his fourth walk of the game to lead off the ninth. One out later, Jose Reyes doubled to right to bring Steve Tolleson to the plate.
Once the count was full, Tolleson blooped a two-run single down the right-field line. Melky Cabrera walked before Jose Bautista singled to right to drive home the third run of the inning and chase Balfour.
"I wasn't attacking guys, I wasn't getting ahead," Balfour said. "... The first guy, I walked. You don't want to walk the leadoff guy. For me, it was embarrassing. It was a bad effort on my part. I didn't throw the ball well."
Maddon said that the leadoff walk to Johnson really hurt.
"We just could not find the strike zone on Danny tonight," Maddon said. "Of course Reyes hits a pretty big knock for them right there. They hit some balls softly that found spots. But that's going to happen when you walk the leadoff guy. ... So it came down to the leadoff walk."
Johnson felt as though Balfour was still searching to find his release point when he drew the pivotal leadoff walk.
"I think it just came up at the right time at that point, where he was still kind of searching for it," Johnson said. "So I think I lucked out by that. And then obviously we put a couple of good at-bats together, and then Tolly came through with that big hit."
Balfour has allowed more runs in 23 appearances this season (22) than he did in 65 appearances in 2013 (20).
Casey Janssen retired the Rays in order in the ninth to preserve the win, while earning his 14th save.
That ending did not seem to fit with the way the game began.
Tampa Bay got off to a quick start with Chris Archer striking out five of the first six batters he saw, and Evan Longoria gave the Rays a 1-0 lead with a first-inning sacrifice fly.
Toronto got busy when Colby Rasmus singled to open the third and Johnson drew a walk. One out later, Reyes singled to load the bases for Munenori Kawasaki, who singled to right to drive home Rasmus. Cabrera singled home another, and Bautista's sacrifice fly to right gave the Blue Jays a 3-1 lead.
Reyes singled home two in the fourth to push the Blue Jays' lead to 5-1.
Ben Zobrist's RBI single off Mark Buehrle in the fourth cut the lead to 5-2.
Archer allowed five runs on six hits and three walks while striking out seven in five innings to take a no-decision.
Rodriguez came through with his big blow -- his ninth of the season -- when he connected against Dustin McGowan for the three-run blast that tied the game at five.
"Archie started out so well, we all started out well," Maddon said. "We started pitching well, we started hitting well. We couldn't score any runs.
"It's just another weird game. You have to give them credit for the fact that they hung in there and they fought back to beat us. But we still have a chance to win the series."
Bill Chastain is a reporter for MLB.com. This story was not subject to the approval of Major League Baseball or its clubs.