Back to the Futures: Stars collided before The Show
Top-tier matchups in prospect exhibition presaged splashes in Majors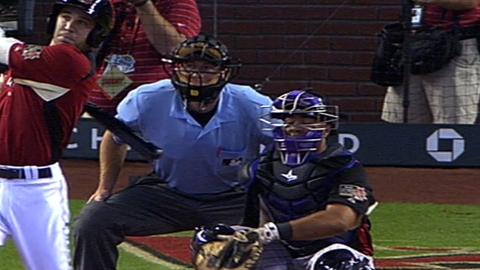 When some of baseball's top young talent takes the field for the SiriusXM All-Star Futures Game on Sunday at Target Field, it will be all about potential. It's impossible to say which players will make an impact at the big league level, or if they'll ever square off again in the Majors.
But if past Futures Games are any indication, Sunday could provide a preview of some big-time matchups that we could be seeing in baseball for years to come.
This year's World and USA rosters are made up of 27 players on MLB.com's Top 100 Prospects list, including five in the top 10: Chicago's Javier Baez and Kris Bryant, Houston's Carlos Correa (though he was replaced due to injury), Cleveland's Francisco Lindor and New York's Noah Syndergaard.
In its 15 years, the Futures Game has featured All-Star sluggers and top-tier aces. And many of them have gone head-to-head. Like in the 2011 game in Phoenix, when Cleveland's Jason Kipnis led off the bottom of the first with a home run off Atlanta's Julio Teheran. Kipnis went on to make his first All-Star Game appearance last year, while Teheran will follow with his first Midsummer Classic this week.
That same year, Rangers prospect Jurickson Profar -- the youngest player on either roster in that year's game -- tripled to right-center off Twins hurler Kyle Gibson for the World's go-ahead run in the sixth.
The following season, it was Profar again -- this time against Rays prospect Jake Odorizzi -- as he homered down the right-field line to give the World a 1-0 lead in the first inning.
The next inning, Gerrit Cole, the Pirates' No. 1 overall pick the previous season who would eventually help lead them to the playoffs in 2013, struck out Boston's Xander Bogaerts as part of a two-strikeout second inning.
And years before that, back in 2009, there was plenty of star power on display in a scoreless first inning when Rangers prospect Neftali Feliz took down Eric Young Jr. (strikeout), Desmond Jennings (strikeout) and Chris Carter (lineout to pitcher) in the first.
The 16th annual SiriusXM All-Star Futures Game will take place at 5 p.m. ET on Sunday at Target Field in Minneapolis, and it can be seen live on MLB.com and MLB Network, and followed live on MLB.com's Gameday. In addition, XM Radio will broadcast play-by-play coverage of the event live on MLB Network Radio XM 89 and Sirius channel 209. MLB.com will also provide complete coverage before, during and after the game. Fans can stay updated by following @MLBFutures on Twitter and can send and receive tweets to and from the U.S. and World Team dugouts during the game by tagging tweets with the hashtags #USDugout and #WorldDugout.
Major League Baseball, in conjunction with the Major League Baseball Scouting Bureau, MLB.com, Baseball America and the 30 Major League Clubs, selected the 25-man rosters for each club. Each Major League organization is represented, and players from all full-season Minor Leagues were eligible to participate.
Joey Nowak is a reporter for MLB.com. Follow him on Twitter at @joeynowak. This story was not subject to the approval of Major League Baseball or its clubs.