ASG in Minnesota evokes memories of first Derby
Inaugural competition held at Metrodome 29 years ago with team format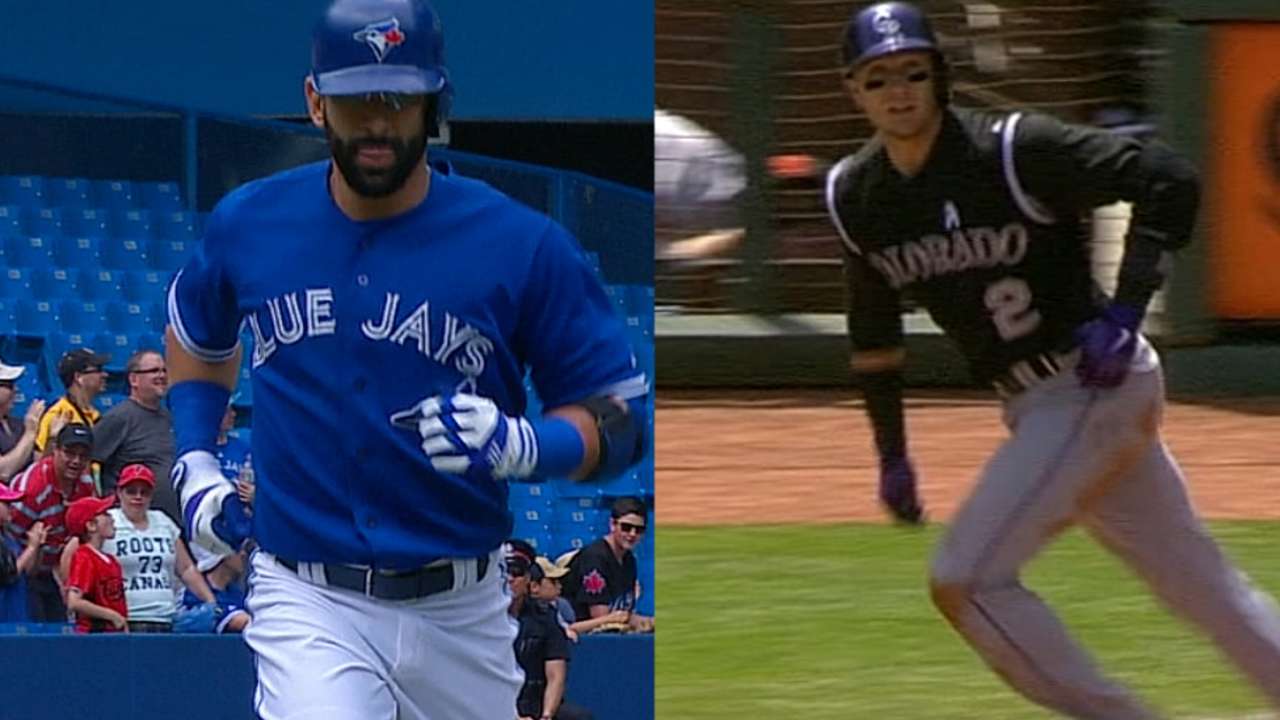 Tom Kelly smiles when he sees the photograph. It's a framed shot of him as a young man, not even 35 years of age, alongside Tom Brunansky, who's not quite 25. The men are in Minnesota Twins uniforms, walking on the green SuperTurf under the white, air-supported fiberglass-and-fabric roof of the Hubert H. Humphrey Metrodome. They are happy, as they should be.
"I'm patting him on the back," Kelly says. "People are clapping in the stands and the players are on the side. I was so relieved and grateful that he won it for the American League. That's what I remember when I see that picture."
The it that Kelly refers to is the first All-Star Home Run Derby. It took place on Monday, July 15, 1985, the day before the last All-Star Game in Minneapolis prior to this year's Midsummer Classic scheduled for Tuesday at Target Field, and it was a lovable work in progress that would lay the groundwork for the annual spectacle we enjoy today.
The first Home Run Derby, a team competition, started at 3 p.m. CT, sandwiched right between the 2 p.m. AL workout and 4 p.m. National League workout. Tickets cost $2, buses transported fans with either tickets or baseball gloves to the "Homer Dome" for free, and more than 46,000 people took up the offer.
The rules were thrown together in a somewhat haphazard fashion. It was set for three "innings," or rounds, with five batters from each league to hit until they made five "outs," or non-homers, and the total long balls to be added up to determine which league would win. The AL lineup, after a few last-minute alterations, was Carlton Fisk of the White Sox, Twins slugger Brunansky, Red Sox outfielder Jim Rice, Orioles shortstop Cal Ripken Jr. and Orioles first baseman Eddie Murray.
The NL was represented by Braves outfielder Dale Murphy, Padres first baseman Steve Garvey, Reds outfielder Dave Parker, Cubs second baseman Ryne Sandberg and Cardinals first baseman Jack Clark.
The NL went first, with Murphy hitting one home run, Clark getting shut out, and Parker, the slugger known as "Cobra," unleashing some of his venom in a four-homer round that started to get the Metrodome crowd going.
Looking back on it now, Parker remembers that nobody knew quite what to make of an "official" home run derby, even though most teams would have their own versions of it in batting practice.
"Once it got started, the competitive juice kicked in, though," Parker says. "Nobody wants to be shown up, so it got serious in a hurry."
Parker got the NL off to a good start with his efforts, and he says he's tuned in to the ensuing Derbies over the years and when he hears about players not wanting to participate because it supposedly alters their swings, he has to chuckle a bit.
"That just never bothered me," Parker says. "I was taking swings like that in the actual games anyway. I tried to do damage until I got two strikes, and then I'd focus on putting the ball in play. But before two strikes, I'm trying to break some seatbacks about 450 feet away."
Garvey followed Parker and put two more homers on the board for the NL, which now had seven in the first round. Garvey, however, wasn't only thinking about trying to hit the ball over the famed Metrodome baggie or one-up the AL. At the age of 36, with fewer than three years left in a sterling 19-year Major League career, he had other things brewing in his mind.
"I thought it had great potential as an event," Garvey says. "I already started the Garvey Marketing Group. I had a business going. It was the beginning of my career in communications and marketing. And all I can remember thinking was, 'This is cool. You've gotta expand on this.'
"Power sells. That's what people come to the game to see. And I remember thinking that, well, maybe the Home Run Derby could someday have as much or more anticipation than the game the next day. It was a great way for sponsors to get involved. I could see that right away. It was the spawning of its own industry that day, really.
"And it was fun."
After Sandberg belted one out of the yard to give the NL an eight-spot in the first round, it was the AL's turn. Kelly, the Twins' third-base coach who would become the club's manager the following year and win World Series championships in 1987 and 1991, was asked by AL manager Sparky Anderson to throw to the AL hitters.
Fisk did fine enough, blasting two out of the park to get the AL on the board. Ripken was next, and he was eager, having had experience in previous skills competitions, which he always enjoyed.
"I remember being excited," Ripken says. "All the All-Stars were there, it was kind of a 'Let's do this' type of thing, and I thought it was a good idea. When you have all the best players in one building, the assembly of that sort of talent, you want to do things with it."
In the first round, though, Ripken didn't hit a single homer.
"I didn't feel comfortable off Tom Kelly," Ripken says now. "I felt like he was close, a little herky-jerky. He was left-handed. A funky delivery, and I couldn't see him very well. It was doing all kinds of stuff to me."
Kelly laughs when he hears this story.
"Whenever I talk to Cal, I hardly understand half of what he says because I'm just not smart enough," Kelly says. "But I'd never heard that one."
Ripken's troubles were a memory once Rice belted four homers and Murray added three, although Murray would have had four if not for one of his cannon-shot fly balls hitting a speaker hanging from the puffy white ceiling. Hometown hero Brunansky finished off the first round with one last long ball to give the AL an early lead of 10-8.
By that time, the organizers realized that too much time had passed, so the proposed length of three rounds was shortened to two, and the NL repeated its first-round showing with eight more home runs. Murphy hit three in his second go-around, Parker hit two more to end up being the individual leader with six, Clark got on the board with two and Sandberg hit one.
But what Sandberg, now the manager of the Phillies, remembers more than the one that counted was one that didn't.
"I was robbed of a home run by a high school kid," Sandberg says. "I remember they invited a local high school team to come out and shag -- it was a big deal to be out on the field. The kid went back and went up by the home-run line and brought it back.
"It was a big catch. It was a big deal. The fans got a kick out of it because I was robbed of a home run in the Derby. I got a big kick out of it. It was a great catch. It was humorous at the time. It was impressive."
And so was Brunansky's final round, with the AL trailing, 16-14, and the Twins star knowing he had to hit three.
"The only thing that felt comfortable was that I had T.K. throwing, and I'd seen T.K. every day in BP," says Brunansky, now the Twins' hitting coach. "He'd throw BP to us every day. So I felt comfortable in that, and obviously he knew my swing and where my sweet spot was, and we got into a good rhythm, and that was nice.
"After the first couple you start getting a little flow and now you stop thinking, and then it just becomes auto-lock."
Brunansky hit two in his first three swings. He needed one more, and he got it.
"Once I hit it, I remember thinking, 'Thank God that's over,'" Brunansky says. "We got a standing ovation from everyone in the house and me and T.K. got to walk off together. It was cool."
And 29 years later, it's still cool.
"I think we all kind of take to it," Brunansky says. "When you get guys that play professional baseball, the competitive nature's there in everything you do. So back then and I'm sure now, it's a feeling of, 'Let's beat these boys. Come on.'
"And then, when it's all over, it's, 'We whipped these boys. Now let's go out and sign some baseballs.'"
Doug Miller is a reporter for MLB.com. Follow him on Twitter @DougMillerMLB. This story was not subject to the approval of Major League Baseball or its clubs.