Powerful starts: Greatest homer tallies by rookies
White Sox slugger Abreu on pace to set new mark for long balls hit in first year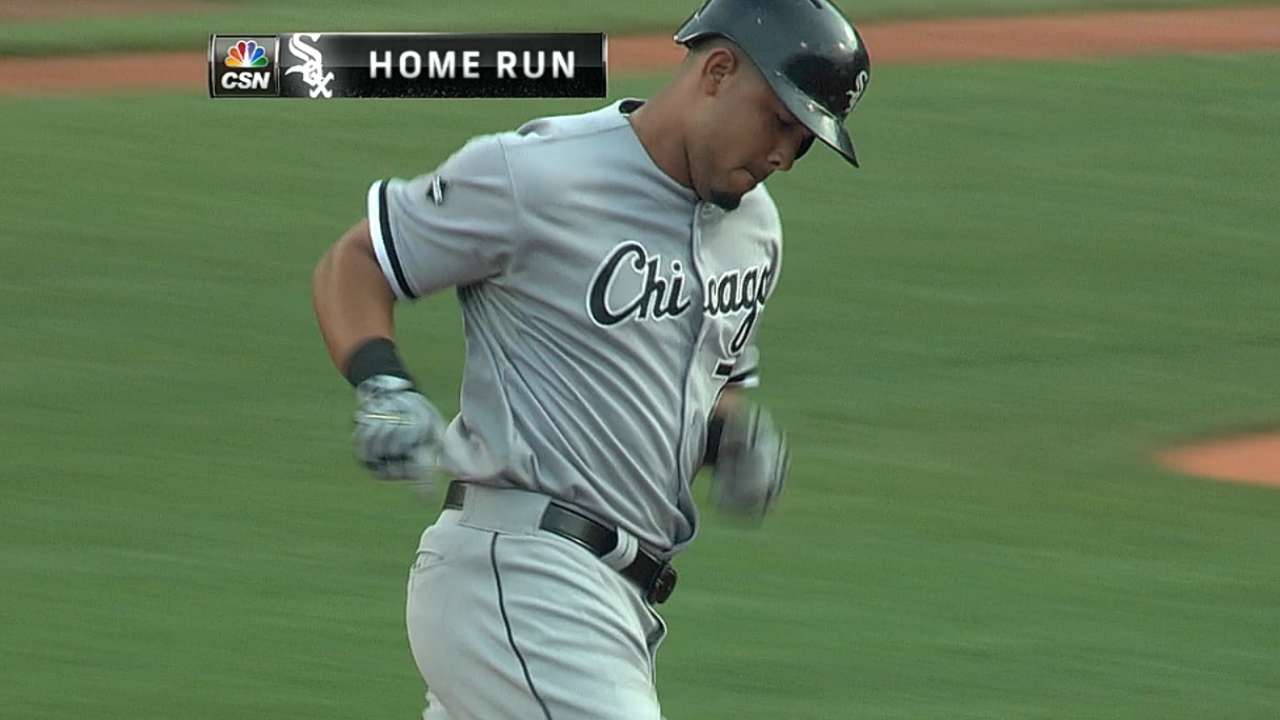 When rookie slugger Jose Abreu steps to the plate, anyone watching expects the long ball. It's becoming a must-see at-bat, every single game.
The first-year White Sox first baseman from Cuba has already placed himself in rarefied air when it comes to sending the ball sailing to start a career, and his rookie season is barely more than halfway over. With 28 homers through his first 79 games, Abreu is on pace to make some serious Major League history.
At the season's midpoint, Abreu is already past the halfway point toward 49 home runs, the top rookie total in Major League annals. That's the number that will be on everyone's minds as long as Abreu keeps hitting balls out at the rate he has established, heading toward a rookie All-Star appearance.
Only 32 players have hit more homers in a rookie season than Abreu has, with still a lot of baseball left, so he could pass some big names in the coming weeks and months.
Here are the rungs on the ladder of all-time rookie homers:
49: Mark McGwire was behind Abreu's pace through 81 games with 25, but this is when he turned it on -- en route to the 1987 American League Rookie of the Year Award for the A's. From games Nos. 70-100 of his career from June 13-July 17, McGwire cranked out 15 homers on his way to his rookie record.
38: Frank Robinson earned the 1956 National League Rookie of the Year Award when he matched the rookie home run record set by Wally Berger of the Boston Braves in 1930, which stood until McGwire shattered the mark. For Robinson, it was just the start of a road to the Hall of Fame and 586 career homers.
37: Albert Pujols started off an unprecedented run of 30 homers and 100 RBIs in the first 10 years of his career, winning the 2001 NL Rookie of the Year Award. Also at 37: Al Rosen, who debuted in 1950 and won the AL MVP Award in 1953 with Cleveland.
35: Mike Piazza was the second in a line of five consecutive NL Rookie of the Year Award winners for the Dodgers, kicking off his stellar career in 1993. Ron Kittle of the White Sox also reached 35 in his first full season in 1983, for what would be a career high. Piazza and Kittle were joined by 1930s hitters Rudy York (Tigers) and Hal Trosky (Indians).
34: Ryan Braun reached his rookie total for the Brewers in 2007 in just 113 games after beginning the season in Triple-A -- that's 38 fewer games than McGwire. Walt Dropo also went for 34 homers for the Red Sox in 1950, adding 144 RBIs.
33: Jose Canseco leads a list with his 1986 total for the A's that includes Earl Williams ('71 Braves) and Jimmie Hall ('63 Twins).
32: Chris Young broke out big time in 2007 with the D-backs, helping them reach the playoffs as NL West champs. Matt Nokes (1987 Tigers) and Tony Oliva ('64 Twins) also hit 32 home runs.
31: Tim Salmon was a phenom in 1993 and was the veteran in 2002 when the Angels won the World Series. Jim Ray Hart (1964 Giants) and a 20-year-old named Ted Williams ('39 Red Sox) hit 31 home runs as well. Williams added a rookie record 145 RBIs.
30: Mike Trout was another 20-year-old making hitting history in 2012 for the Angels, hitting the magic season milestone so many hitters strive their whole careers to reach. Nomar Garciaparra (1997 Red Sox), Pete Incaviglia ('86 Rangers), Willie Montanez ('71 Phillies) and Bob Allison ('59 Senators) also reached that mark.
29: Mark Trumbo set the bar high as a rookie in 2011, also with the Angels. He is joined by an array of sluggers who raise all kinds of slugging memories: Dave Kingman (1972 Giants), Reggie Jackson ('68 A's), Willie Horton ('65 Tigers), Dick Allen ('64 Phillies), Bobby Thomson ('47 Giants) and Joe DiMaggio ('36 Yankees).
Already at 28, Abreu has matched Wilin Rosario (2012 Rockies), Prince Fielder ('06 Brewers), David Justice (1990 Braves), Cal Ripken Jr. ('82 Orioles) and Luke Easter ('50 Indians).
How far Abreu goes, nobody knows. But he's already pretty high up the rookie home run ladder.
John Schlegel is a national reporter for MLB.com. You can follow him on Twitter at @JohnSchlegelMLB. This story was not subject to the approval of Major League Baseball or its clubs.