Kershaw fires three-hit gem as one streak ends
Lefty's scoreless run over at 41 IP in his eighth straight win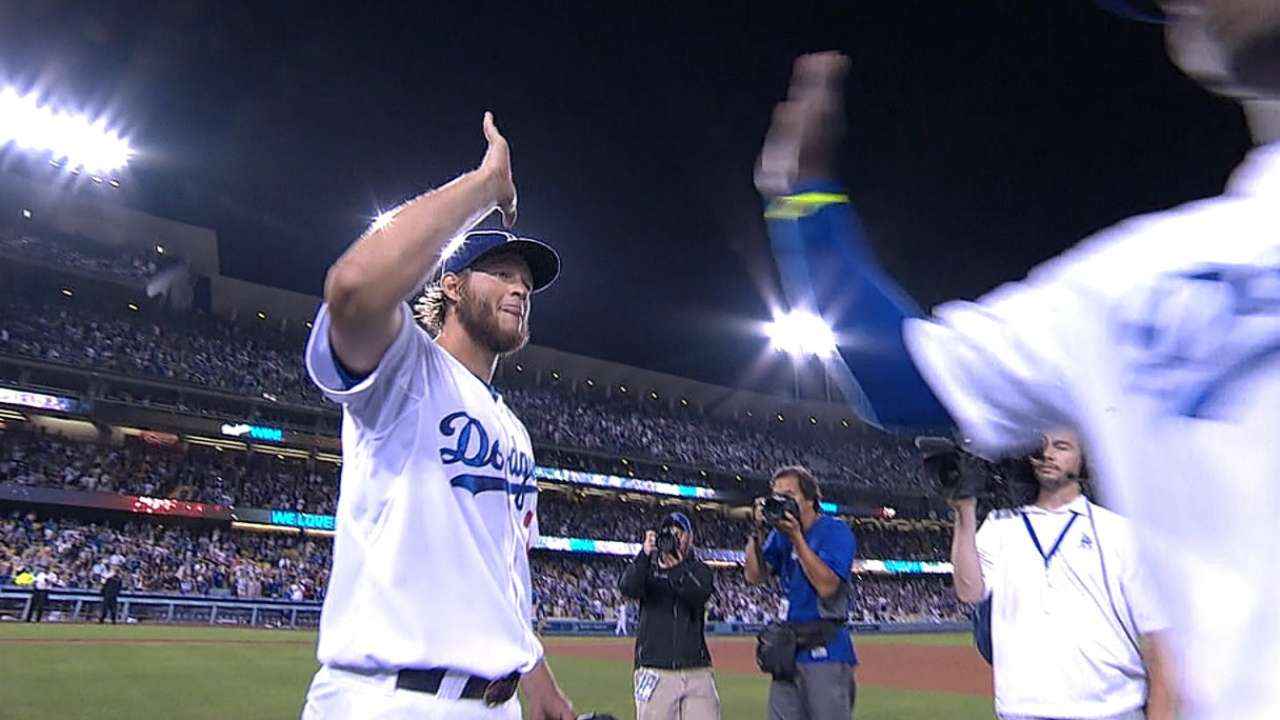 LOS ANGELES -- Clayton Kershaw has set the bar so absurdly high that he threw a three-hit complete-game victory Thursday night and had to answer questions about what went wrong.
For the first time in nearly a month, Kershaw gave up a run. For the first time in more than a month, he gave up a home run. But he ran his win streak to eight as the first-place Dodgers beat the Padres, 2-1.
Kershaw's 41-consecutive-scoreless-innings streak goes in the books as the third-longest in Los Angeles Dodgers history behind Orel Hershiser (59) and Don Drysdale (58) and tied for fifth longest since 1961. He struck out 11, walked one, raised his record to 11-2 and lowered his ERA to 1.78 with his third complete game this season.
During his win streak, his ERA is 0.74 with 80 strikeouts and six walks. He joined Sandy Koufax and Juan Marichal as the only pitchers in the last 100 years to win eight straight starts with at least seven strikeouts in each.
With all of that and two Cy Young Awards, maybe he'll even get to start an All-Star Game someday.
"Whatever Mike [Matheny, NL manager] decides is fine with me," said Kershaw. "I'm just happy to be going."
The streak ended on Chase Headley's two-out, tying homer off a flat slider in the top of the sixth inning, after he fouled off three 1-2 pitches.
By his body language, Kershaw appeared dismayed. The sell-out crowd at Dodger Stadium was giving him a standing ovation, but he had just given up a lead.
"I was disappointed I gave up a run. I don't really care about the streak. It tied the game," said Kershaw. "I'm not supposed to give up a run. One mistake can kill you, but fortunately it didn't tonight."
The Dodgers regained the lead in the bottom of the inning. Hanley Ramirez singled, stole second, took third on catcher Yasmani Grandal's throwing error and scored on Adrian Gonzalez's sacrifice fly.
It might have been Ramirez's last game of the series, because he received another injection in his right shoulder after the game. He said he could feel immediate relief but wasn't sure if he would play until after the All-Star break, after being the key offensive player in this game.
Kershaw found himself in a pitcher's duel with 27-year-old rookie Odrisamer Despaigne, who kept the Dodgers off balance with a dazzling array of pitches and arm angles until his fellow Cuban, Yasiel Puig, grazed a double off Despaigne's leg and eventually scored the Dodgers' first run in the fourth inning.
Despaigne came into the game with a 0.92 ERA in four starts and showed why during the first three innings with a repertoire of pitches that ranged from a 95-mph fastball to a 67-mph eephus pitch. The Dodgers stranded runners on third base four times in eight innings, three times against Despaigne.
"He looks like another competitive guy over there who's never going to give in and knows how to make pitches," said A.J. Ellis. "Without knowing too much about his background, I'm sure he's been through a lot of big games before. He showed us a lot tonight. We know we're going to be in for a big challenge the next time we face him."
The Dodgers scratched to get Kershaw a first run in the fourth. Puig led off with a line-drive rocket that struck a glancing blow off Despaigne's left knee and caromed into left field while Puig pulled into second with a double. He took third on Adrian Gonzalez's groundout and after Matt Kemp took a called third strike, Scott Van Slyke was fooled on a 70-mph curveball but flicked it into right field to score Puig.
"I had just told A.J. not to swing at that [slow curve] unless you absolutely have to, and there I am, not wanting to get to 1-2 against a guy with 14 pitches," said Van Slyke. "It was so slow, I didn't even have enough momentum to finish my swing."
Ken Gurnick is a reporter for MLB.com. This story was not subject to the approval of Major League Baseball or its clubs.