Timely hitting absent behind all-reliever staff
Seager's home run is only support Wilhelmsen receives in first start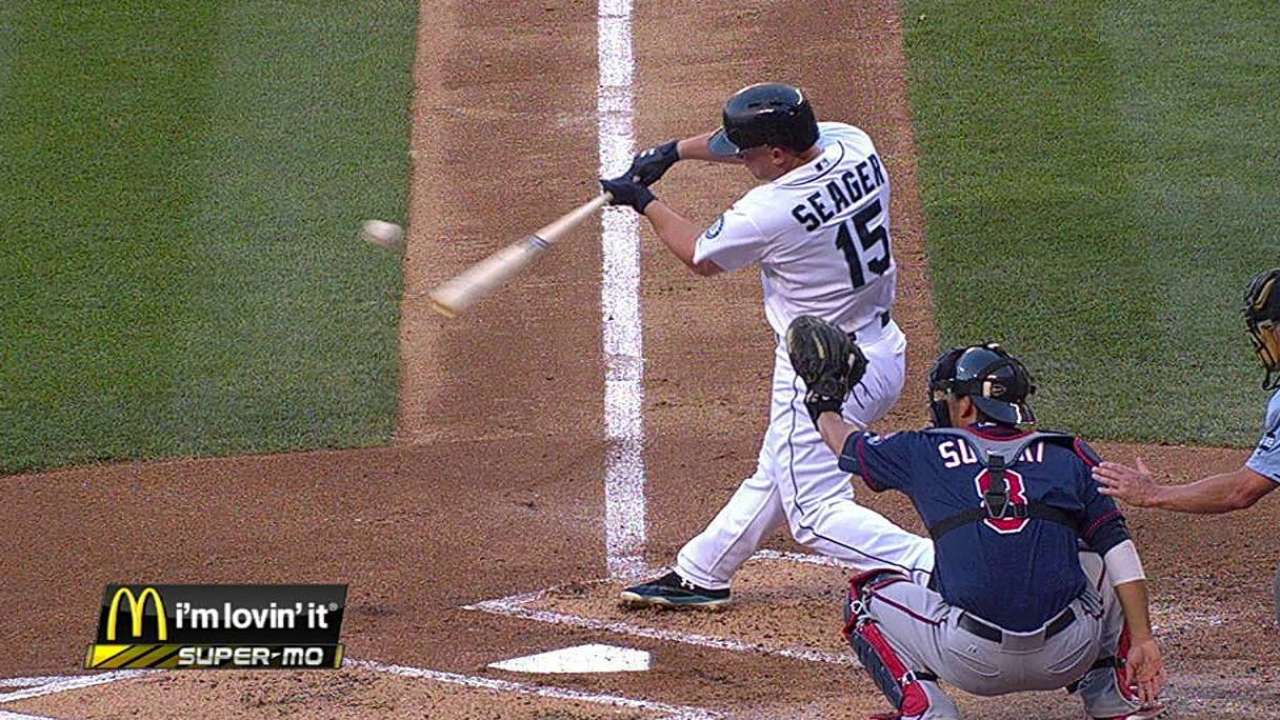 SEATTLE -- Nearly emptying their bullpen to set the rotation for a weekend showdown with the Athletics, the Mariners on Thursday once again could not overcome their sputtering offense and lost, 4-2 to the Twins at Safeco Field.
All-Star third baseman Kyle Seager produced Seattle's only runs, with a second-inning leadoff homer and a sacrifice fly late in the game. The latter ended a rally in the seventh by Seattle, as Minnesota third baseman Trevor Plouffe cut off left fielder Josh Willingham's throw and tossed it to third base to nab center fielder James Jones.
Jones was originally ruled safe, but a replay review overturned the call and ended the inning.
"He's going to be an exciting player for a long time, but it's unfortunate there's going to be some growing pains," manager Lloyd McClendon said of Jones, who went 3-for-5. "He's going to make some mistakes, and that was one of them."
It was not the only time the Mariners were close to breaking through after Tom Wilhelmsen went 2 2/3 innings in his first big league start. The right-hander allowed two runs, one earned, on one hit and three walks. He fanned three but fell to 1-2.
The Mariners finished with 12 hits for the second night in a row but have just nine runs over their past seven games. They have five losses during that stretch, including three of four against the Twins, and are now 49-43 on the season.
"I feel like we lined out a bunch," first baseman Logan Morrison said. "We had runners on. We had our chances. We didn't get the job done tonight."
Case in point: Twins starter Yohan Pino, making his fifth big league start, had to constantly work out of trouble to earn the first win of his career.
Shortstop Willie Bloomquist led off the bottom of the third inning with a single. After left fielder Endy Chavez and Jones flied out, second baseman Robinson Cano singled, and the Mariners loaded the bases when Seager walked. But designated hitter Corey Hart, who entered with a .206 batting average, struck out on a 3-2 breaking ball to end the frame.
"We just haven't got that big hit to put us over the top," McClendon said.
In the fifth, Seager walked again to load the bases, and Hart again came up empty with two outs, working the count to 2-0 before cueing a soft dribbler to first baseman Chris Parmelee, who tossed it to Pino covering at first. Hart finished 1-for-4.
The Mariners knocked around Pino for seven hits in his five innings, but, in a trend that has underlined their recent offensive futility, were unable to come through with runners aboard. On Thursday, they left 10 men on base and went 1-for-3 with runners in scoring position.
The Mariners had a 1-0 lead until things got messy in the third.
After Wilhelmsen struck out shortstop Eduardo Escobar, center fielder Sam Fuld walked and second baseman Brian Dozier singled to put runners on first and second.
With catcher Kurt Suzuki up, the Twins attempted a double steal. Mariners catcher Mike Zunino threw high to third and airmailed into left field, allowing Fuld to score and Dozier to advance to third.
"The pitch happened to be inside, and [Suzuki] sort of spun with it, and I had to change my arm angle at the last minute," Zunino said. "It sailed on me. It's probably better off I try not to throw that ball."
Suzuki followed with a sacrifice fly to make it 2-1 Minnesota.
Twins designated hitter Kendrys Morales tacked on a double that drove in two runs in the fifth inning. Jones didn't get a good read on the line drive as it sailed over his head and to the wall.
Seager had begun the second inning with a home run to stake the Mariners a 1-0 lead. It was his 14th blast of the season, 12 of which have come at Safeco Field.
That gave Wilhelmsen, who was making his first start in his 191st appearance, a small cushion after he walked out of the bullpen alongside Zunino before taking the mound in the first inning. The former closer worked around a walk to retire the side in the first and fanned Willingham and Plouffe in a 1-2-3 second inning.
"I'd love to have another crack at it," Wilhelmsen said. "It was fun."
He threw 54 pitches, 32 for strikes, before giving way to right-hander Danny Farquhar. After Farquhar, the Mariners followed with 4 2/3 scoreless innings from lefty Joe Beimel, right-hander Dominic Leone, southpaw Charlie Furbush and lefty Lucas Luetge.
"I thought they did a great job," McClendon said. "I though Tom did a great job … they were clean. They did a nice job for us."
Adam Lewis is an associate reporter for MLB.com. This story was not subject to the approval of Major League Baseball or its clubs.