Selig to hold annual Town Hall Chat with fans
Commissioner, set to retire in January, will conduct Q&A at All-Star FanFest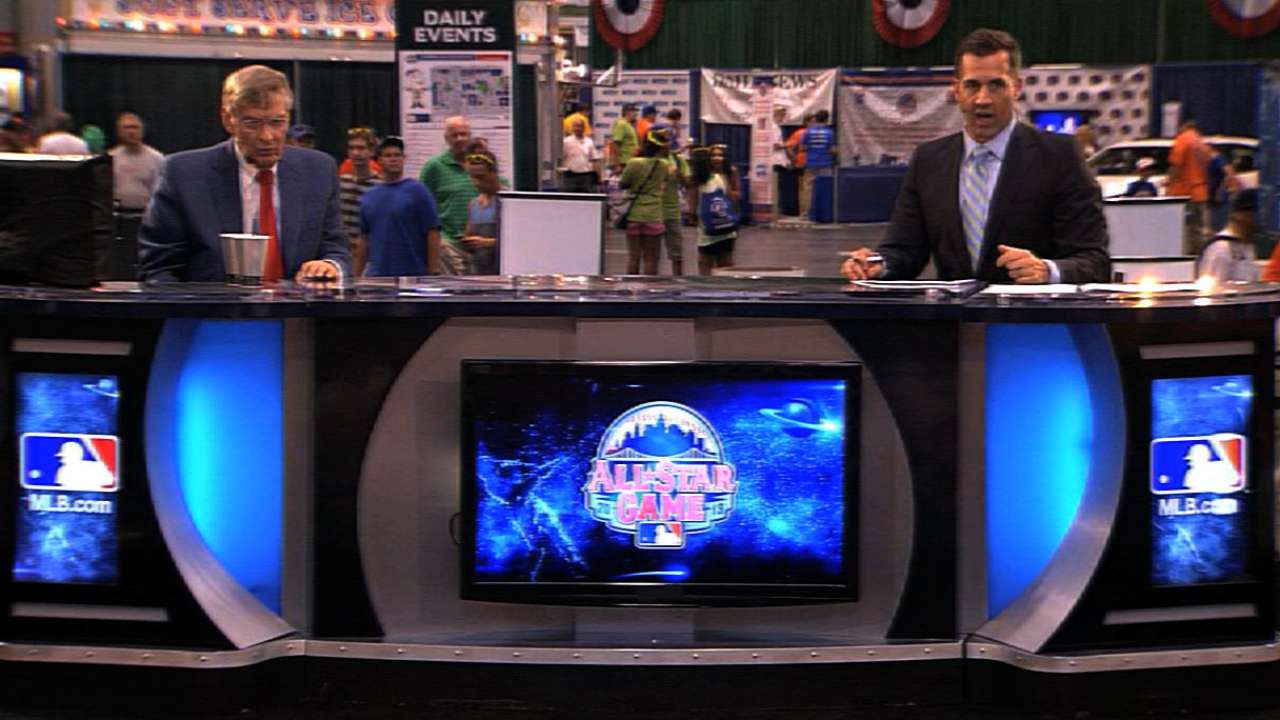 Commissioner Bud Selig will interact with baseball fans around the globe during a live chat on MLB.com from the T-Mobile All-Star FanFest before Tuesday night's Midsummer Classic at Target Field in Minneapolis.
This will be the 14th consecutive year for the Commissioner's Town Hall Chat, a tradition that has become one of the most popular events of the festivities surrounding the All-Star Game. Selig will answer questions in front of a live audience at the MLB.com broadcast stage in the Minneapolis Convention Center, beginning at 1:15 p.m. ET.
Fans can submit their questions now via e-mail at allstarchat@website.mlb.com. The session will be streamed live on MLB.com and moderated by Jeremy Brisiel.
The format calls for the Commissioner to make brief opening remarks, then answer questions about baseball and the state of the game. Time permitting, he will also field questions from the floor.
A transcript of the dialogue, as well as an archived replay of the chat, will be available on MLB.com.
Major League Baseball is enjoying another exciting season. There are close races in every division with most teams still in position to contend for at least a Wild Card spot. Foreign talent like Japan's Masahiro Tanaka of the Yankees and Cuba's Jose Abreu of the White Sox have made an immediate impact. Twenty-six first-time All-Stars symbolize a wave of fresh talent as Derek Jeter takes his final bows.
FanFest, which began Friday, is the world's largest baseball theme park, occupying more than 450,000 square feet. It's a five-day celebration of the game featuring interactive activities and historical exhibits.
Tickets include access to clinics, Q&As and autograph sessions with Hall of Famers and MLB legends, including Bert Blyleven, Tony Oliva, Rod Carew, Fred Lynn, Juan Marichal, Rollie Fingers, Orlando Cepeda, Gaylord Perry, Ferguson Jenkins, Jack Morris, Dave Winfield, Paul Molitor, Dwight Gooden, Andre Dawson, Jim Kaat, Frank Viola and Mudcat Grant.
The 85th All-Star Game will be televised nationally by FOX, in Canada by Rogers Sportsnet and RDS, and worldwide by partners in more than 200 countries via MLB International's independent feed. ESPN Radio and ESPN Radio Deportes will provide national radio coverage of the All-Star Game. MLB Network and SiriusXM will also provide comprehensive All-Star Week coverage. More information is available at allstargame.com.
MLB.TV Premium subscribers, for the first time, will be able to live stream the All-Star Game via MLB.TV through FOX's participating video providers. Access will be available across more than 400 platforms that support MLB.TV, including the award-winning MLB.com At Bat app. MLB.com will provide extensive online coverage of the All-Star Week festivities.
The final phase of All-Star Game voting will again allow fans to help choose the Ted Williams All-Star Game Most Valuable Player Award presented by Chevrolet. During the Midsummer Classic, fans will vote exclusively online at MLB.com and via Twitter in the 2014 All-Star Game MLB.com MVP Vote Sponsored by Pepsi, and their collective voice will represent 20 percent of the overall vote that determines the recipient of the Arch Ward Trophy.
Paul Hagen is a reporter for MLB.com. This story was not subject to the approval of Major League Baseball or its clubs.