Harang helps Braves end skid, return to first place
Early attack backs vet's seven solid frames; Kimbrel gets four-out save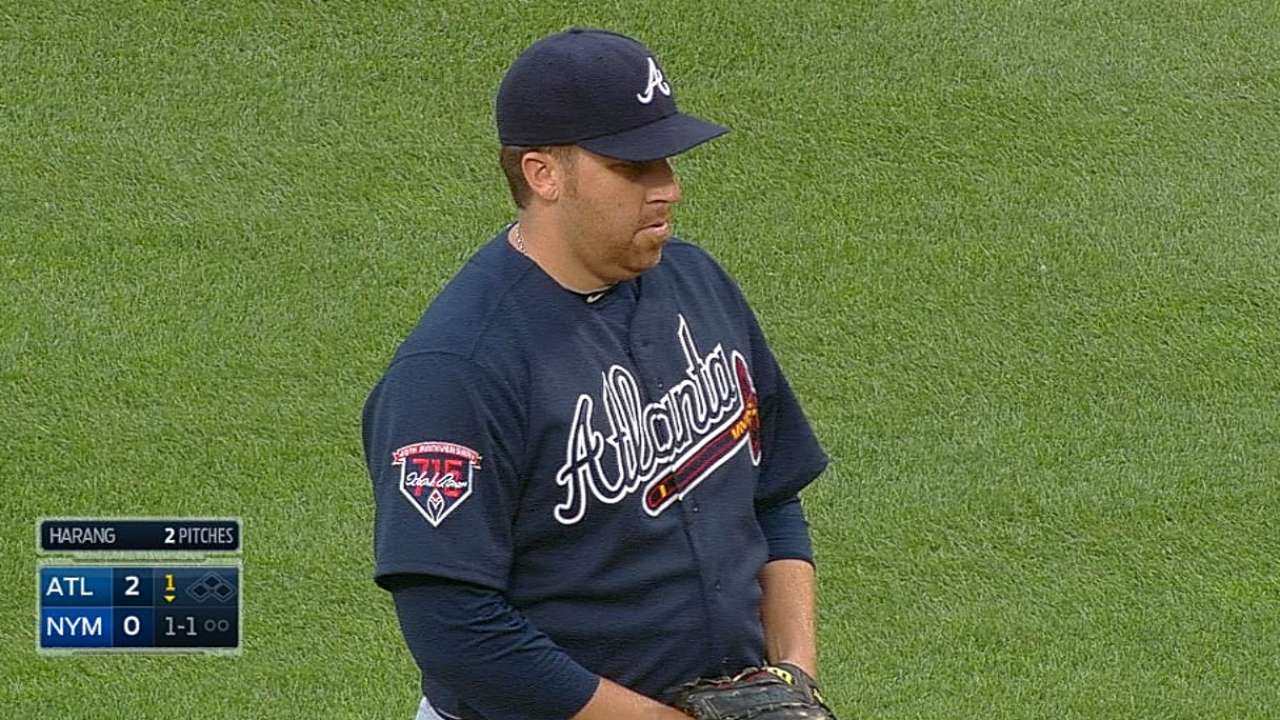 NEW YORK -- When this season began, Aaron Harang was viewed as an over-the-hill veteran who was signed late in Spring Training to temporarily fill a gap in Atlanta's injury-depleted starting rotation. But as the past few months have evolved, he has been a steady asset who seems to have a knack for delivering strong starts at opportune times.
Such was the case on Thursday night, when Harang delivered seven solid innings and guided the Braves to a much-needed 3-1 win at Citi Field. The victory snapped a four-game losing streak and spared the visitors the embarrassment of being swept in a four-game series against the Mets for the first time since 1989.
"It's huge," Harang said of the win. "Getting swept is tough in a three-game series. In a four-game series, it's like somebody stepping on your throat. So it was good that we were able to pull this one off tonight."
With just one more series left before the All-Star break, the Braves needed to regain some of the momentum they had generated during the nine-game winning streak they had produced immediately in front of this four-game skid. They are now once again tied with the Nationals for first place in the Nationals League East race.
Recognizing the importance to stop the bleeding and also get his closer on the mound for the first time since Friday, Braves manager Fredi Gonzalez gave Craig Kimbrel a chance to notch the fourth four-out save of his career. Kimbrel proved up to the task as he stranded two inherited runners in the eighth and then worked a perfect ninth inning.
"I know we won the nine games in a row and this was only a four-game losing streak, but you never want to come into a place and get swept in four games," Braves first baseman Freddie Freeman said. "Even though we still lost the series, it could have been a lot worse."
Proving yet again that veteran poise can serve as an adequate substitute for dominant stuff, Harang scattered four hits and pitched around four walks while allowing just one run. As he navigated his way through this 104-pitch, seven-inning effort, he preserved the the two-run advantage the Braves gained courtesy of the key hits Freddie Freeman and Jason Heyward delivered in the first inning.
Freeman's double off the right-field wall scored Andrelton Simmons from first base and also put him in position to score when Heyward further frustrated Bartolo Colon by blooping an opposite-field RBI single into shallow left field.
The Braves had totaled just two runs against the previous four starting pitchers they had faced. But this rough opening was quite familiar to Colon, who has now allowed multiple runs during the first inning in each of his past three starts.
"The first inning has given him the most trouble this year," Freeman said. "For us to be able to get a couple in there and another there in the third, I know that's all we scored, but we still got enough early on to give Aaron the confidence he needed that he didn't need to make the perfect pitch from pitch one."
Freeman, who has batted .379 (25-for-66) at Citi Field since the start of last year, added a third-inning single that helped produce an insurance run. David Wright's third-inning RBI single accounted for the Mets' only run. Harang responded by wisely pitching around Wright during the fifth inning that concluded with Travis d'Arnaud flying out to center with the bases loaded.
"I thought Aaron pitched a great game, which he can do against anybody. He just stays away, away, away on you, and then comes in when he has to," Mets manager Terry Collins said. "We didn't have great swings on him."
When the Braves lost two straight games to complete a four-game split against the Nationals in June, Harang took the hill in the next game and delivered six strong innings against the Astros. His effort led to the first of the 11 wins Atlanta notched in a 12-game span that concluded this past Saturday.
If the Braves extend their momentum through this weekend's series against the Cubs, they can once again thank Harang, who has allowed two earned runs or fewer in 14 of his 19 starts with Atlanta.
"We needed him to go out there and be our big stopper tonight, and he definitely did that," Kimbrel said. "He got out of some big situations and had some efficient innings."
Mark Bowman is a reporter for MLB.com. This story was not subject to the approval of Major League Baseball or its clubs.