Colon settles after first, but Mets held in check
Opening frame dooms veteran again; Wright plates lone New York run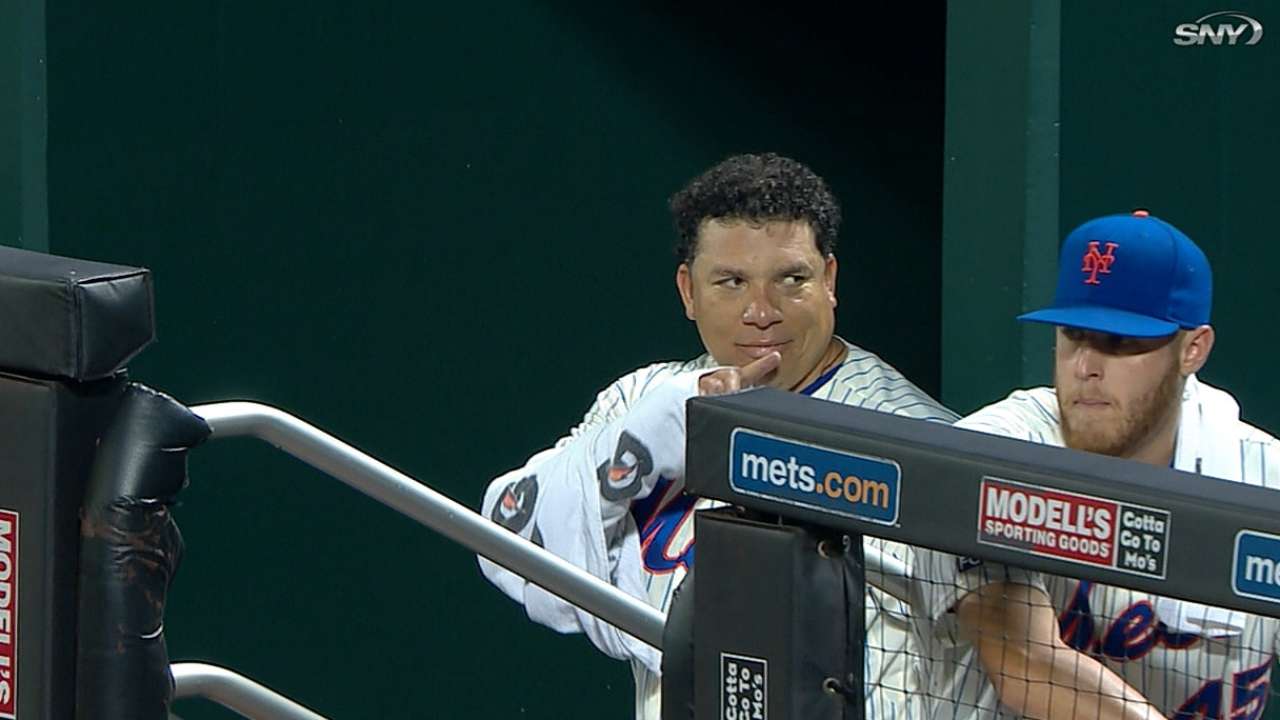 NEW YORK -- It would have been difficult to gauge the positive momentum ready to engulf the Mets had they somehow capped a four-game series sweep over the Braves. If not the absolute highest, it certainly would have ranked among their top moments of the season.
As it was, the Mets settled for a much-needed three wins in four games, dropping a 3-1 decision to the Braves in Thursday night's finale at Citi Field. The trio of early runs that Bartolo Colon allowed doomed him in an otherwise strong outing, though even that could not completely undermine what the Mets accomplished earlier in the week.
"No setback," catcher Travis d'Arnaud said. "We won the series. Three out of four."
Still, there were some troubling signs for a Mets team that fell back to eight games under .500. Chief among them? For all Colon's successes this season, first-inning runs have plagued him. That trend continued Thursday, when Freddie Freeman and Jason Heyward each drove in runs to give the Braves an early 2-0 lead. Colon allowed one more in the third inning on a double play, before settling down to blank the Braves through the eighth.
It was a strong outing for Colon, but the Mets mustered little against Braves starter Aaron Harang, plating their only run on David Wright's RBI single in the third. Harang lasted seven innings, walking four yet allowing just three other hits.
"I pitched around [Daniel Murphy] a little bit and the same with David," Harang said. "But I was able to get some of the younger guys to swing at pitches that I was trying to entice them to swing at."
From the Mets' perspective, the lack of offense was not for lack of trying. Manager Terry Collins tweaked his lineup again prior to Thursday's game, batting Colon eighth in an effort to provide more RBI opportunities for the top of his order.
Though plenty of chances came, the Mets could not convert them. They left two men on base in the second and third innings, three in the fifth and two in the eighth. It was reminiscent of earlier this season, when the Mets would routinely put several runners on base, only to strand them there.
"The experience pays off every time," Braves manager Fredi Gonzalez said of Harang's efforts with men aboard. "He knows how to navigate. Colon does the same thing. We had him on the ropes two or three times."
The difference was that the Braves did scratch out two runs in the first off Colon, whose troubles early in the evening were nothing new. Colon has allowed at least one first-inning run in five consecutive starts, and more than one in three straight. He has give up more opening-inning runs this season than all but one big league pitcher, with a 9.00 ERA in the first inning and a 3.13 mark thereafter. Sixteen of the 40 extra-base hits he has allowed have come in the first.
Diagnosing that trend, pitching coach Dan Warthen instructed Colon to throw more warmup pitches than usual before Thursday's game, hoping to ease him into the outing. And while Colon said he did feel more comfortable in the first inning than usual, the results did not reflect that.
"Obviously the first inning is very important," Colon said through an interpreter. "I'm just having a little trouble and I'm going to try to work to change it."
"We've got to fix it," Collins said. "He's too good a pitcher."
If Colon can, perhaps the Mets will continue the march back to respectability that they started last weekend. They have had their share of false starts before, winning a few games only to sink back down the standings in short order. Yet they spent most of this week talking about why their most recent hot streak seemed different, with contributions finally coming from d'Arnaud, Ruben Tejada, Lucas Duda and other previously scuffling regulars.
With that in mind, the Mets referred to Thursday's loss as a blip -- nothing more. They'll hang onto that optimism until forced to abandon it.
"Nobody likes to lose," Collins said. "But this is the big leagues. We went out and gave ourselves a chance."
Anthony DiComo is a reporter for MLB.com. Follow him on Twitter @AnthonyDicomo. This story was not subject to the approval of Major League Baseball or its clubs.