A's romp behind Kazmir's dominant outing vs. Giants
Oakland wins Bay Bridge Series; Donaldson, Vogt fuel offense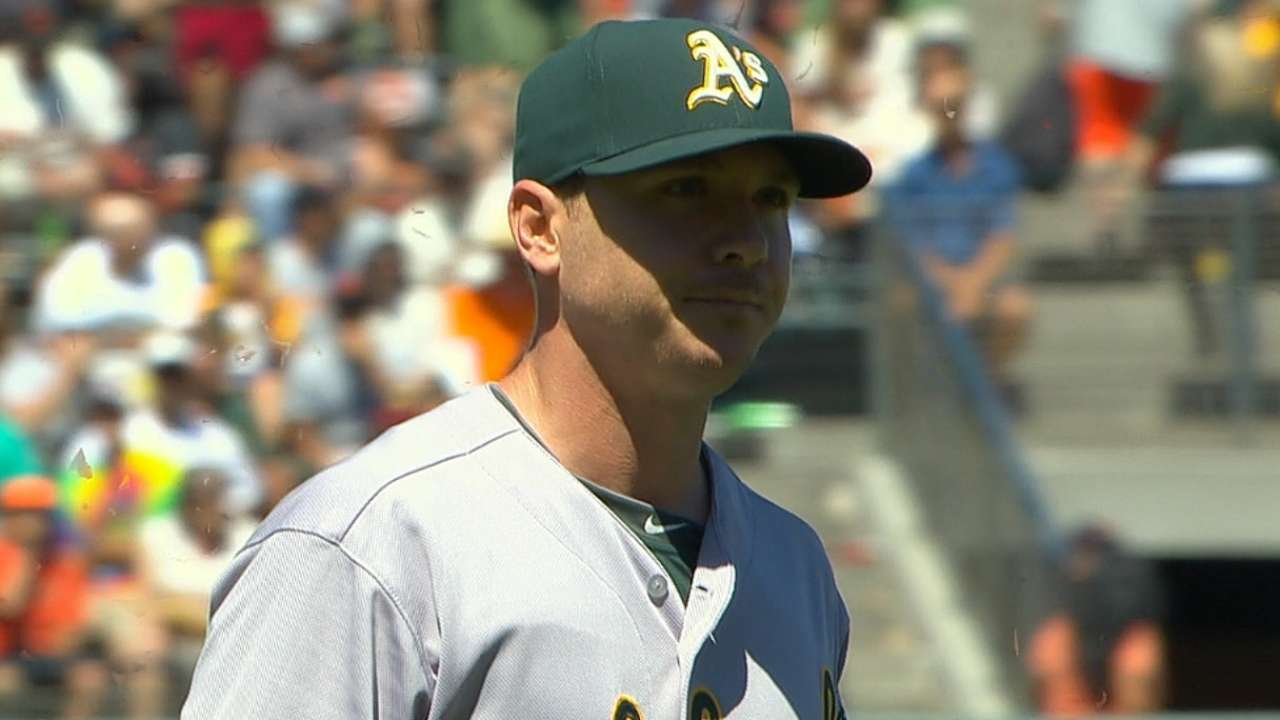 SAN FRANCISCO -- Scott Kazmir demonstrated once again Thursday that he is more than just a feel-good story. His latest pitching line to close out a remarkable first half: seven shutout innings, three hits, one walk and nine strikeouts, lifting the A's to a 6-1 win over the Giants as Oakland took three of four in the Bay Bridge Series for a second straight year.
Kazmir will head to his third All-Star Game next week with some truly gaudy numbers. He boasts an 11-3 record to complement a 2.38 ERA, a 0.98 WHIP (walks plus hits per inning pitched) and 108 strikeouts in 117 1/3 frames.
"He gives up zero, one or two runs and gets you deep in the game," said A's manager Bob Melvin. "He's been as consistent as anybody in the league -- both leagues."
Kazmir's biggest scare Thursday came in the fifth with two outs and men on second and third. Tim Hudson drove a ball to deep center field, but the speedy Craig Gentry ran it down.
The lefty has allowed one or zero runs in 11 of his 19 starts, and Thursday's effort was one of his best.
"He's pitching. Man, he's pitching," said Stephen Vogt. "He's throwing pitches in any count, any time, and he looks great. The way he moves feet, moves eyes and dots up the corners and gets people to chase pitches is really remarkable. He's been Mr. Consistency for us."
"A couple innings he kind of battled out of some trouble," Josh Donaldson added, "but for the most part, he just did what he normally does, and that's get outs and put up zeros."
For the A's, it was business as usual Thursday after a one-day hiatus from dominating their opponent Wednesday.
Donaldson hit his 20th homer, Oakland tagged Hudson for six runs and the A's took a small step toward bucking a bad trend as they won their third game at AT&T Park in their last 16 tries. The A's have now won seven of their last eight games overall and 18 of their last 25.
Facing his former team for the first time since 2008, Hudson lost his mojo in the sixth. After Brandon Moss led off with a double, Donaldson -- who will compete in the Home Run Derby on Monday -- belted his fourth opposite-field dinger of the season, a two-run shot to make it 4-0.
Donaldson went 2-for-3 with a walk in his first multi-hit effort since June 28, with both hits going the other way.
"I've hit a lot of lazy fly balls in the last week to right field," Donaldson said. "[Hitting coach] Chili [Davis] and I have really been grinding the last few days, really trying to stay on my back side, let the ball get on me deep, and when it gets there, put a nice swing on it."
Hudson departed soon after Donaldson's homer with the bases loaded, and with two outs, Vogt lined a two-run single off Javier Lopez.
"The biggest at-bat of the game is probably off Lopez right there," Melvin said. "Gives us a little bit more of a cushion. His at-bats have been phenomenal, his versatility, we've really needed it here with some of the injuries that we've had. He's been a star for us."
Vogt extended his career-best hitting streak to 10 games, a stretch during which he is 16-for-35 (.457). Since being called up on June 1, he boasts a slash line of .366/.394/.538.
"I feel like myself, to be quite honest," Vogt said. "I was really hungry to come back to the big leagues this time. It feels like I'm just playing baseball again. It doesn't feel like, 'Oh, man, I'm in the big leagues.' I feel very comfortable."
The A's, sitting at a very comfy 58-34, will play a three-game set in Seattle before the All-Star break.
Aaron Leibowitz is an associate reporter for MLB.com. This story was not subject to the approval of Major League Baseball or its clubs.