Giants sunk by A's in Bay Bridge Series finale
Hudson allows six runs in 5 1/3 innings; offense subdued by Kazmir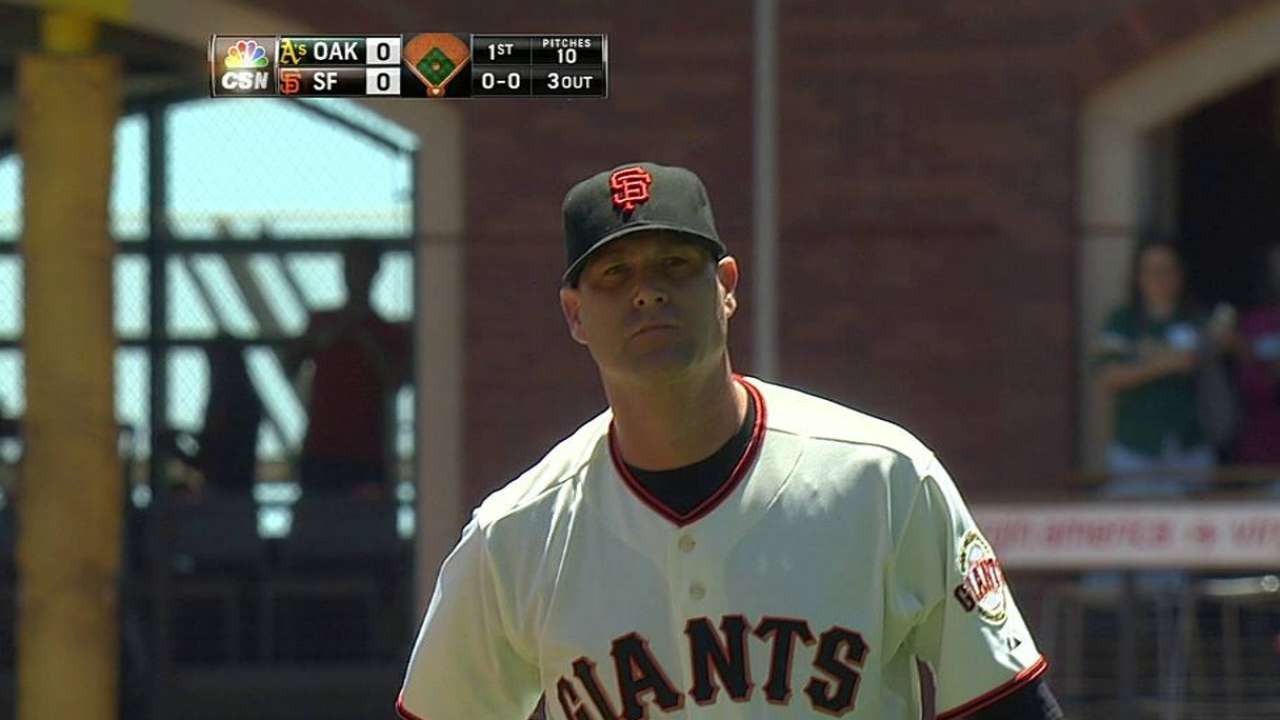 SAN FRANCISCO -- While Gregor Blanco took Thursday afternoon's final at-bat, "Let's go, Oakland" chants cascaded from the AT&T Park stands, where the preeminent color was green.
Green from empty green seats, vacated by both departed Giants fans and standing A's fans, and green-and-gold-clad from celebrating A's supporters, applauding their superior team's clinched bragging rights.
The Giants' bats were quiet again and the A's batted around during a four-run sixth inning en route to clinching the 2014 Bay Bridge Series, three games to one, with a 6-1 victory at AT&T Park on Thursday afternoon.
Judging by the Giants' last four games, they're currently much farther away than a trip across the Bay Bridge from their Bay Area rivals, who boast the Majors' best record. The once-dominant Giants lost for the 19th time in their last 23 home games.
The A's opened the scoring in the second when an Alberto Callaspo sacrifice fly scored Brandon Moss. Backup catcher John Jaso hit a two-out triple in the fifth and scored one batter later on a Stephen Vogt single. After Tim Hudson flied out with two on and two out in the bottom of the fifth, things got hairy for the Giants.
Moss led off the sixth with a double and scored on Josh Donaldson's two-run blast to right in the next at-bat. A two-out, bases-loaded double by Vogt off Javier Lopez -- who was pitching in relief of Hudson, after he allowed four consecutive extra-base hits for the first in his career -- later in the inning scored a pair to extend the lead to 6-0.
"There were a couple bad pitches that they took advantage of, and they hit a couple decent pitches, I thought," said Hudson, who was tagged for six earned runs on nine hits in 5 1/3 innings. "A little bit of a weird inning [in the sixth]. I don't really know what to say. Kind of unraveled on us a little bit."
The same can be said for the team's offense lately -- the Giants didn't have a hit until the fifth inning Thursday and they've scored just 40 runs in their last 18 games. An RBI single by Pablo Sandoval in the eighth scored Ehire Adrianza to stave off what would've been the Giants' fifth shutout in their last 11 games. A's lefty Scott Kazmir earned his 11th win of the season after allowing just three hits in seven shutout innings.
"It just looks like we're caught in between as an offensive group," manager Bruce Bochy assessed after the game. "Late on fastballs, out in front of offspeed pitches.
"It was a tough series, but we played a good club with a great staff. The guy we faced today, he's on the All-Star team, so a lot of clubs haven't done well against him. Still, we need to find a way to plate some runs."
Oakland's tremendous depth provided the spark offensively Thursday. Their No. 3 hitter, Yoenis Cespedes, went 0-for-5 with four strikeouts and a double play. No big deal, though. Thursday's starting catcher, Jaso, went 2-for-3 and was pinch-hit for by All-Star catcher Derek Norris. Vogt, the team's third catcher, who played first, had three RBIs on a pair of hits to raise his batting average to .367. Leadoff hitter Coco Crisp got the day off, but it was his replacement, Craig Gentry, who made a stellar running catch to rob Hudson of a game-tying double in the fifth.
Depth, depth, depth. The A's have it and the Giants lack it, which has caused them to continue to reach lower ones, ones that would've seemed preposterous in early June.
"How we've been playing the last month, that's not the kind of team we are," Hudson said. "We just got to do the little things a little better and get healthy -- we've got some guys beat up. No excuses to be made, but still ... we don't have the depth in a lot of positions to really have guys be hurt for an extended period of time."
Still, the panic meter certainly isn't reading red in the Giant clubhouse.
"This has been a little long, there's no getting around that," Bochy said of the team's struggles, "but the fact is, of where we're at ... we know we're lucky. That's what we have to keep reminding ourselves of -- where we're at -- and there's a lot of baseball left."
Hudson hopes to play some more against the team that victoriously headed across the bay Thursday evening.
"I feel like we're just as good as they are," Hudson said. "They've caught us as bad as we can be. Hopefully sometime this year we can face them again and we'll be a lot better."
Ryan Hood is an associate reporter for MLB.com. Follow him on Twitter @ryanhood19. This story was not subject to the approval of Major League Baseball or its clubs.