Guthrie, Royals miss chance to gain on Tigers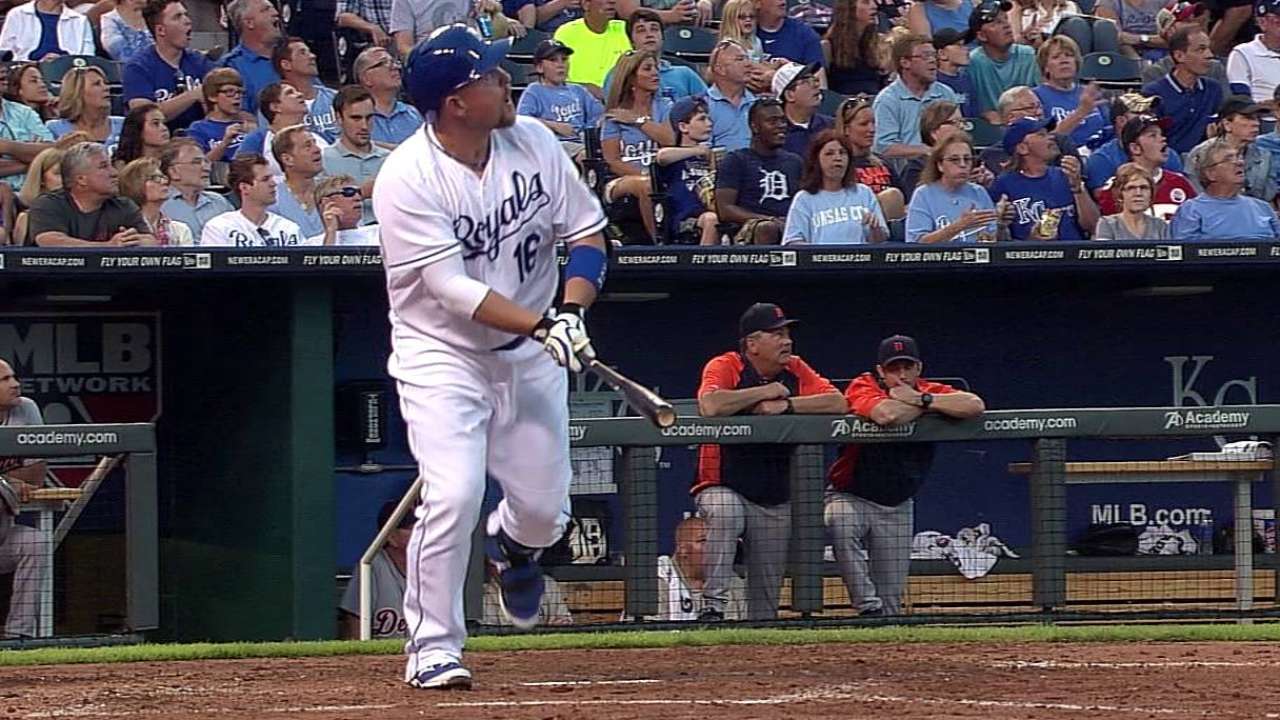 KANSAS CITY -- Showdown? It was more like a meltdown for the Royals.
Their much-anticipated four-game series against the first-place Tigers got off to a dismal start, a 16-4 loss on Thursday night before 21,775 eager fans at Kauffman Stadium. That was the bad news. The good news is there are still three games left in which to made amends.
The second-place Royals knew they couldn't overtake the Tigers in this pre-All-Star showdown series, but they wanted to at least cut into the lead. But that's back to 5 1/2 games now.
Solution?
"Just get through it and move on," manager Ned Yost said.
The Royals had a couple of encouraging signs in the form of home runs. Eric Hosmer hit a two-run blast in the seventh inning, and Billy Butler unloaded a leadoff shot in the fourth. Both came off winning pitcher Drew Smyly.
"Hoz is really starting to see the ball good, starting to drive the ball, which is good for us," Yost said. "Billy swung the bat pretty darn good tonight, too. Those are things we're going to need going forward. We need their production."
Hosmer is in an encouraging spurt, hitting .339 in his last 15 games with two homers, three doubles, six RBIs and 10 walks. In that span he's raised his overall average, from .248 to .263.
"I've got to get going to help this team, that's for sure," Hosmer said. "When everyone's hot in this lineup, it's a dangerous lineup."
It was the Tigers' lineup that was dangerous on Thursday night, however, with the most hits (19) and runs (16) that the Royals have given up all season. Torii Hunter had three hits, including a home run that opened an eight-run fifth, the biggest inning against the Royals all season.
Hunter, Miguel Cabrera and J.D. Martinez each had three RBIs.
"It seemed like any time we got the bat to the ball, it was able to find a spot either down the line or between the outfielders and infielders," Tigers manager Brad Ausmus said. "And that's not to say there weren't some balls hit hard as well, because there were, but when you get as many hits and as many runs as you did today, usually you're finding some spots to put some non-well hit balls."
Butler sensed a little payback simmering in the Tigers; after all, the Royals had won three of four in their last visit to Detroit.
"We went into their place and did it to them, so they had a little chip on their shoulder," Butler said. "But we'll shake it off. We can't wait for that game tomorrow. I wish it started in about 10 minutes."
Jeremy Guthrie absorbed most of the damage meted out by the Tigers -- eight runs on eight hits, three walks and two hit batters. He lasted just four-plus innings.
"We didn't pitch good tonight, and that's the bottom line. That's why they scored a bunch of runs," Yost said.
This was Guthrie's second straight loss of four-plus innings. Last Saturday at Cleveland, he gave up six runs on 11 hits.
"Very similar to the previous outing, with a similar outcome," Guthrie said.
The Tigers got right down to it against Guthrie with three runs in the first inning. And three more in the fourth.
After Hunter led off the fifth inning with a home run and Nick Castellanos singled, the Royals decided Guthrie had done enough. Not that relievers Scott Downs and Louis Coleman had any better luck.
By the time the inning was over, the Tigers had made an eight-run exercise out of it. In addition to giving up eight hits and a walk, the Royals threw in a couple errors -- one by Raul Ibanez in left, one by Jarrod Dyson in center -- just to help things along.
The Royals can take solace that there are three games left in this series.
"Any time we play these guys, they're huge games, important games," Hosmer said, "and any time you're playing somebody in your division, especially the team that's on top of your division, you want to gain ground."
Hunter, however, called this just another series, not a big series.
"For the fans and the media, yeah. For us, no," he said. "We come to play every day the same way. Of course, we know we've got a chance to gain some ground, but I don't think we change our approach or anything like that."
Dick Kaegel is a reporter for MLB.com. This story was not subject to the approval of Major League Baseball or its clubs.