Tigers rout Royals with eight-run fifth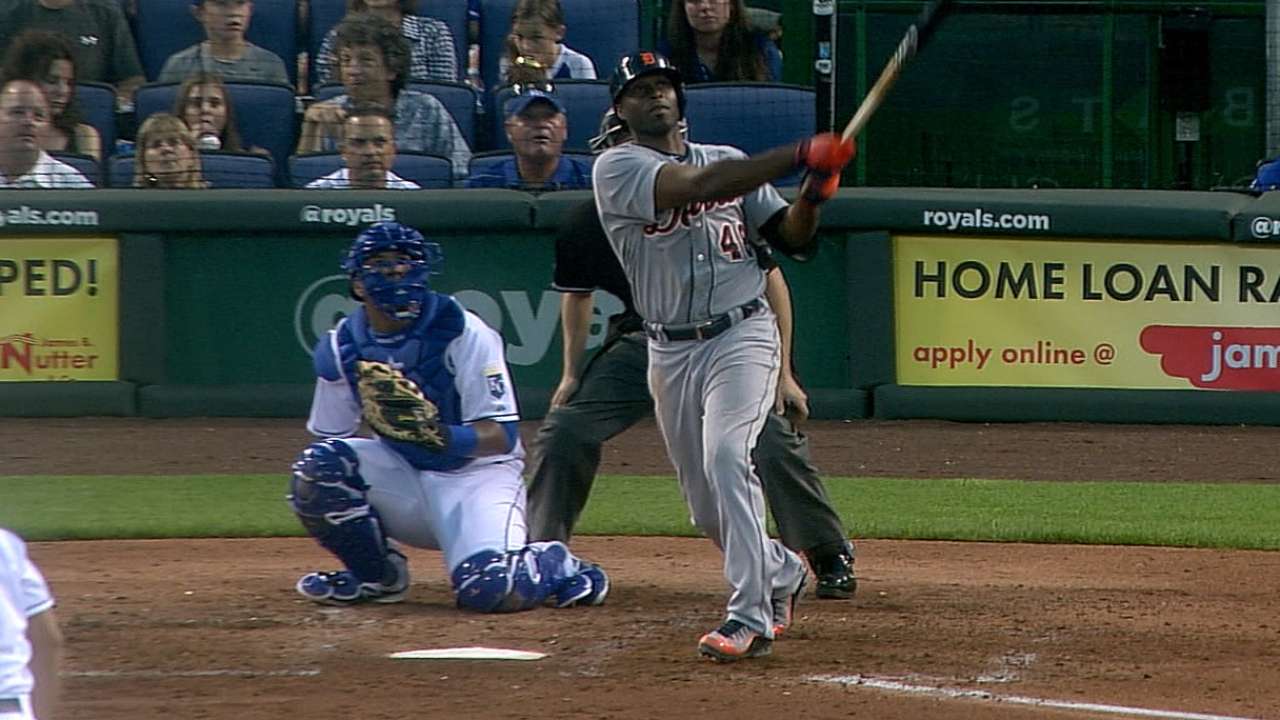 KANSAS CITY -- A smattering of boos began to cascade down, and a swath of fans bolted for the exits in the fifth inning.
The Tigers were routing the rival Royals, and the Kauffman Stadium faithful had seen enough.
An eight-run fifth inning keyed Detroit's 16-4 walloping of Kansas City on Thursday night in the first of a pivotal four-game series.
"It seemed like any time we got the bat to the ball, it was able to find a spot either down the line or between the outfielders and infielders," manager Brad Ausmus said. "And that's not to say there weren't some balls hit hard as well, because there were, but when you get as many hits and as many runs as [we] did today, usually you're finding some spots to put some non-well-hit balls."
The Tigers extended their grasp on the American League Central to 5 1/2 games, their largest lead since May 31.
The 16 runs set a season high, and their 19 hits were trumped only by a 20-hit outburst on Tuesday against the Dodgers. Detroit scored 14 runs that day, and now has outscored its opponents, 34-10, over its three-game winning streak.
Torii Hunter (3-for-6, one home run, three RBIs) and Miguel Cabrera (2-for-3, two walks, two doubles, three RBIs) led an offensive attack defined by balance. Eleven Tigers had at least a hit for the first time since Sept. 4, 2011, and all nine starters collected at least one hit, with seven notching multihit games.
"If you get everyone involved in the game, this is what it can look like," Hunter said, adding, "Hitting is contagious, you kind of build off each other."
The Tigers' first 14 runs came in the first five innings, with the team tacking on a single run in the seventh and ninth frames as well. They plated three in the first -- on a groundout by Cabrera, a single by Hunter and a sacrifice fly from Nick Castellanos.
Detroit drew more blood in the fourth, as Ian Kinsler lofted a sac fly and Cabrera clubbed a two-run double to extend the lead to five runs.
The Tigers completely blew it open in the next frame, with eight runs on eight hits. Hunter started the inning with a homer and added an RBI single, Eugenio Suarez and Castellanos each clubbed run-scoring doubles, and Kinsler and J.D. Martinez had RBI singles.
Martinez knocked in pinch-runner Rajai Davis with a double in the seventh, then hit a sac fly in the ninth for the 16th and final run.
"We didn't pitch good tonight, and that's the bottom line. That's why they scored a bunch of runs," Royals manager Ned Yost said.
Starter Drew Smyly held Kansas City at bay and watched contently as his offense gifted him with his fifth and, by far, easiest win of the season.
He worked into the seventh inning with a 13-run lead, but a two-run homer by Eric Hosmer soured his previously effective outing.
"You don't want to go out on the last batter with Hosmer's home run. I've got to get those two lefties," Smyly said.
Ausmus wrestled with the decision to let Smyly pitch the seventh.
"You want him to be able to go seven innings, but you also want him to come off the mound a little bit with a good taste," Ausmus said. "I know he's a little disappointed with the Hosmer home run, but he should really just put that behind him and remember the fact that he pitched well enough and got the win."
Royals starter Jeremy Guthrie would have gladly taken Smyly's final line (6 2/3 innings, four runs), as the veteran did not make it out of the fifth inning.
The Tigers got to him for eight runs, eight hits and three walks in his four-plus innings.
For the Tigers, a Smyly-Guthrie matchup had previously represented the low point of the season, as it was on June 18 that Guthrie and the Royals extended their newly acquired division lead to 1 1/2 games against Smyly and the Tigers.
But now Detroit, at 51-37, looks as comfortable as ever with three games remaining until the All-Star break.
Jackson Alexander is an associate reporter for MLB.com. This story was not subject to the approval of Major League Baseball or its clubs.