After Phelps exits, Yanks can't contain Indians
Righty takes shutout into seventh; Tribe scores nine runs rest of way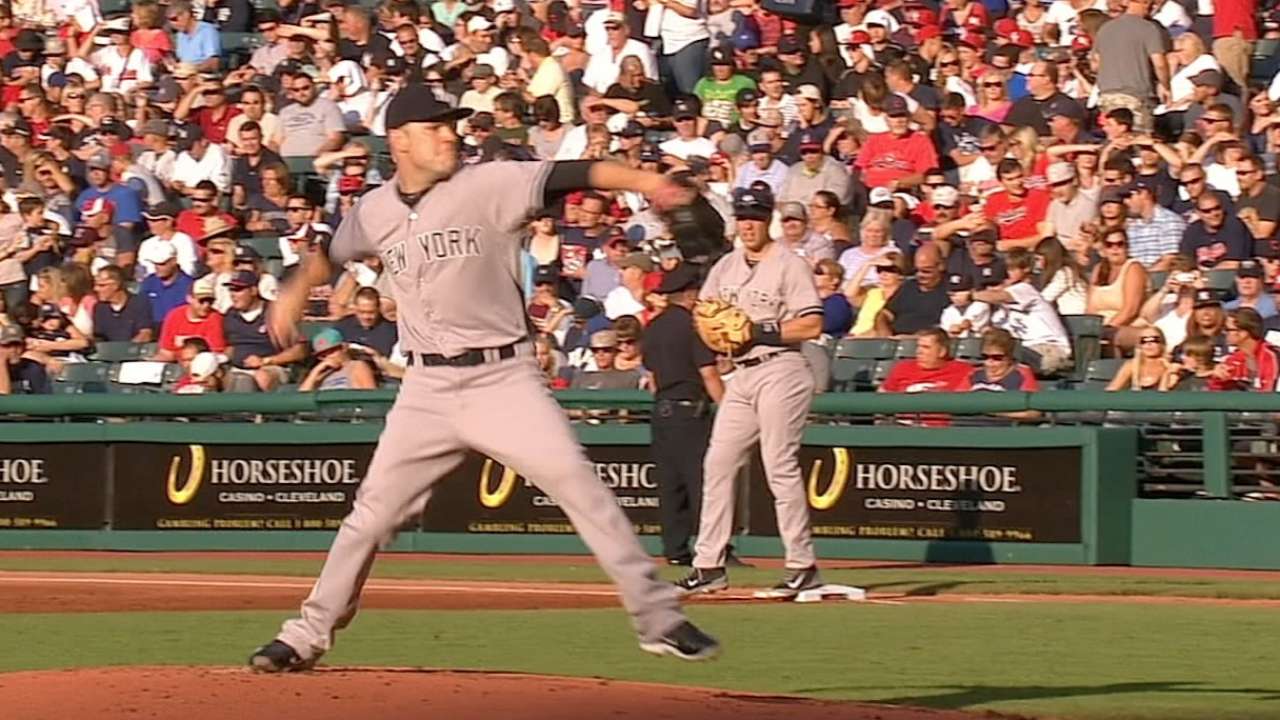 CLEVELAND -- The news filtered through the Yankees' dugout in the middle innings on Thursday, and the general player reaction was one of momentary winces, followed by shrugs. Masahiro Tanaka won't be able to help for at least six weeks, but there was still a winnable game playing out on the field.
As splendid as Tanaka has been, the Yankees' lock-down bullpen has been just as important, but this was a night where it was anything but dependable. The Indians exploded for nine unanswered runs in the late innings, dropping the hammer on New York's night with a 9-3 defeat at Progressive Field.
"You can't sit around and feel sorry for yourselves, because the teams we're playing don't feel sorry for us," Yankees captain Derek Jeter said. "It's not what we planned coming out of Spring Training, but it gives some other guys an opportunity to step up and fill some voids. It's unfortunate, but what can you do?"
The Indians sent 17 batters to the plate in the seventh and eighth innings as the game spiraled out of control, beginning with Asdrubal Cabrera's three-run, game-tying triple in the seventh, followed by a sacrifice fly off Michael Brantley's bat that gave Cleveland the lead.
Cabrera's big hit came off left-hander Matt Thornton, who took over for David Phelps after the Yankees' starter had been splendid through six scoreless innings but allowed a pair of singles to open the seventh.
"My first six innings were good; I could've done a better job in the seventh getting the leadoff hitter out," Phelps said. "That's one of the biggest at-bats right there. You get him out, it changes that inning. It's a frustrating way to finish it."
Jason Kipnis greeted Thornton with a ball back to the mound; Thornton got a glove on it and tipped it over to second baseman Brendan Ryan, scored as an infield hit that loaded the bases. Cabrera cleared them, roping a drive into the right-field corner.
"It's reaction, but if you could think real quick, you'd say, 'Matt Thornton, get out of the way,'" manager Joe Girardi said. "Then you've got a double-play ball. It changes the complexion of the game. It changes who we use. It just changes everything, but it happens."
"I reacted just slow enough to slap it, and not quick enough to get it," Thornton said. "It changes the momentum of the game there, big-time. Even though a run would have scored [on Cabrera's triple], we still would have had a two-run lead with a man on third and two outs. Tough break."
Jim Miller cleaned up that mess but was rocked for five runs in the eighth. Roberto Perez hit a two-run homer, his first Major League blast, Brantley laced a run-scoring single, and Carlos Santana added a two-run shot as Cleveland batted around.
It was the Yankees' second loss of the four-game series; the first came on Tuesday with Tanaka turning in his worst start of the year. Now Tanaka was nearly 2,500 miles away in Seattle, seeking a trio of opinions on his ailing pitching elbow that has a partial UCL tear, and the Yankees seemed to be in control of the game early.
New York produced three runs and eight hits against Cleveland starter T.J. House, who lasted 4 2/3 innings.
Zelous Wheeler slugged his second big league homer, a two-run shot in the fourth inning, and Yangervis Solarte celebrated his return to the Major Leagues after spending five games at Triple-A by knocking a run-scoring single off House in the fifth.
Phelps was charged with two runs and seven hits over six-plus innings, accepting a no-decision. He is 2-0 with a 3.13 ERA over his last six starts, allowing 13 earned runs in 37 1/3 innings.
"He's been really, really good," Girardi said. "He's been on a little bit of a roll for us, which is important, so I was happy with the way he threw the ball. He's been good."
The Yankees were unable to push anything across against Cleveland's bullpen, which worked 4 1/3 scoreless innings of three-hit ball after House's exit in the fifth.
"It felt like one long [game]," Indians manager Terry Francona said. "Our bullpen came in and kept the score where it was."
Jeter recorded two hits for the 1,000th multihit game of his career, while Ichiro Suzuki's eighth-inning pinch-hit single marked his 2,800th hit in the Majors; a pair of milestones on a night the Yankees otherwise wish they could flush in a hurry.
"Last year it was our lineup. This year, it's our rotation," Phelps said. "It gives some young guys an opportunity. Two years ago, I was one of those guys. Just hopefully guys can open up some eyes and make the best of it."
Bryan Hoch is a reporter for MLB.com. Follow him on Twitter @bryanhoch and read his MLBlog, Bombers Beat. This story was not subject to the approval of Major League Baseball or its clubs.