Indians erupt late to cruise past Yankees in finale
Four-run seventh, five-run eighth follow six innings of scoreless offense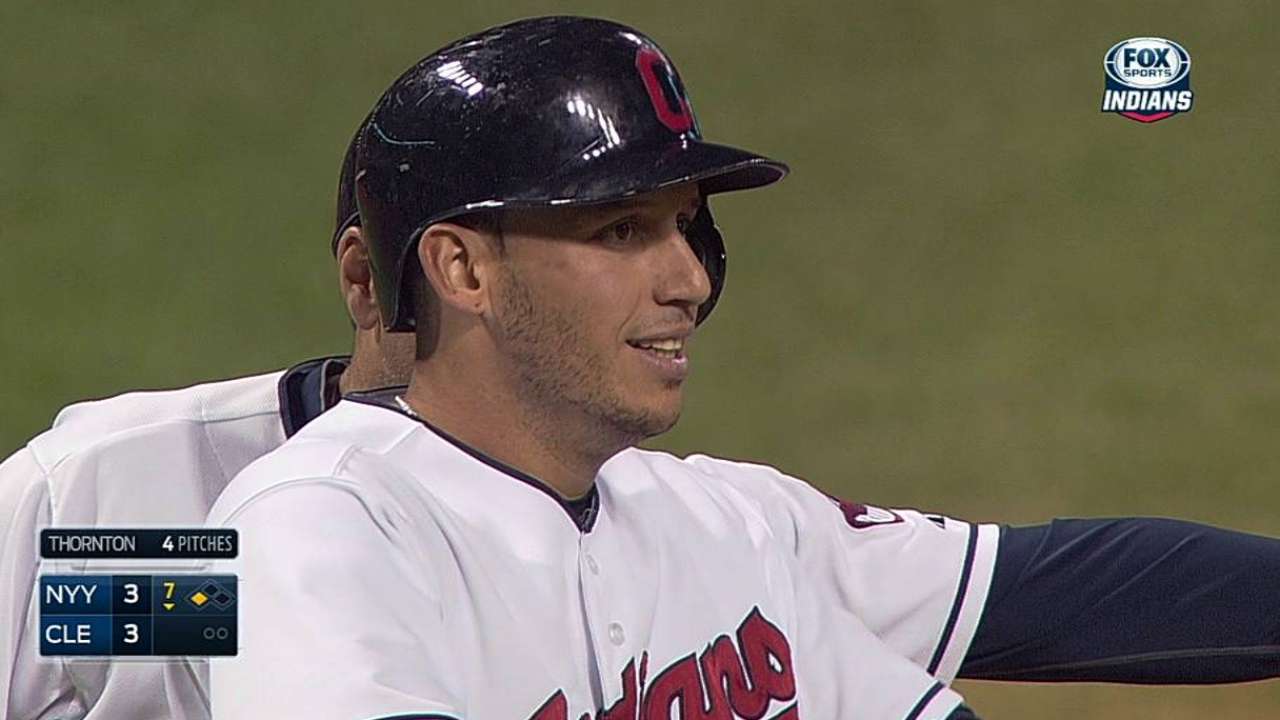 CLEVELAND -- This was the Indians' offense in a nutshell. Cleveland's lineup went quiet for most of the night on Thursday, making it seem as though another outage would lead to a disappointing defeat. The Tribe changed that script in a hurry.
The Indians used a late nine-run push in the seventh and eighth innings to erase some early woes and claim a 9-3 rout over the Yankees in the finale of a four-game set at Progressive Field. With the win, which included a memorable Major League debut for catcher Roberto Perez, Cleveland split the series and improved to 27-18 in front of the home crowd this season.
The feast-or-famine nature of the Tribe nine was on full display.
"Regardless of what's happening early in the game," Indians designated hitter Nick Swisher said, "it kind of seems like we always find a way to fight ourselves back into a game."
For the first six innings, Yankees right-hander David Phelps blanked Cleveland's bats, making the mistakes by Indians starter T.J. House more glaring. The Indians' defense did House no favors with a handful of miscues -- only one of which went down as an official error. It had the makings of a long night for the Indians, who had already endured a 14-inning loss one game earlier.
House lasted only 4 2/3 innings, during which he was charged with three runs on eight hits and twice escaped a bases-loaded jam. The lefty surrendered a two-run home run to New York's Zelous Wheeler in the fourth inning and gave up a run-scoring single to Yangervis Solarte in the fifth, putting Cleveland in a 3-0 hole that lasted through the sixth.
"I'm disappointed that I didn't go the length that I wanted to," House said. "But, we won the game. I think that's the most important part."
Phelps finally faltered in the seventh, and Cleveland steamrolled its way to the win column.
The Indians had a handful of offensive highlights:
• Perez, who was promoted from Triple-A Columbus on Tuesday, went 2-for-3 with a two-run home run, single, walk and two RBIs. He became the first Cleveland batter since 1959 (Gene Leek) to have at least one homer, one walk, two hits and two RBIs in his first career game. Perez was the first Tribe hitter to hit a home run in his Major League debut since 2006 (Kevin Kouzmanoff).
Perez's home run was a two-run shot off Yankees reliever Jim Miller in the eighth inning, but it took an instant-replay review for it to happen. The ball hit off the top of the 19-foot wall in left field, in front of the railing, and Perez was initially given a double. After manager Terry Francona questioned the call, the ruling was overturned following a crew chief review and Perez finished his first career trot around the bases.
"I still can't believe it, man," Perez said with a smile. "It was awesome to be out there with these guys. That was a great moment."
• Second baseman Jason Kipnis finished the night with a 3-for-4 showing to go along with two stolen bases, giving him five thefts in the past three games. In doing so, Kipnis tied a club record (acomplished 18 times) with his third straight multihit game that included at least one stolen base. Omar Vizquel last achieved the feat for Cleveland in 1998.
"There's so much trust in Kip," Francona said. "His presence, wherever he hits in the lineup, his ability to run the bases -- that's a given with me. Just let him go play."
• Left fielder Chris Dickerson, who was acquired in a trade with the Pirates on Monday, collected three hits and scored a pair of runs for the Indians. Since coming to Cleveland, which could be without center fielder Michael Bourn (left hamstring) for three or four weeks, all Dickerson has done is churn out seven hits in 15 at-bats for his new club.
"Coming in and contributing is a huge deal," Dickerson said. "I'm just fortunate. I've been in this position before. I know just to kind of take it easy and not try to do too much in making a first impression with a new team. So, I've kind of just sat back, relaxed, and I'm trying to make hard contact."
• Shortstop Asdrubal Cabrera ignited Cleveland's nine answered runs with the bases loaded in the seventh inning. Cabrera slashed a pitch from reliever Matt Thornton into the right-field corner for a bases-clearing triple that pulled the game into a 3-3 tie. It marked the first three-run triple for a Tribe hitter at Progressive Field since Sept. 21, 2008 (Ryan Garko).
Following Cabrera's three-base hit, the floodgates were open for the Tribe. Michael Brantley put the Indians ahead for good with a sacrifice fly in the seventh, and then added an RBI single in Cleveland's five-run eighth. Carlos Santana capped off the outpouring with a towering two-run home run in the eighth, his 14th shot of the season.
Given the cold start and overwhelming finish, it almost felt like two different games for Cleveland.
"It felt like one long one," Francona said.
Jordan Bastian is a reporter for MLB.com. Read his blog, Major League Bastian, and follow him on Twitter @MLBastian. This story was not subject to the approval of Major League Baseball or its clubs.