Trout, Angels halt Texas hex in impressive fashion
All-Star leads 17-hit attack as club ends eight-game Arlington skid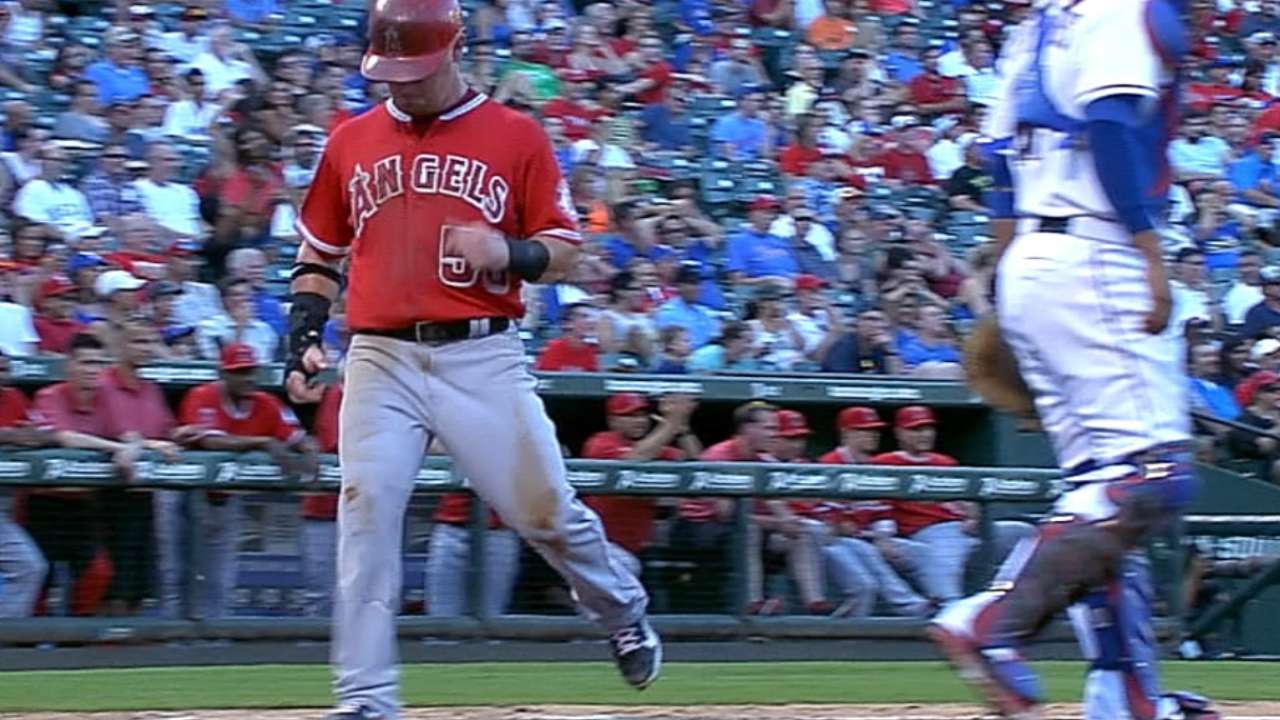 ARLINGTON -- The Angels were deadly serious about thrashing away any frustrations associated with the Lone Star State.
Pounding Colby Lewis for 13 runs, a franchise record for a Texas starter, in 2 1/3 innings, the Angels rolled to a 15-6 victory in Thursday night's opener of a four-game series at Globe Life Park that will carry the American League West rivals into the All-Star break.
Mike Trout and Kole Calhoun led the assault with four hits each, Trout unloading his 21st home run. Josh Hamilton, back in his old stomping grounds, lashed three doubles as the Angels racked up season highs in runs and hits (17).
Shortstop Erick Aybar celebrated his selection to the AL All-Star team with three RBIs, giving him 48. His career high is 59.
The beneficiary of all the thunder was starter Hector Santiago, who got into the win column after absorbing seven losses.
"We knew we had our struggles here before, especially late last year," catcher Hank Conger said, having delivered a pair of hits and scored twice. "To jump out to a big lead and have Hector get that first win, it kind of felt like getting some things off our back. Hector really wanted that W."
Eight straight times the Angels had left this ballpark feeling the blues, but this was a night to rock and roll. Calhoun got it started with a leadoff triple, scoring on a throwing error. Singles by Trout and Albert Pujols, Hamilton's double off the right-field wall and run-scoring outs by Aybar and Howie Kendrick handed Santiago a four-run lead before he threw his first pitch.
The Rangers cut the deficit in half on Jake Smolinski's two-run double in the bottom half, but the Angels were just getting warmed up. Six hits, including doubles by Calhoun and Hamilton, and a Pujols sacrifice fly generated six second-inning runs.
"It was a situation where I never got a chance to get ahead of guys," Lewis said. "It happened quick and early. Pujols, two pitches and two hits. Josh, two pitches and two hits. It just kind of snowballed. I tried to stop it, eat up some innings for the bullpen, and I couldn't do it."
Calhoun's single following Conger's second hit in the third had the right fielder a home run away from a cycle. When Trout launched a full-count delivery over the wall in center for a three-run blast, it was 13-2, and Lewis mercifully was relieved of his duties.
"It looked like he got some fastballs in the heart of the plate," Angels manager Mike Scioscia said, "and our guys didn't miss them. Colby when he was young threw hard. Now he changes speeds, keeps guys off balance."
Calhoun was denied his cycle, grounding out and collecting his fourth hit during a two-run eighth.
"One hundred percent," Calhoun said when asked if he was going for the cycle.
Trout's big night lifted his season slash line to .310/.401/.602. His homer lifted his RBI count to 68 -- 29 shy of his career best of last season. He's nine homers shy of his high of 30 in 2012.
"It's big," Trout said. "We got some early runs, and Hector pitched great. We were having fun. We're always having fun."
The All-Star center fielder had become the fastest Angels player to reach 500 hits, displacing Garret Anderson, with his second infield hit in the second. Trout's fourth hit, in the fifth, was a line-drive single to left field off Roman Mendez, who brought order after Lewis' exit.
Santiago worked six innings in one of his best efforts as an Angel. He yielded four runs (three earned) on five hits and a walk, striking out eight.
Desperately seeking that elusive win, Santiago admittedly began to wonder what would or could go wrong as the runs accumulated on his behalf.
"In the third or fourth inning, I was thinking, 'What's going to happen?'" he said. "Will I get dehydrated? Fall on the mound? I definitely thought about it.
"Everything was working. I wasn't getting behind 3-0 and trying to get back in counts. I was getting ahead and driving through the strike zone. That's the way I have to pitch."
Smolinski, whose eight hits in his first four games are a franchise record, and Adrian Beltre each had three hits for Texas. After Beltre went the other way for his 13th homer, a solo shot in the sixth, Smolinski drove in a run with a double in the ninth against Drew Rucinski, making his Major League debut after Cory Rasmus' two spotless innings of relief.
"Nobody knew anything about [Smolinski] before the game," Santiago said. "He put some good swings on me."
Matt West made his Major League debut a successful one for the Rangers with two perfect innings, and catcher Chris Gimenez worked a 1-2-3 ninth as the seventh position player to pitch in Rangers history.
Players learn to cast aside bad memories, but the Angels' recent fortunes in the Rangers' yard had been distasteful. Among the eight consecutive defeats were four straight walk-off conclusions last July 29-31 and Sept. 26.
Since June 6, the Angels lead the Majors with their 23-9 record. They have won 16 of the past 20 games, including 12 of 13 at Angel Stadium.
Lyle Spencer is a columnist for MLB.com. This story was not subject to the approval of Major League Baseball or its clubs.