White Sox unable to complete rally in finale at Fenway
Quintana dazzles into sixth; 'pen gives up game after Gillaspie's homer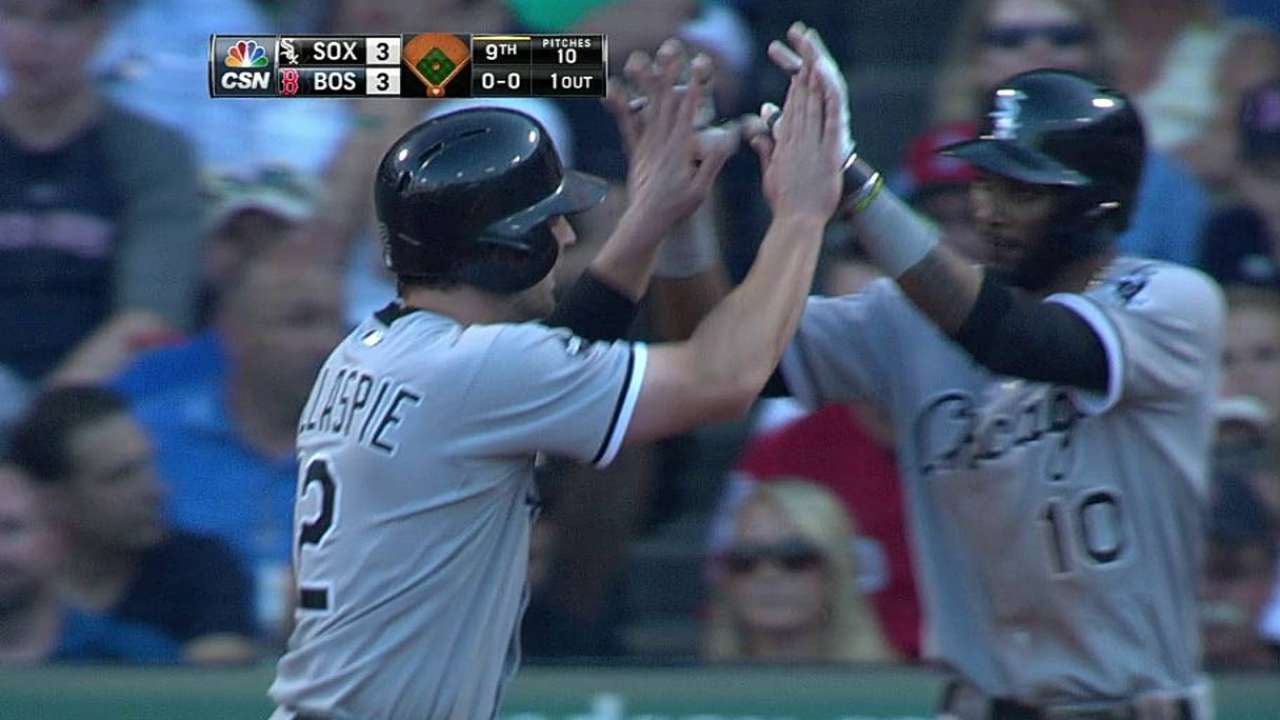 BOSTON -- The tale of Boston's 4-3 victory in 10 innings over the White Sox on Thursday at Fenway Park will center on another tough-luck no-decision for Jose Quintana and another heartbreaking loss for the South Siders.
Mike Carp's pinch-hit single to left off of Ronald Belisario (3-6) scored Daniel Nava with the game-winner, erasing a ninth-inning comeback by the White Sox (44-49) against All-Star Koji Uehara that involved an Alexei Ramirez infield single -- the result of a successful Robin Ventura challenge on an initial out call -- and Conor Gillaspie's ensuing pinch-hit homer.
But there were a bunch of little moments in the White Sox second straight defeat that added up to this setback.
Sixth-inning blues
Quintana retired the first 15 Red Sox hitters, striking out six, and then the game changed when that 16th hitter came to the plate in the form of Stephen Drew. Drew worked the count to 3-2 before barely getting a piece of a Quintana fastball that catcher Tyler Flowers couldn't grab. The next pitch missed just outside the zone, seemingly rattling the left-hander momentarily.
Quintana went to 3-2 on David Ross before walking him on another close pitch, and then went 3-2 on Jackie Bradley Jr. before the outfielder singled to right to score Drew with the tying run. Just like that, the seven, eight and nine hitters for Boston had broken up the perfect game and the no-hitter while getting right back in the game.
"It was a good pitch. He called this pitch [a strike] all the game," said Quintana, who allowed three runs on two hits over seven innings, while striking out seven, of the 3-2 pitch to Drew. "But I don't have control over the umpire, and I needed to get out before this count. I didn't feel comfortable after the first walk because it was the first time I was in the stretch in the game."
Two ground balls put runners at second and third with two outs, and David Ortiz doubled to left-center to give the Red Sox a 3-1 advantage. Quintana caught too much of the plate on a 3-1 slider to Ortiz with first base open, as the White Sox elected not to intentionally walk the Red Sox's most potent hitter.
"Lefty vs. lefty. I tried to throw good pitches, soft is better," said Quintana of facing Ortiz. "He's really a good hitter, and on 3-1, I tried to get the slider down. That's my fault. I was behind in the count."
"He could have [pitched around him]. Definitely don't want to give him something out over the plate," said Ventura of the Quintana/Ortiz matchup. "In the [4 p.m. first pitch] conditions, you want him to be able to go at it and not give him anything out over the plate."
White Sox unable to find big hit
Boston starter Jon Lester allowed one run on seven hits, but struck out 12 and didn't issue a walk over seven innings. The White Sox lone run came in the first when Adam Eaton singled and scored on Jose Abreu's double to left.
Ventura's crew finished with 10 hits. They also finished 0-for-10 with runners in scoring position, leaving eight on base. That total included runners left on second and third in the 10th when Ramirez grounded back to Andrew Miller (3-5).
"Facing Lester, runs don't come as an easy task," Eaton said. "It was nice to get one on the board early, but we didn't add on there in the middle innings."
"You look up there [during the game] and they had two hits and three runs," Ventura said. "They took advantage of their opportunities."
10th-inning sacrifice
Eaton singled to open the 10th and Gordon Beckham, mired in a 1-for-30 slump, laid down a sacrifice bunt against Miller to push Beckham to second. The Red Sox (41-51) intentionally walked Abreu, who has hit in 23 of his last 24 games, with first base open, but Dayan Viciedo and Ramirez couldn't bring home the go-ahead run.
"We needed to get a guy in scoring position," Ventura said. "They're going to walk Abreu, but you're going to have two shots at it to score a run."
Drew's 10th-inning walk
Belisario opened the 10th by walking Nava on a 3-2 pitch that looked like strike three. Home-plate umpire Marvin Hudson disagreed, with the White Sox taking quiet umbrage postgame at some of Hudson's close calls.
Mookie Betts' sacrifice pushed Nava to second, and the White Sox elected to intentionally walk Drew and his .128 average. Ventura knew a left-hander was hitting for Ross, and wanted to set up the double play. Belisario got the needed ground ball but not at the right spot, dropping the White Sox to 2-5 in extra innings, and 7-4 in walk-off endings.
Carp's hit closed a game that started as a perfect pitching matchup between Lester and Quintana.
"Yeah, you obviously see it. It's hard not to," said Lester of Quintana's perfection. "Especially with the Monster out in left field, you are sitting there staring at it. I knew what was going on and our guys were out there battling the best they could."
Scott Merkin is a reporter for MLB.com. Read his blog, Merk's Works, and follow him on Twitter @scottmerkin. This story was not subject to the approval of Major League Baseball or its clubs.