Carp sends Red Sox to second straight walk-off win
Heroics come after Uehara blows rare save following Lester's gem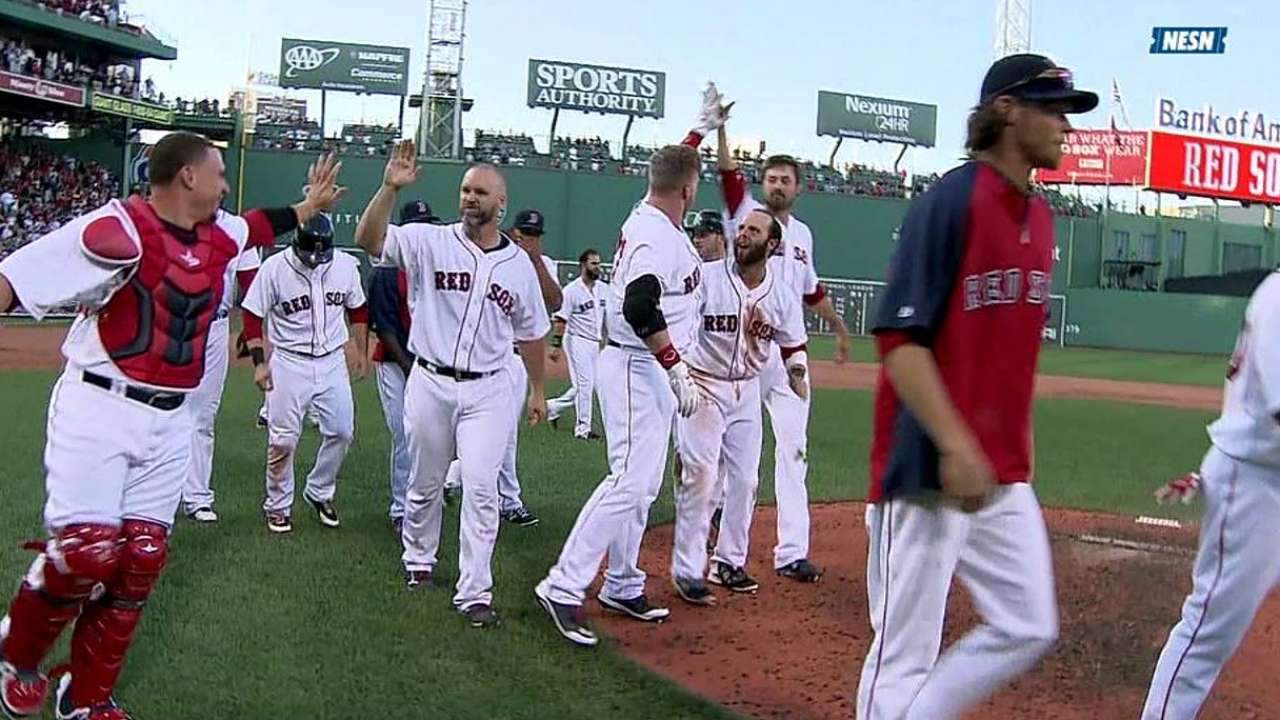 BOSTON -- Mike Carp spent much of June watching his teammates struggle offensively from his couch, wishing he could do something about it. The lefty embraces his role as a matchup pinch-hitter who is often called on in late-game situations.
Carp said it was sometimes hard to watch, and he wanted to turn the TV off when the Red Sox couldn't cash in on late chances. While recovering from a broken bone in his right foot, there was nothing Carp could do.
But on Thursday as a pinch-hitter, Carp slapped a line drive to left field with one out in the 10th to score Daniel Nava and give the Red Sox a 4-3 win over the White Sox at Fenway Park. Thanks to some timely hitting, Boston salvaged a split of a four-game set and finished its homestand 3-7 with consecutive walk-off wins.
"It's a tough gig to come up there and everybody expects you to get the game-winning hit after you sat on the bench for three and a half hours," said Carp, who grounded out as a pinch-hitter with two on and two out in the eighth Wednesday after coming off the disabled list Monday. "But it's nice to even them out every now and then and come up with the big one."
Nava walked to begin the 10th after pitch-hitting for Jonny Gomes, then Mookie Betts moved him over with a sacrifice bunt. Chicago intentionally walked Stephen Drew, then Carp, pinch-hitting for David Ross, singled off Ronald Belisario.
Carp took a fastball away down 1-2 in the count to Belisario, then figured the righty would try to bust him in. The next pitch, a sinker, caught too much of the plate. Carp put it through the hole to score Nava, who slid under Tyler Flowers while the catcher reached up to grab a high throw.
Carp became the hero only because of a Chicago rally in the ninth, though. To start that frame, Koji Uehara was late getting to the bag when Alexei Ramirez grounded a ball softly to first. Despite being called out, a challenge by White Sox manager Robin Ventura overturned the ruling and Ramirez was ruled safe.
Two batters later, pinch-hitter Conor Gillaspie snuck a line drive inside Pesky's Pole to tie the game. It was the infielder's third homer of the series and fourth of the season.
Junichi Tazawa pitched a perfect eighth to give Uehara a save opportunity. Andrew Miller got into some trouble in the 10th, putting runners on second and third, but got Ramirez to ground out back to the mound to end the inning.
The White Sox struck in the first on an RBI double by Jose Abreu, but after that, it was all Jon Lester. The lefty allowed a run on seven hits while fanning 12 over seven frames. He showed his best swing-and-miss stuff, striking out two batters in each of the first five innings.
The now three-time All Star didn't allow a walk, and each of the five singles he allowed weren't particularly hard hit. They just found their way through.
"I had pretty good command of my fastball to both sides, but I think the biggest pitch was my curveball," Lester said. "I was dropping it in for strikes and bouncing it too. When I'm able to do that, I can get some separation from my fastball and cutter. It widens the plate for me. I was able to exploit that today."
Of concern for the Red Sox, though, was that White Sox lefty Jose Quintana was even better through five innings. Quintana retired their first 15 batters on just 61 pitches before walking Drew and Ross on full counts to start the sixth, ending his bid for a perfect game. Jackie Bradley Jr. then singled between first and second for the Red Sox's first hit to tie it.
Bradley missed on two bunt attempts during that at-bat while trying to get runners to first and second.
"I wasn't even thinking about [the no-hitter]. I was just trying to execute and advance the runners after not getting the bunt down," Bradley said. "It just found a hole."
After Quintana forced a pair of groundouts, David Ortiz slapped a double off the Green Monster to score Ross and Bradley, giving the Red Sox a 3-1 lead.
"We were able to bunch the few hits that we did get with the walks we were able to draw," Red Sox manager John Farrell said. "And timely hitting today was the key."
Quintana allowed just two hits, two walks and three runs with seven strikeouts over seven frames. But as its been for much of the last two years -- Quintana led the Majors with 17 no-decisions in 2013 -- it wasn't enough, and the Red Sox head to Houston for one last series before the All-Star break winners of two straight.
"[Quintana] has pitched for us very, very well," said White Sox center fielder Adam Eaton. "And some days, I know the record might not show how well he's done just with how well we've hit sometimes, but he's done extremely well for us this year."
Steven Petrella is an associate reporter for MLB.com. This story was not subject to the approval of Major League Baseball or its clubs.